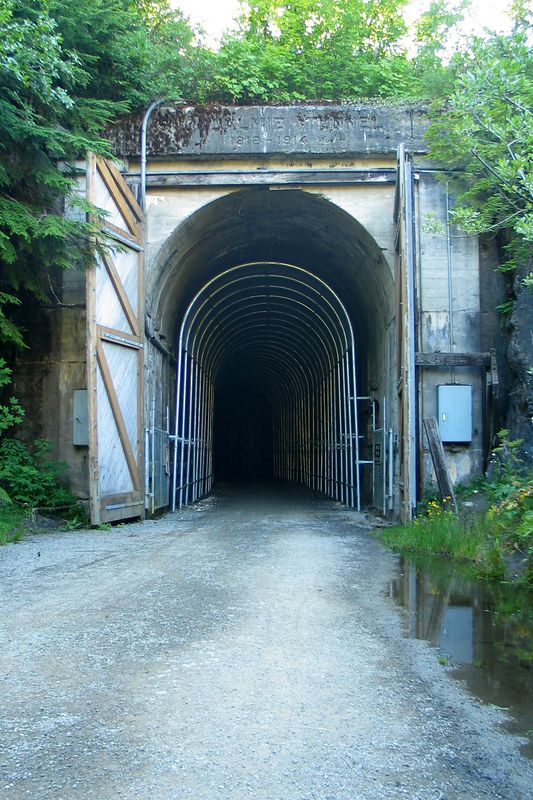 The 2.3 mile long  Snoqualmie Tunnel is an abandoned railroad tunnel outside of Seattle.  It is also the unlikely and unconventional focal point of 7 Boston Qualifying Marathons in 2017. It is also home to some controversy.
Boston Qualifying Courses
The allure of this course is not only the tunnel. But all of the courses are point to point with a significant elevation drop. Making these courses ideal for those attempting to qualify for The Boston Marathon.
I did some analysis regarding the best Boston qualifying courses. I determined the qualifying races used for a large percentage of the 2017 Boston Marathon field. Comparing Boston times to qualifying times, I was able to determine the "fastest" qualifying courses by comparing qualifying times to Boston times.
3 of the top 10 races for qualifying for The 2017 Boston Marathon were run through this tunnel.
Light at The End of The Tunnel
The Light at The End of The Tunnel was first run in 2008. The Marathon was created by Brian Pendleton. In 2012 a 2nd race "Tunnel Light" was added. Since 2013 Susan Pendleton has been the sole owner of the Tunnel Marathon series.
In 2016 "Super Tunnel" was added, to make three races on this sanctioned course. According to Susan, the race was named by Sabrina "Super" Seher. In a Facebook post, Susan says that in appreciation of Sabrina, who served as Race Director for 3 years, that she offered her the opportunity to name the race and that she wanted her to sell the only gear at the race. Sabrina also owns a pacer business "Super Pacers".

The Light At The End of The Tunnel Marathon typically sells out. This led to "copycat" races. In 2014, the Iron Horse Marathon was going to hold a marathon on the same course, but according to various social media posts, they were pressured by The Tunnel Marathons to change their course. I attempted to contact Iron Horse for this article, but they declined to speak.
Jack and Jill
In 2015, Jack and Jill's Downhill Marathon was created.  According to them, Tunnel Marathons – where Sabrina was race director – were "tenacious" in trying to shut Jack and Jill down. According to Jack and Jill, local officials wanted another option to bring in out of town revenue. They marketed the race as an alternative to the Tunnel Marathons since those races historically sell out quickly.
They did get their own certification. It should be noted that courses are certified by the USATF and accepted as qualifiers for Boston. The races themselves are not certified. If someone can get the permits and stage a race on a certified course, it would be BQ eligible. It would be extremely poor etiquette to utilize a course that someone else had certified, since there is time and expense associated with obtaining course certification.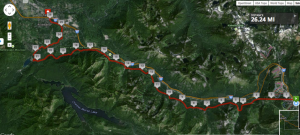 Jack and Jill's Downhill Marathon is run by USA Endurance Events out of San Diego. Lee Ann Yarbor is listed as the Race Director for the race. She participated The Light at The End of The Tunnel Marathon in 2014. The first Jack and Jill Downhill Marathon was held in July of 2015.
There was plenty of controversy regarding the creation and the marketing of this race in 2015. From Facebook: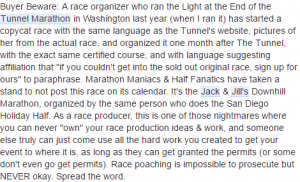 Tunnel Marathons (Sabrina) responded by doubling the entry limit to try to meet demand for their race.

Jack and Jill posted the following in response to criticism.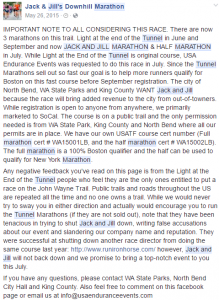 Regardless of my opinion, if an organization gets the permits needed, they have the right to put on their race. I definitely think it is questionable ethically to piggyback on another race and use that race's popularity as part of your marketing. I asked Sabrina about her role in trying to shut Jack and Jill down. She said that she was doing as she was told. I did not see anything posted by Sabrina that commented on Jack and Jill specifically.
A Falling Out
Sabrina and Susan had become close. By all accounts their business dealings were informal and a bit unorganized. Sabrina conveyed to me that she had trouble collecting money owed for her services and reimbursements for expenses from 2016. Susan disputes this. She says she needed invoices for reimbursement while Sabrina says that she had typically would need to send information multiple times and that Susan would have trouble printing them or opening them on her computer.
As a result, Sabrina says that she approached Susan and requested that they have a contract for the 2017 race year. They never worked on a contract in the past. They were initially friends, and Sabrina admits that she "may not have practiced good business with my interactions with Susan until after the 2016 Tunnel of Light Race".
Susan was hesitant to agree to the terms that Sabrina had requested. At some point issues with their business relationship affected their personal relationship.  Susan told me that felt as though she was being cast aside by Sabrina, and felt that she was in a vulnerable position. According to Susan, Sabrina was in possession of everything related to race operations. Sabrina disagreed, saying that Susan had access to everything that she would have needed. In Susan's words, she felt that Sabrina only thought of her as 'the bank'. Susan says she was losing trust in Sabrina. It was also obvious that Sabrina was unhappy. From speaking to both Susan and Sabrina, it is apparent to me that there was no circumstance that the two could have continued working together for long.
The impression that I get from talking to runners and both Sabrina and Susan, is that they have two very strong and often conflicting personalities. Susan's interactions with Sabrina have been characterized as unprofessional and often inappropriate.
Despite all of this, it was time for registration to open for Light at The End of The Tunnel. Susan says that in the week prior to registration, she had difficulty getting in touch with Sabrina. Sabrina was not returning calls or texts.  Finally on the night of January 17th, Susan went to Sabrina's home – she says looking for answers.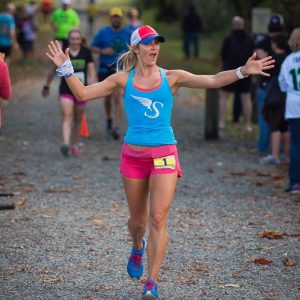 Susan's account of the evening is as follows:
When she drove to Sabrina's house, Sabrina had just arrived home with her children. As Susan approached, Sabrina went inside and refused to speak with Susan. It was at this point that Susan continued to knock on the door and refused to leave. Susan says she was calmly asking Sabrina if she was quitting and who was handling the registration. Needing those answers urgently, she continued to knock on the door.
Sabrina had her ex-husband call Susan. He asked her to leave the property and Susan refused. Susan was not going anywhere until she had the answers to those two questions.
The police were called. When they arrived, Susan told them that she would leave once she had the answers to those questions. The police talked to Sabrina and returned, saying "She's quitting". Susan then left. There was no police report filed for the incident.
Below is Sabrina's account of the incident.
"Susan took it upon herself to come to my private home when it was clear that I would not be taking on the race director responsibility. The situation escalated quickly from that point as Susan was pounding on my door demanding I speak with her, frightening myself and my young kids for 2 hours. I finally called the police to ask assistance as she refused to leave.  
Sabrina said that Susan was much more animated and was trying to convince Sabrina's children to open the door for her. "It wasn't calmly knocking on the door". Sabrina said that the police only asked her about the registration provider and that she told them that she can get everything directly from DataBar. The next day both women announced Sabrina's departure via Facebook.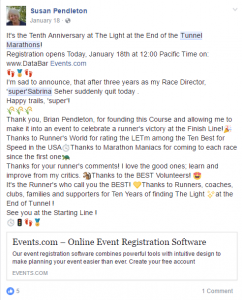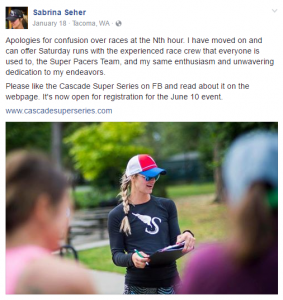 Besides running races on predominantly the same course, there were additional issues that many had with the situation.
June 10th is the day before the Light at The End of The Tunnel Marathon. I asked Sabrina about the decision to hold her marathon the day before The Light At The End of The Tunnel.
Once she was gone I can say I went from being upset to being angry. I had already planned to move forward with my own race series and at that point made an impulsive decision to do so on the day proceeding tunnel. Did I hope that runners who had been close to me would elect for my race instead, sure. Is it an impressive answer, no, but it is an honest answer.  As stated in my earlier email I corrected any runners who did not mean to sign up for my race and know I should have thought it thru more carefully, but again equal and opposite reaction. Tunnel does not own the course nor does it own dates before or proceeding the race. I truly believe it would not have mattered what day I choose or even month the controversy was going to happen as it all stemmed from the situations explained in the earlier email. I am happy to offer an alternative to anyone who is looking to run this course and with Tunnel sold out I can offer that opportunity."  
Initially, all three of the Cascade Super Series races were scheduled to run the day before the Tunnel Marathon races. Currently only this weekend's race shares a weekend date with another Tunnel Marathon.
After the initial pushback, Sabrina thought better of it, and rescheduled the other races. She told me that she didn't want to change the initial race, as registration was already opened, and there was enough confusion already.
She does not apologize for utilizing the course.
The Tunnel Marathon websites were redirecting to CascadeSuperseries.com.
The effect of this is that runners that visited the old Tunnel Marathon site were redirected to Sabrina's brand new site and were offered the chance to register for Sabrina's race. Many runners felt that they were tricked. The post below suggests that Sabrina 'hijacked' the Tunnel site. As an employee of Tunnel Marathons, Sabrina purchased TunnelMarathons.com (with an s). She says she is the owner of that site. At the time TunnelMarathon.com was redirecting to Sabrina's site. When Sabrina purchased CascadeSuperSeries.com it was tied to TunnelMarathons.com. For a period of time both Tunnel sites led to CascadeSuperseries.com.
Sabrina had access to The Tunnel Marathon Facebook page and provided a link to the the new – competing race.
There was a link posted on the Tunnel Marathon FB page – which Sabrina controlled to register for The Cascade Super Series .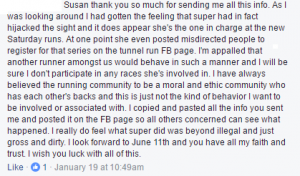 Sabrina says there were about 10 runners that registered for her race that she refunded due to the 'confusion'.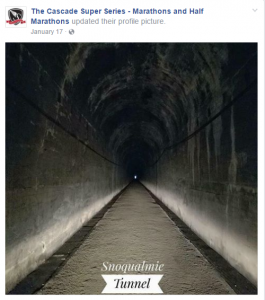 The CascadeSuperSeries.com domain name was only purchased on January 18th – the day registration opened, and the day after Sabrina's and Susan's confrontation. The Cascade Super Series Facebook page was live on January 17th  in the early afternoon – before Susan came to Sabrina's home. Sabrina tells me that after a conversation with Susan in the days before their split, she made the decision that she would start her own race series. As stated above, she says the decision to initially hold all of the races the day before The Tunnel Series was impulsive and one she regrets.
I think the timing of Sabrina quitting and starting her race series was unfortunate. However, I do understand why she would have left just before registration. Susan and Sabrina were discussing the potential contract up until the week before registration was to open. When that broke down, Sabrina was unwilling to perform the services relating to registration without a written contract. Sabrina said she made it clear she would not continue prior to Susan confronting her. Susan says she did not know until that evening.
Summary
The final course was slightly different than Jack and Jill and The Tunnel Marathons. Due to permitting issues, Sabrina had to re-route the last couple miles of the course.
Last week, the course received  USATF certification, which makes this course eligible to qualify for Boston.

For the runners' sake, I hope both races are successful and without issues.  This obviously is a sad situation where the relationship between Sabrina and Susan fell apart. There are business disputes every day. The unfortunate part is that this affected the runners of both races. Sabrina made a series of bad decisions as outlined above. From hearing Sabrina's side, I could understand her anger and frustration with Susan, but I can't excuse her decisions she made while launching her series. Listening to Susan, I could understand her concerns regarding the control of her race. I think that both, mostly are telling me the truth as they perceive it and recall it.
Sabrina is very driven and motivated. In addition to serving as race director for the Tunnel races, she owns a pacing business – which she started after being the pacer coordinator for Marathon Maniacs, and she also opened a studio for her coaching business after working with Fleet Feet.  She seems best suited working for herself.
I will be watching these  races with interest  this weekend. I am curious to see if all these races can survive.
Thank you to all of those that have already contributed to the site. Contributions go towards site expenses, and to compensate those that help gather the data. Please consider making a small contribution to support the site.