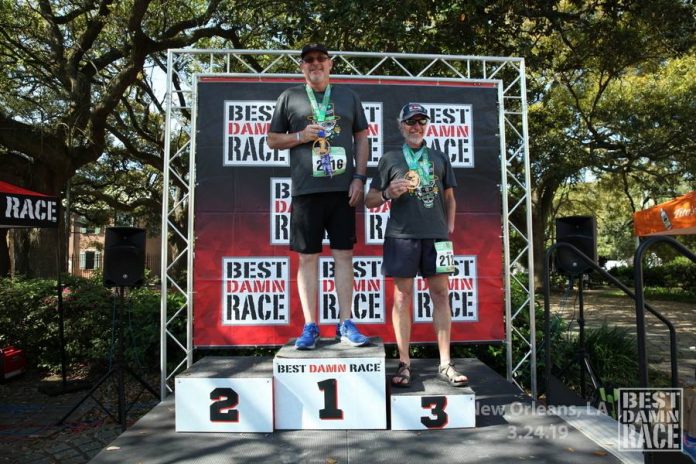 Scott Samuel finished 1st in the 55-59 Year age group at The Best Damn Race in New Orleans on March 24th. He finished the half marathon in a time of 1:41:17, a pace of 7:42 per mile. He accepted his medal and posed atop the podium in first place.
Scott was disqualified for cutting the course. There were no intermediate timing mats on the "Best Damn" Half Marathon course, but there is plenty of evidence to prove Scott cut the course.
GPS
The runner was unable or unwilling to provide GPS data. When pressed by the race director, he would not share his information, claiming he was unfamiliar with the watch functions. Despite the R.D. sending detailed instructions on how to show the total distance and time of a prior run, Scott could not provide the data.
On Course Photos
Scott was photographed at approximately mile 4.5 at 8:18 am. Scott crossed the start at approximately 7:20 am. Scott's pace through this point was roughly 12:53 minutes per mile.
Below are the finish times and total overall pace of runners identified as being near Scott when he was photographed.
Bib 2179 2:41:24 Finish Time 12:19 minute per mile total pace
Bib 2431 3:13:28 Finish Time 14:46 minute per mile total pace
Bib 2523 3:05:00 Finish Time 14:07 minute per mile total pace
Scott – 1:41:17 Finish Time 07:44 minute per mile total pace
Scott's approximate splits as calculated from the photographs are as follow:
| | | | |
| --- | --- | --- | --- |
| Mile | Time | Total Pace | Split Pace |
| 4.5 | 0:57:30 | 0:12:47 | 0:12:47 |
| 13.1 | 1:41:17 | 0:07:44 | 0:05:05 |
The above chart shows that for Scott's pace to believe, he would have run over 8-1/2 miles at just over 5 minutes per mile.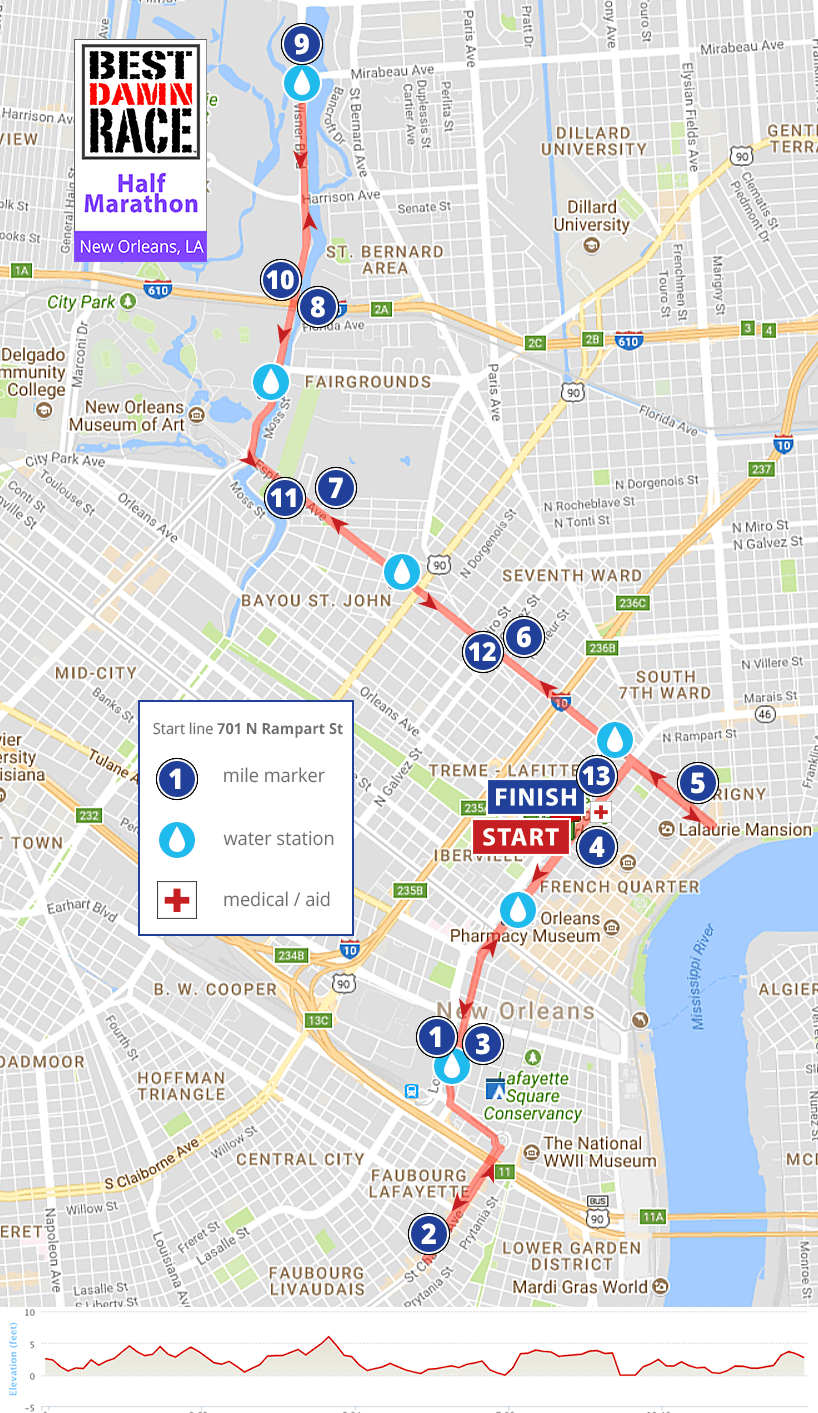 The photographers were at the start of the out and back section leading up to mile five. It is apparent that Scott did not run all the way to the mile 9 turnaround point. Based on his pace, I estimate that, at most he ran 7.7 miles total. This would have taken him just past the 6 mile water stop before turning around.
In my communications with the Race Director, he explained that the lack of a timing mat was an oversight. They generally have a timing mat at the 5k point on the half marathon course. Next year, he says they will have two intermediate timing mats.
Other Races
One week before The Best Damn Race in New Orleans, Scott ran The Shamrock Run 8k in a time of 56:08, a pace of 11:18 per mile. This is more than 3-1/2 minutes per mile slower than his alleged half marathon time one week later.
Scott was wearing a Marathon bib for the 2018 Louisiana Marathon, but he was dropped to the half marathon results. He ran a time of 3:20:59. This is One Hour and 40 Minutes slower than his "Best Damn" result.
Bring It To The Bay Triathlon

Scott finished third in his age group at The Bring it To The Bay Triathlon. There are two things about this race that immediately jump out.
His swim time of 12:19.5 was the second fastest time in the entire field of 235 competitors.
He ran the 5k in a time of 25:38.6, at a pace of 8:16 per mile. This pace is much faster than any of his other non contested results. His run time ranked 26th among all competitors.
"Get A Life"
I reached out to Scott.
Hi Scott, I am the owner of MarathonInvestigation.com. I wanted to give you a heads up that I am planning an article mainly focused on Best Damn Race New Orleans. In researching, I came across your result at Bring it To The Bay. In that race you had the (2nd) fastest swim time of the entire field, and your run time seemed fast when compared to your historical results. Let me know if you'd like to comment on either race. Thank You.
His response:
get a life
Support Marathon Investigation
Thank you to all that have contributed to Marathon Investigation. Your contributions are what enables me to continue the work of Marathon Investigation. To support the site, please consider making a small contribution.
Don't want to use PayPal? Click below to contribute without going through PayPal.