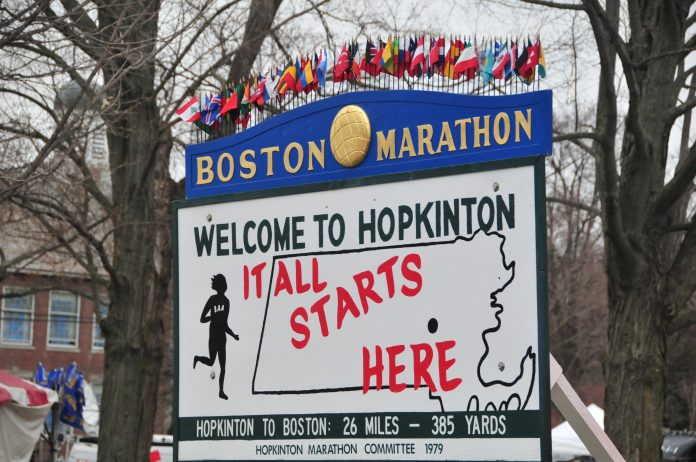 Prior to the 2017 Boston Marathon I was reviewing a number of qualifying races and runners for inaccurate results. When a questionable result comes to my attention, my procedure has always been to gather all the available information and send it on to race officials to review.
Questionable Result
This result was one that came to my attention:
| | | | |
| --- | --- | --- | --- |
| Mile | Total Time | Total Pace | Split Pace |
| 6.2 | 0:46:42 | 0:07:32 | 0:07:32 |
| 13.1 | 1:35:49 | 0:07:19 | 0:07:07 |
| 19 | 2:30:29 | 0:07:55 | 0:09:16 |
| 26.2 | 3:12:53 | 0:07:22 | 0:05:53 |
By looking at just the data, it would appear that the runner was slowing after the half way mark before running the last 7.2 miles a full 1-1/2 minutes per mile under her average pace.
It was obvious that there was something wrong with  this result. I emailed the race asking them to please review the result.
Within a few days I heard back from the race:
"I obtained a Garmin file from the runner and it agrees with the overall time of the event. Upon questioning the timer, she didn't read on the third mat and they manually keyed a time in for her and obviously didn't do a good job of that. That practice has been addressed with them as well.
Her time is good, she deserves the spot."
At the time I didn't think much of the reply. I was glad her time was validated and that she legitimately qualified for Boston.
Race Director Accuses Runner of Cheating
After Boston, I received an email from the runner. She wasn't previously contacted  because I was never accusing her of having cheated, and never planned an article on her. I simply requested a review of an inaccurate result.
I was one of the athletes that was questioned for suspicious timing in the 2016 ****** Marathon. After I finished the race, I saw there was a timing issue. I told the timing people and they "fixed" it.  Anyway, I trained my butt of for a year to run sub 3:10 at ***** Marathon. I finished with a 3:12 after falling somewhat apart at mile 23. Was little upset about my time but that was a PR for me so nothing to be ashamed of. I signed up for Boston in September. I didn't think about the timing issues again and that is a lesson I learned.
On Monday the 10th, ***** race director called me to tell me there was question with my split times. I immediately told him that there were issues with my timing but he that fell on deaf ears and I was accused of taking a vehicle to certain parts of race which absolutely appalled me. He told me that the race's timing mats were unaltered and accurate. I told him I disagreed. To make long story short, thank god I still had my Garmin file to prove I had ran the race fair and square!
I absolutely hated receiving this email. I was thankful that she was able to prove her time was legitimate and that she was able to run Boston.
The race director was out of line if he accused her of taking a vehicle before he contacted the timer. Had the race contacted the timer initially, this entire review likely would have been completed without causing any stress to the runner.
When a result is deemed 'questionable', I will always contact the race first. I do not want to send a message and alarm a participant if there was a timing error. The initial response that I received from the race director didn't initially bother me. But, in retrospect, they should have checked with the timer prior to contacting the runner.
I replied to the runner, and let her know that I never accused her of cheating. I simply asked for a review of the result. We had a good back and forth, and I explained my process and assured her that I would not have written an article on her regardless. Her history clearly shows that she was capable of a BQ time.
Summary
I have learned that there are legitimate timing issues. Often times they follow the same pattern as above.
Now, when I send a race an email relating to questionable mat reading, my first question is to ask if there were any technical issues. I also try to copy the timing company on all correspondence.
While it is the mission of the site to keep cheaters out of Boston, it would be devastating if my work leads to a legitimate runner being kept out. I would much rather miss out on catching a cheater than to be overzealous and keep a deserving runner out.
I posted this article to show that things are not always cut and dry. While I never accused the runner of cheating, my email could have resulted in an unjust disqualification. I am sure that this may serve as fuel to those that are critical of the work, but I always strive to be transparent.
-Derek
Please consider a contribution to help support the site. Contributions help to offset costs associated with running the site and help to enable me to compensate those that assist in data collection, etc.
Thanks to all of you that that support Marathon Investigation!