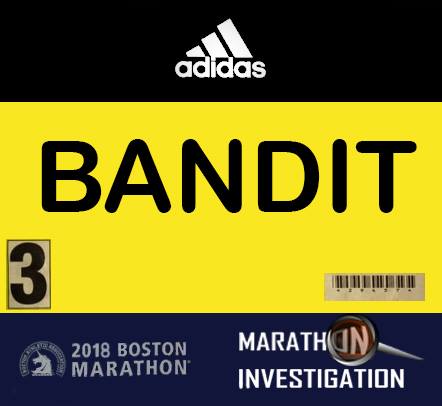 Prior To The Boston Marathon, I posted a copy of an add on reddit – by a runner wanting a bib altered so that they could purportedly run with their sister.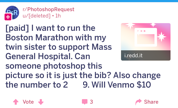 That post was also accompanied by this photo.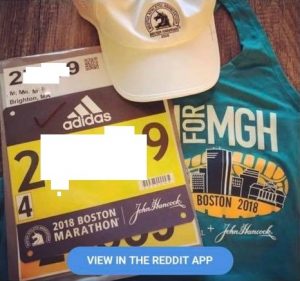 It does not appear that anyone ran with the original runner's bib. Either under the original number or the altered number that was originally requested.
However, a second ad appeared on reddit with the same photo.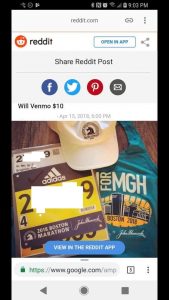 The person that posted the above ad was determined to be Facebook friends with the owner of the original bib.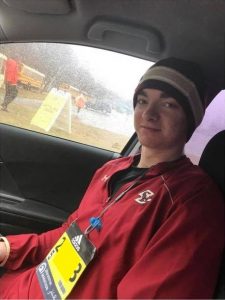 The bib he is seen wearing is obviously fake. It is rigid, and appears to be mounted to cardboard or printed on thick card stock. It was not a very good effort. Yet, it appears he was able to run the entire race. He posted his GPS log. He may have been aided by the fact that he was covered by rain gear, which helped to obscure the bib..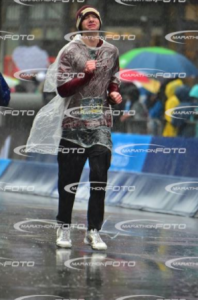 A Charity Bib
After doing more digging, it appears that the twin of the original owner actually had a legitimate bib. The number of the bib that the bandit was wearing more closely approximates the sister's number. I do not believe that either sister intended to have their bib copied or altered.
The owner of the original bib that the bandit attempted to have copied raised over $8000 for Pediatric Oncology at Mass General. The other sister was running to support Autism Research. I could not determine the charity that was affiliated with the photoshopped number that he actually ran with.
I cannot imagine how someone thinks it's o.k. to pay $10 to have a bib photoshopped, when the owner of the original bib raised thousands of dollars for charity to earn the right to run with that bib. I do not know for 100% certainty that this runner posted the original deleted ad, but it seems fairly likely that he did. In which case, he did so posing as the runner's twin sister.
Again, I have zero reason to believe that any of the legitimate runners knowingly allowed this person to copy or alter their bib.
The only reason that I am protecting this thief's identity is that the owner of the number is to protect the other runners.
Please consider making a small contribution to help support MarathonInvestigation.com. Reader contributions are the main source of the funds that are needed to pay for servers, photos, data, etc.