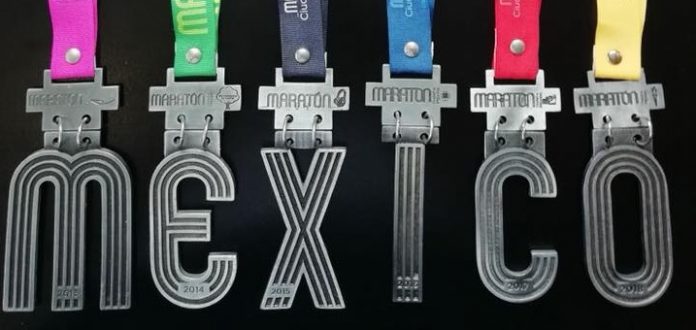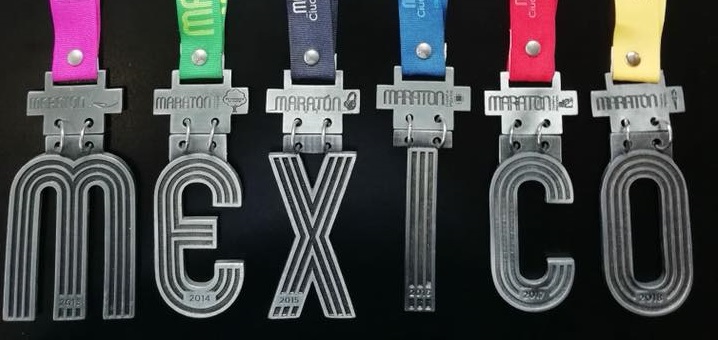 Nothing has changed since 2017. Mexico City Marathon officials claimed they were taking steps to curb the cheating that occurred last year as participants were desperate to complete their collections of medals to to complete M-E-X-I-C-O.
Many runners don't even hit the start line, they just jump in at the half, 30k, or 40k point and grab their medal.
One runner crossed the 30k mark just 35 minutes into the race.
How Many Cheated?
The initial reports of 13,000 disqualifications were too high. Those reports have been pulled.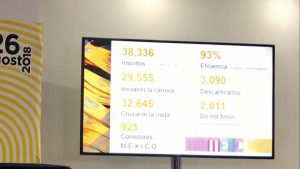 The above photo is what the marathon is reporting. The numbers are a bit misleading.
They are saying that 29,555 runners crossed the start line, 32,645 runners finished, and 3,090 runners were disqualified.
3,090 is not the number of disqualified runners, but the difference between those that started and those that finished. If you add in to those that legitimately did not finish, you get closer to the actual number of disqualifications.
32,645 runners crossed the finish line, and 27,523 runners are in the latest results. This means that 5,122 runners have been disqualified.
Behind The Numbers
I was able to obtain two sets of data. The first set I grabbed had 32,202 finishers. They had already disqualified 443 runners. The chart below shows how many runners crossed each timing mat. I do not have data for those that missed the start mat, so I am using the number that the Mexico City Marathon provided for the total starters – less the DNF's.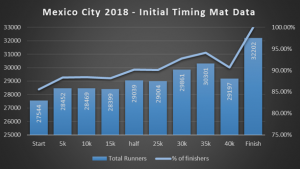 With the initial data (less the 443 runners that were already DQ'd,) you can see the gradual uptick of runners after you reach the half marathon. The dip in the 40k data is due to the slowest group of runners not being captured by the timing mat. It is probable that the timing mat was pulled from the course ahead of those runners.
I will give credit to the marathon for removing every single runner that I flagged in my initial review. My high level review flagged everyone with 2 consecutive missed splits. All of those runners were removed from the results. Here is the chart showing the current finishers data at each timing mat.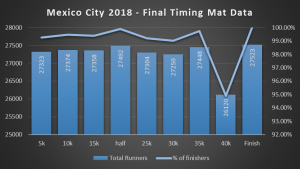 This data is in line with what you would expect. Failure rates are less than 1% across all timing mats (with the exception of 40k as explained above.)
Reaction
In Mexico, Triatlon.com was the most vocal against the cheaters. Translated from their Facebook page:
In the last few days, the cdmx marathon, the most important of Mexico, was once again, and once again the subject of many cheaters cut off the route, they went into the last km, etc.
We get a lot of photos, evidence and complaints from people who cheated and we're really sad about what the biggest sports event in our country should be is just a great opportunity for selfies of those looking to look at a medal they didn't win.
Being a sportsman is something amazing, but it's personal, it's something that involves effort, hours and hours of training, dedication and sacrifice and it's very important that people know that those who are athletes take it very seriously.
Having uploaded the photos of cheaters is a way of claiming to those who did the marathon in an honest way and as a society that we are not willing to tolerate traps in any area of our life.
Pretexts because they cheated, but that doesn't take away that those who did it hurt the event, participants and at the end of themselves by not knowing what it means to do a marathon.
Sport In Mexico in all its disciplines will not grow if we do not respect and understand that by cheating for a medal we are discredit the event.
The concept of the cdmx marathon medals is amazing and will be an unforgettable memory for those who earned them in an honest way, running 42.195 km from the six editions.
We hope that the next edition of the cdmx marathon will again be a success, that the organization takes very strong measures against cheaters and that we can reach events like marathon ny where there are only 50 disqualified at the end of the event that has 90,000 Participants and 50,000 finalists.
Sport inspires, thrills and makes us better people, let us not let these situations fall apart, all who love sport will continue to fight and ask cheaters stay in their house or get batteries and compete in an honest way, nothing It'll give us more taste than having more real athletes in Mexico.
To support Marathon Investigation, consider making a small contribution. Contributions go towards costs associated with running the site and costs associated with investigations.
To support Marathon Investigation, consider making a small contribution.
Don't want to use Paypal? Click below to contribute without going through Paypal.