A runner contacted me  regarding the Wild Mountain Runners Club. He was going through some photos and noticed a runner that seemed out of place, he determined he was a runner of Wild Mountain Runners Club and checked for the other runners in Boston and found evidence that 3 of the runners had questionable qualifiers.
By that time, I had already uploaded Boston 2016 results, and had my initial list of flagged runners. Initially, the list is at 1693 runners to review (I still will be using additional criteria to narrow down that list).
3 of the bib #s in the picture were very high on the list as it is currently prioritized. None of the others were marked for review.
#3 –  Bib # 1895 – 2:52:52 qualifying time – Long Beach 2014. 6:01:59 Boston time
#8 –  Bib # 5139 – 3:01:54 qualifying time – Orange County 2015. 5:47:30 Boston time
#70– Bib # 3910 – 2:59:02 qualifying time –  Surf City 2015.  4:45:21 Boston time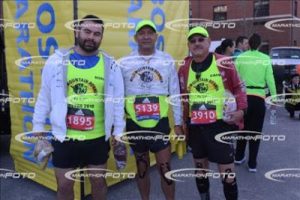 The next step was to confirm their qualifying marathons through their photos. Below are their photos for each of the qualifiers.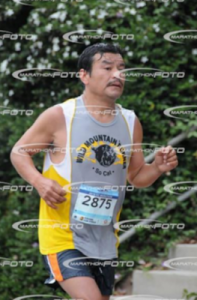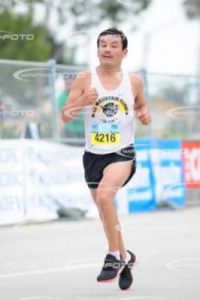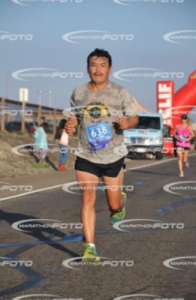 A single runner ran qualifying times for 3 different group members. It is also worth noting that the qualifying time for Boston bib #5139 was an age group win in the 55-59 year old group.
The runner that ran the qualifying races has been identified.
There are also instances within this group where BQ's were earned illegitimately for prior years.
I also hope this is a good example of why I flag the results in the way I do. I know that not all flagged runners cheated. This is just the best way to limit the # of results to check. The theory is that those that cheat are not capable to run BQ times on their own – so we look at those that run significantly slower in Boston than the BQ to at least identify those runners.
Please consider a contribution to help support the site. Choose an amount from the drop down menu below to make a one time contribution.
Thanks to all of you that that support Marathon Investigation!