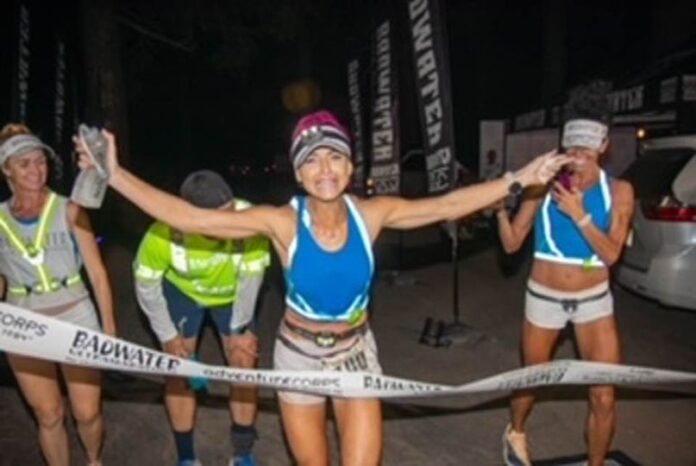 Note: Ashley's result has been thoroughly analyzed and no evidence was found to support cheating allegations.
To support Marathon Investigation, you can make a contribution by clicking on the bottom of the page, or by going to Paypal.me/marathonsleuth or Venmo:@MarathonInvestigation. Everyone's support is appreciated!
Ashley Paulson finished third overall, setting the female record with a time of 24:09:34, besting the 24:13:24 mark set by Patrycja Bereznowska in 2019. This result was, unfortunately, not without controversy. Many are questioning the validity of Ashley's result, fueled by a past allegations of course cutting, a doping suspension, an incredible finishing split, and observations on the course.
Ashley is currently a professional athlete and a popular iFIT trainer.
2016 – Sanctioned for Anti-Doping Violation
In 2016 Ashley was issued a 6 month ban from the sport of triathlon by The United States Anti-Doping Agency (USADA).
Paulson, 34, tested positive for ostarine, a selective androgen receptor modulator (SARM), as the result of an out-of-competition urine sample collected on September 14, 2015. SARMs are prohibited under the USADA Protocol for Olympic and Paralympic Movement Testing, the United States Olympic Committee National Anti-Doping Policies, the International Triathlon Union (ITU) Anti-Doping Rules and the World Triathlon Corporation Anti-Doping Rules, all of which have adopted the World Anti-Doping Code and the World Anti-Doping Prohibited List. Subsequent examination and testing of a supplement Paulson used revealed that it was contaminated with ostarine.
I am not an expert in doping policies and suspensions, but it does appear that USADA believed that the usage was accidental, given the relatively short ban. The initial ban was 4 years, and was subsequently shortened to 6 months.
Course Cutting Allegation – 2018 Snow Canyon Half Marathon
Ashley initially claimed 2nd place, and a PR at The 2018 Snow Canyon Half Marathon with a time of 1:14.
In her Instagram post, she references a 'correction' and made the adjustment in the post that she ran 12.96 miles.
Well, this sucks!! Arg! I got off course near the end of the race today. I have no idea how that happened. I pulled out my phone to help me find the finish. I was SO BUGGED! I was too into my music I guess 😫🤷🏼‍♀️! I ended up going around the block as seeing the course. I ran up to the official telling him I got off and he said to keep goin. cuz my mileage was pretty much where it would have been on course. Well, turns out I was .14 of a mile short. DANG! I didn't claim any over all position OR ANY POSITION. I was out there for me, Not a podium. I hate that I missed that dang turn!! BUMMER!!! No "race" finish for me. Oh well.. I'll try again next time.
I'm sorry for the confusion out there. I guess people are saying I cheated . That was NEVER the intent. I simple am a space head and kept following the path…
There are a few issues. Once you go off the course of a race, you need to re-enter where you left. Even if her total distance was over 13.1 miles, she would have needed to run the ENTIRE COURSE to receive an official result. Her initial post made no mention of going off course, even though it was clear that she knew she had.
Additionally, I had received an email at the time by someone that I confirmed was present at the race. This person reported that Ashley initially claimed to the men that reported her that she had passed them, but they just didn't see her.
There were other allegations on letsrun that she rode a bike in a marathon. I did not find that evidence compelling or likely. This was based on some alleged cadence anomolies.
Badwater 135
Against the backdrop of the ban, and possible course cutting, Ashley entered Badwater with a perfect Ultrasignup resume. She has run 6 ultras, and has won all 6. Her longest race was 100 miles. She completed the 2021 Pony Express Trail Run in 17:26:40. Pony Express has been characterized as relatively fast. Badwater is touted as The World's Toughest Footrace.
I've received many emails and messages from people that were at the race or closely associated with people that were there. The observations of these people only add to the suspicions. At this point, I have to keep these observations off the record, but I am confident they would share their observations with race officials if given the opportunity.

These observations and the sources of the observations is compelling when added to the split data, and goes beyond making conclusions based on how fresh she looked throughout, and are much credible than theories about how she wore her watched, or that her pacer ran part of the race.
The Final Push
When Ashley's performance first hit my radar, I reached out to a number of my ultrarunning friends. Among those I reached out to was Camille Herron. Camille is The 24 Hour World Record Holder (Both Track and Trail). She has multiple ultra wins and records. Looking at Ashley's splits, her finishing push stood out. After chatting for a bit, Camille put together these two tables showing the fastest times ever for these sections.
From Lone Pine to the finish is 13.7 miles with roughly 4600 feet in elevation.
From Portal Road to finish is 3.6 miles with roughly 1850 in elevation gain. This section was described to Camille by one elite runner as 'practically impossible' to run.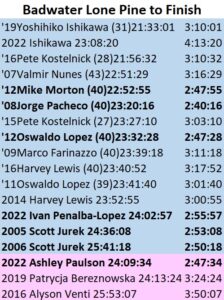 What do these tables show? They show that Ashley completed these sections faster than many of the top runners' all time best performances.
She ran the 13+ miles from Lone Pine to the finish 37 minutes faster than Patryjca ran in 2019 when she set the course record. She ran the 3.9 mile section almost 12 minutes faster than Patryjca did when she set the previous record.
More incredibly, she ran the last 13 miles faster than nearly any male in history. Faster than Scott Jurek, Harvey Lewis, Mike Morton, Pete Kostelnik and more. Of the top overall finishers, only Jorge Pacheco and Oswaldo Lopez have run this section faster. For the final 4 miles, only Lopez has ever recorded a faster split than Ashley.
Note: there have been some faster splits recorded. Camille indicated to me that she pulled the splits from the fastest overall finishers. Pete Kostelnik ran a split faster than Ashley after taking a long break. Jen Vogel ran the last stretch in 50:12 during daytime hours in 2011 on her way to a 29:42 finish.
From Camille:
There's other great ascents I could include, but we're comparing the all time best performers who were running continuously fast and pushing the limits.
The runners on this chart are all time greats and have run Badwater many times and have vast experience with elevation and distances over 100 miles. Her previous 100 mile results would not indicate that this result were possible.
Summary
Admittedly, at this point I have been unable to present definitive evidence to say either Ashley cheated, or that Ashley's result is legitimate. There are two possibilities. Ashley cheated, or she turned in an all time great performance that should be celebrated.
Either way, the truth needs to come out. The scrutiny is warranted based on the incredible performance, and Ashley's past controversies. If it is proven that her run was legitimate, it would be a fantastic story of redemption.
I've seen many theories. One theory is that Ashley's pacer was dressed to look like her, and ran sections of the course. I do not buy into this personally. First, it apparently is common for pacers to match outfits with their runners. Secondly, even if fresh, it would be unlikely her pacer could have run the splits that Ashley recorded.
The more likely scenario, if one were to cheat, is to ride portions of the course in the van. Courses are allowed crews with marked vans. Past cheating was found to have been done using this method.
The good news for Ashley, if she ran the race legitimately, is that she can share her GPS data. This could serve to squash most doubts. There is enough underlying data in a .GPX file to determine if the run was legitimate (Note – the 135 showing on her watch is now believed to be her Heart Rate).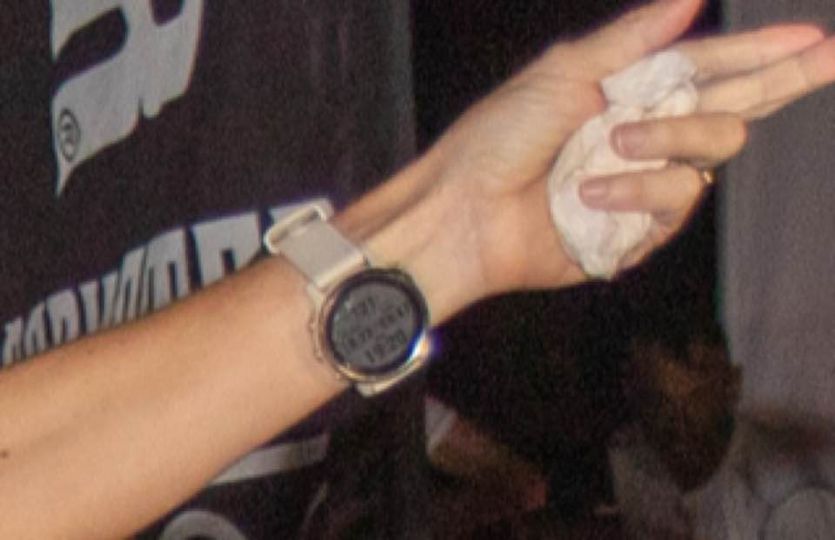 I am not publishing this to stir up controversy. These questions are already at the forefront of everyone's mind in the Ultrarunning community.

It is my hope that this article helps to determine with as much certainty as possible whether Ashley's result was legitimate. If so, she deserves accolades untarnished by doubt. If the result is not legitimate, Patricja deserves to be recognized as the record holder, and Georgia Jo Manta deserves recognition as the 2022 Female Winner of Badwater.
Support Marathon Investigation
To support the site, please consider making a small contribution.Your contributions help to cover the costs associated with running Marathon Investigation.