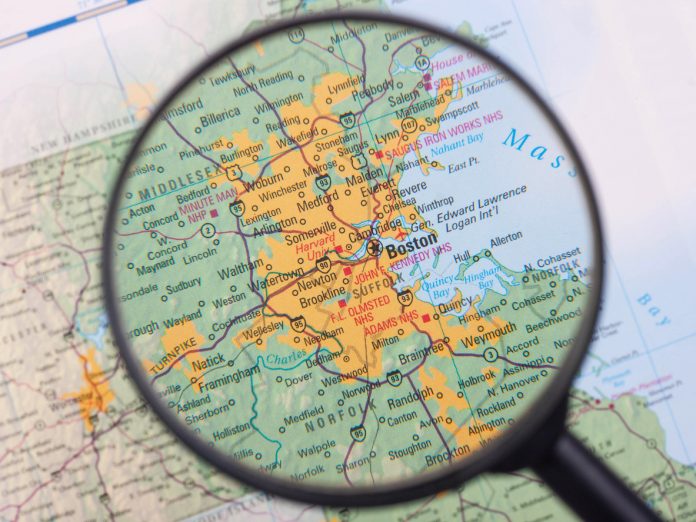 Last year, I wrote about about a Boston Qualifying Scheme at the 2014 Mte St. Michel Marathon.
The former race director of the  Mt St Michel Marathon admitted that he had added the results of runners after the race. He says that he added the runners at the request of Planet Tours owner Momo Ferchichi. Mr. Ferchichi denied the allegations.
Shortly after this story broke, Planet Tours stopped advertising guaranteed Boston entries and removed the BAA logo from their site.
A recent visit to their site confirms that they are again advertising guaranteed entries into Boston. For 2018, they claim to have been given an allotment of 20 Boston bibs.
How are they obtaining these bibs?
2016 Quebec City Marathon
Acting on a tip initially, and then following up by looking at the database I put together of 2017 registrants, I focused on the Quebec City Marathon. Here is what I found.
| | | | | | | |
| --- | --- | --- | --- | --- | --- | --- |
| Bib # | Gender | Age | Time | Time of Day Finish | 1st split | finish net time |
| 1111 | M | 50-54 | 3:29:57 | 11:00:17 | missed | 3:29:57 |
| 1212 | F | 18-24 | 3:29:57 | 11:00:17 | missed | 3:29:57 |
| 1113 | M | 55-59 | 3:29:57 | 11:00:17 | missed | 3:29:57 |
| 464 | M | 60-64 | 3:30:01 | 11:00:17 | 1:43:33 | 3:30:00 |
The tip that I initially received was in regards to the runner #1212. The only split on the course is at mile 13.1.  Scrolling through the results on sportstats.ca, I noticed that 3 runners with identical times all missed the split. None of these 3 had any photos on the course. Runner #464 also finished at the exact same time. While there were no photos of the first 3 runners on the course, there is finish line video available. I purchased HD video for all the runners in the article. Here is a screen capture of the exact finishing time of these 4 runners.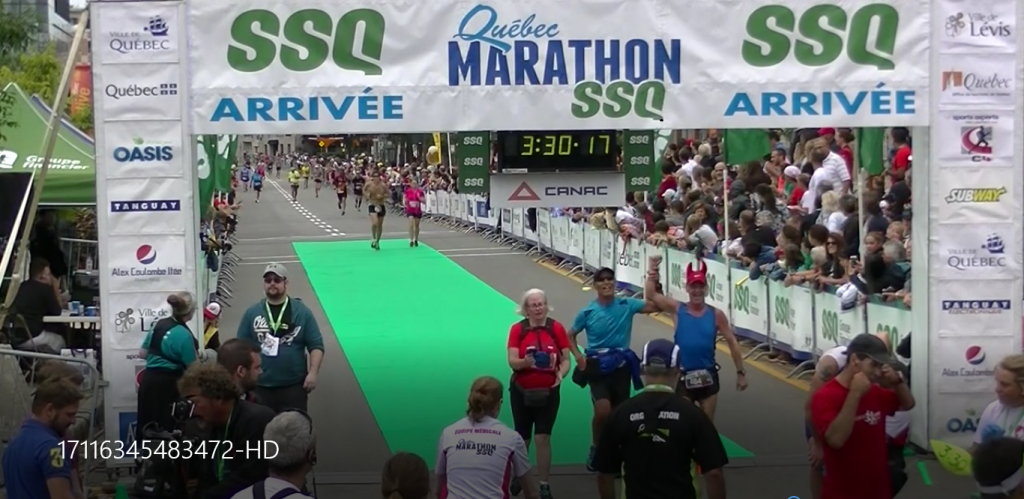 The runner on the left ran the 1/2 marathon. It's the other two that I am interested in. Also, remember that 4 bibs crossed the finish at the same time in the marathon. There are only two runners pictured.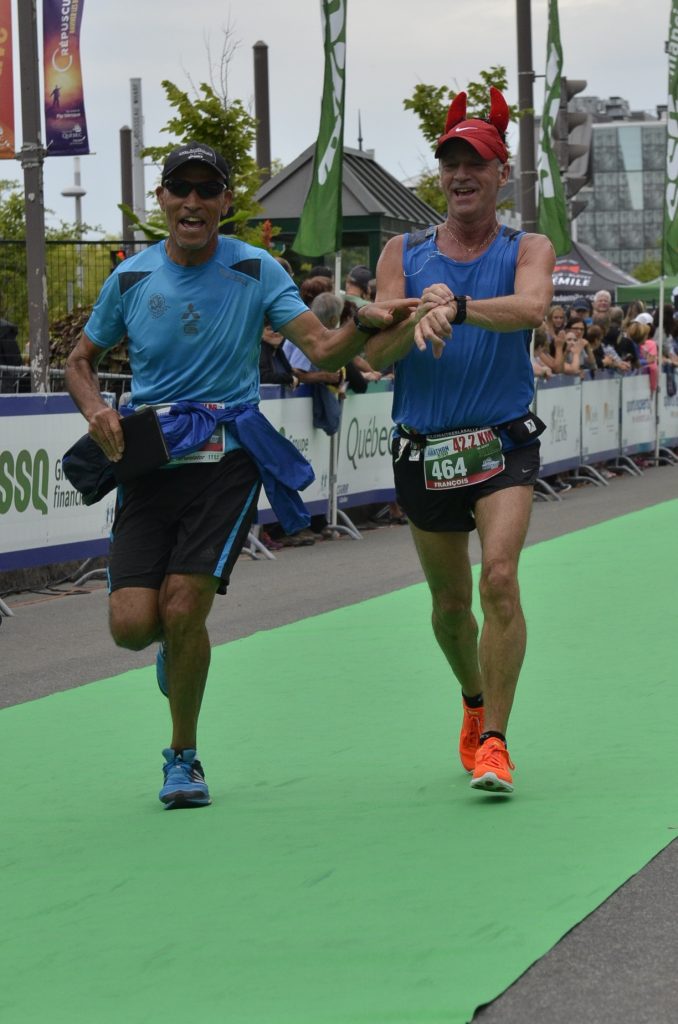 Runner 464 may have run legitimately. He hit his 1/2 split, and has some photos on the course. I have confirmed his identity. He has run Boston in the past (wearing devil horns). He also had a Boston Qualifying Time for 2017 earned at The Scotiabank Ottawa marathon. That result appears to be legitimate.
The other runner looked out of place. Unless he was trying to set a Guinness Record for fastest marathon carrying an iPad, something was up. You can see the bottom portion of the bib. It appears to be 1111 or 1113 – both of those bibs show the same time as the two in the photo. Between these two runners, they were carrying bibs for 3 others.  2 of these runners are registered for Boston using these times. Another qualified – but not by enough to be accepted into Boston (whoops).
But this is where it gets real interesting.

Momo Ferchichi is pictured on the right of the above photo. Compare this photo to that of the iPad carrying bib mule in the Quebec finish line photos. They are one in the same.
Momo Ferchichi, the man that denied involvement when implicated by the Race Director himself at Mt. St Michel is on video carrying at least one other runner's bib.
There were other instances of seemingly related bib muling.
| | | | | | | |
| --- | --- | --- | --- | --- | --- | --- |
| Bib # | Gender | Age | time | Time of Day Finish | 1st split | finish net time |
| 1114 | F | 50-54 | 3:43:23 | 11:13:34 | 1:43:22 | 3:43:23 |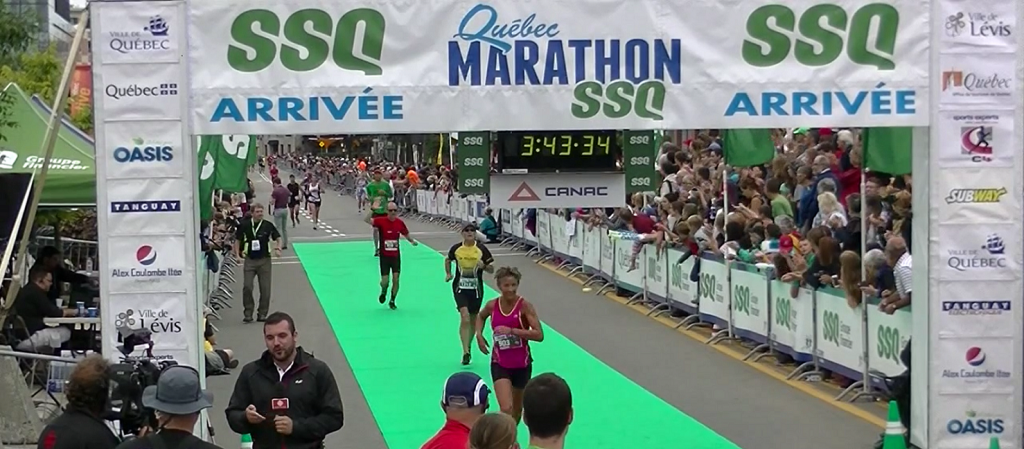 The runner crossing the finish line in place of runner 1114 was wearing bib #903.  The only realistic explanation is that she is carrying bib # 1114.
Bib #s 1111 through 1114  were all carried across the finish line by people other than the registered runners.
| | | | | | | |
| --- | --- | --- | --- | --- | --- | --- |
| Bib # | Gender | Age | time | Time of Day Finish | 1st split | finish net time |
| 1096 | M | 55-59 | 3:53:52 | 11:24:36 | 1:54:08 | 3:53:53 |
| 1112 | F | 50-54 | 3:53:52 | 11:24:36 | 1:54:07 | 3:53:53 |
The last two runners to look at are in the table above. This time, there were two runners crossing the finish line at the same time. However they were wearing bib #s 905 and 906. The time for the entrant assigned bib # 1096 was not a Boston Qualifying time. That runner is registered for Boston using a charity bib.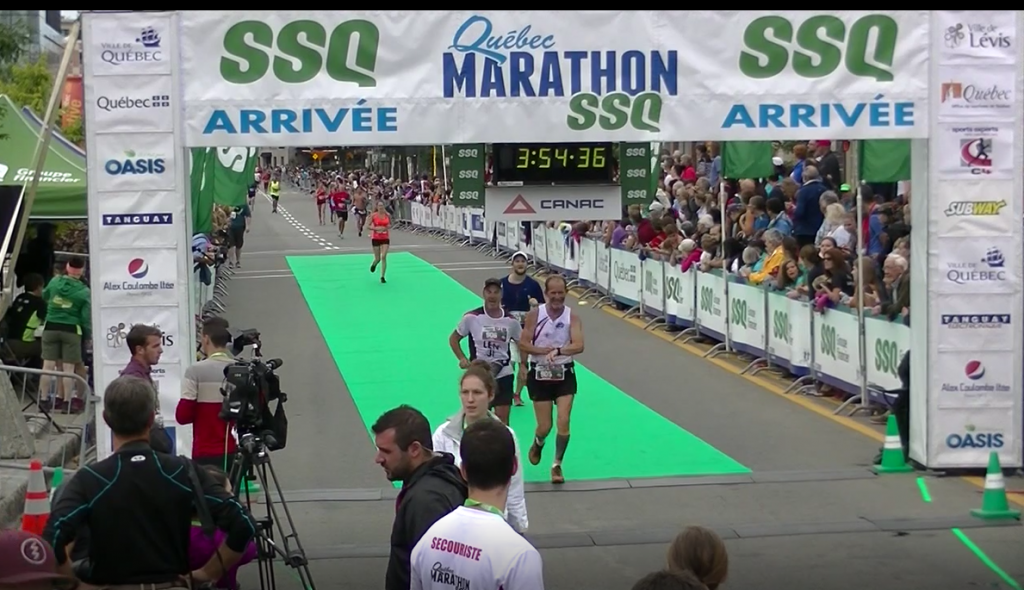 In all cases, I confirmed that the actual runners had identical times as the runners' whose bibs they carried.
There is no doubt that all of these cases are related to Planet Travel. The three potential bib mules wore bibs 903, 905 and 906. They are all from France (Bib # 904 was from France, but ran a slower time).
What I surmise is that Mumo had some of his clients carry bibs for those that paid for a Boston Marathon package. He also carried bibs himself.
The B.A.A. Takes Swift And Decisive Action
Shortly after I notified Boston of this scheme, all 6 of the runners with BQ times were removed from the list of registered runners. The only runner remaining is the runner with the charity bib. They even removed the entry of runner #464 who appears to have legitimate qualifying times, but finished the race side by side with Mr. Ferchichi. Update: From the B.A.A. "He, and some others have had their entry provisionally suspended pending a review of data and other information" Looking at the information, I don't believe that #464 was involved in carrying bibs. He hit the 1/2 split, the muled bibs did not.
I will be pulling an updated list of registrations to see if others were disqualified from different races that I may not yet be aware of. Update: It does not appear that others have been removed from the registration list at this point.
With Mt St Michel, I caught it after the fact. The runners already ran Boston. There was no real punishment that Boston could hand down. This time it is different. The punishment was harsh. For the runners that were not in Quebec, they likely had no idea of this scam. They purchased what they thought were legitimately obtained bibs.
The action that the B.A.A. took was correct. They could not knowingly allow runners to use those bibs that were not obtained legitimately. It does not matter whether the runners were aware of how their bibs were obtained or not.
I hope that this action will finally put a stop to this activity. There are now a number of customers that were planning to run The Boston Marathon next month that now do not have bibs. Mr. Ferchichi will have to answer to them. He will have to pay them back. His reputation will take a hit. Hopefully the local media picks up on this and holds him accountable for his business practices.
In Conclusion
I also want to make it clear that I am not done looking into this. Planet Tours had a presence at many marathons during the 2017 Boston Qualifying period. I plan to dig into the results for all those races looking for a similar pattern of the results. Also, someone reading this may be aware of other instances. If you are aware, please email me at results@marathoninvestigation.com. Your tips will remain anonymous.
Update: Planet Tours sent approximately 15 runners to The 2016 Boston Marathon. I can't yet say whether these runners qualified on their own or not. Only 1 of the 15 whas high on my priority list to review. I continue to dig through the other races they attended.
Special thanks to sportstats.ca for providing the data for analysis.
To support the blog, and my efforts to keep race results clean, please consider a small contribution. These contributions go towards purchasing race photos, compensating those that work to pull data, and general expenses associated with the site.