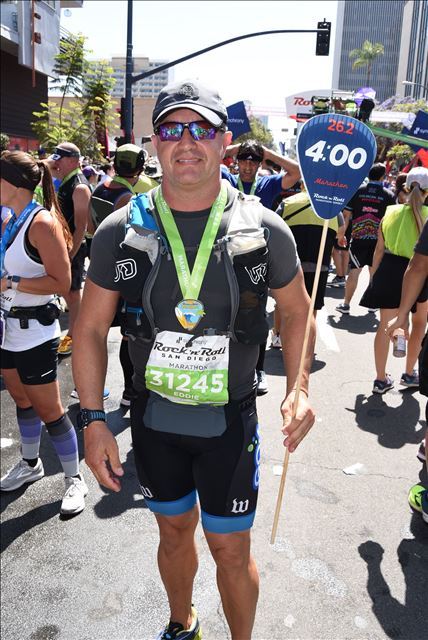 See edit at the bottom of the article with the runner's response and click the link for an update.
Eddie claims 25 Ironman finishes and 40 marathons. He competed in The Ironman World Championships in Kona in 2013. Indeed, looking back he appears to be (or been) a very strong athlete. He has many sub 3:30:00 marathons that appear to be completely legitimate. However, his result at the 2017 Phoenix Marathon raised at least one person's suspicion and led to him being reported to me about just prior to the 2018 Boston Marathon.
Eddie qualified for the 2018 Boston Marathon at The 2017 Phoenix Marathon. He also posted a Boston qualifying time at Phoenix in 2018 which would qualify him for entry into The 2019 Boston 2019 Boston Marathon.
Phoenix is a point to point downhill course.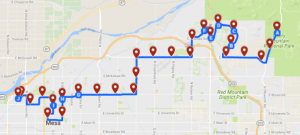 There are published splits at the 1/2 Marathon, and the 20 mile mark.
2017 Phoenix Marathon Result – 3:11:46
Eddie hit the 1/2 split in a time of 1:30:08, a pace of 6:53 per mile. He finished in a time of 3:11:46. He ran the 2nd half in 1:41:38, a pace of 7:45 per mile. His overall pace was 7:19 per mile. He missed the 20 mile checkpoint.
Given the elevation profile, the pace for this race doesn't raise flags on its own. There are other details that do raise some flags:
He missed the 20 mile checkpoint.
10 minute gun/chip differential (note: there were handful others with larger differentials)
Personal Record (This is a PR type course) – but he has run it multiple times and was a much faster runner in prior years and never approached this time. This time is a significant improvement over his prior available Phoenix times.
2018 Phoenix Marathon Result – 3:18:28
This time Eddie hit all the splits. He ran the first half in 1:28:01, a pace of 6:43 per mile. He ran the 2nd half in 1:50:28, a pace of 8:26 per mile.
Fast first half – faster than any found legitimate split time at any other race. Faster than his first half splits in Phoenix from 2015 and 2016. Splits are not available prior to 2015

2015 – 1:40:34 1st half
2016 – 1:39:24 1st half
2017 – 1:30:08 1st half
2018 – 1:28:01 1st half

10 minute gun/chip differential for the 2nd consecutive year. Starting at the back of the pack is not a typical strategy when trying to run a BQ and certainly would not be conducive to his fast 1st half time.
The 10 minute start differential was not repeated at Eddie's other Phoenix Marathon finishes.
When I first learned about Eddie, I was suspicious. But it was 1 week before Boston, and nothing I could do at that point would make a difference in his running Boston in 2018. It was only later that I began to dig deeper.
Phoenix Marathon Times
2013 3:49:35
2014 3:43:41
2015 3:25:18 (BQ – but not by enough to get him into Boston)
2016 3:41:19
2017 3:11:46
2018 3:18:28
After coming close to getting into Boston in 2015, he ran a much slower time in 2016 before qualifying in 2017 and 2018. His Phoenix times improved significantly from 2013 to 2018. He has run quite a few races over this time period. Do the rest of his races follow this trend?
| | | |
| --- | --- | --- |
| Date | Time | Marathon |
| 2/7/2013 | 3:46:37 | Lost Dutchman |
| 3/2/2013 | 3:49:35 | Phoenix |
| 2/16/2014 | 3:41:53 | Lost Dutchman |
| 3/1/2014 | 3:43:29 | Phoenix |
| 1/8/2015 | 3:29:15 | RNR Arizona |
| 2/28/2015 | 3:24:18 | Phoenix |
| 5/3/2015 | 3:44:56 | Colorado Marathon |
| 9/5/2015 | 3:42:12 | Pocatello |
| 10/4/2015 | 3:25:41 | Portland |
| 12/6/2015 | 3:38:23 | Tucson |
| 2/14/2016 | 3:59:28 | Lost Duchman |
| 2/27/2016 | 3:41:19 | Phoenix |
| 6/5/2016 | 3:34:06 | RNR San Diego* |
| 10/9/2016 | 3:45:40 | Portland |
| 2/25/2017 | 3:11:46 | Phoenix* |
| 4/30/2017 | 5:23:13 | Big Sur |
| 6/4/2017 | 4:29:02 | RNR San Diego |
| 2/24/2018 | 3:18:28 | Phoenix* |
| 4/16/2018 | 4:48:38 | Boston |
| 6/3/2018 | 3:52:57 | RNR San Diego* |
Eddie's times were getting gradually slower 2014 to 2018. The real exceptions being Phoenix Marathon and RnR San Diego Marathon. The smoking guns were found in the San Diego results.
2016 Rock n Roll San Diego Marathon
On his way to a time of 3:34:06, he covered the distance between 13.1 and 20 in a time of 20:25, a pace of 2:58 per mile. The course map illustrates the opportunity to cut the course.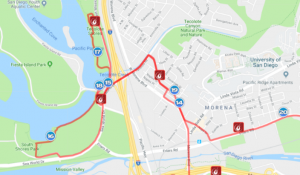 2018 Rock n Roll San Diego Marathon
| | | | |
| --- | --- | --- | --- |
| Split | Total Time | Overall Pace | Split Pace |
| 6.2 | 1:00:35 | 0:09:46 | 0:09:46 |
| 13.1 | 2:01:18 | 0:09:16 | 0:08:48 |
| 20 | 2:45:25 | 0:08:16 | 0:06:24 |
| 26.2 | 3:52:57 | 0:08:53 | 0:10:54 |
Once again, his pace increased significantly between the 1/2 marathon and 20 mile checkpoints. I have also confirmed that he missed an unpublished timing mat. The change in pace has resulted in him being disqualified.
Interestingly he was an official 4 hour pacer for the race. I reached out to the running club that supplied the pacers. They confirmed his status for the race and offered the following in way of an explanation:
Yes he was an official pace setter. I was told that he had to pull off at some point to use a bathroom and then rejoined the group, bringing them in under his 4:00 obligation.
The initial explanation was vague on how they claim that he rejoined the group. But the following response was offered up as a potential justification.
There are those that handle the pacers that think, quite frankly, that this should be a none issue due in large part because the pacers are just there to assist runners with their respective goal finishing time and are not to concerned whether Eddie cut the course or not.
My stance on this should be obvious. You should only take a finisher medal and claim an official time if you actually ran the entire course. However, I felt obligated to investigate the circumstances the best I could with the available race data in order to answer those that felt this instance of course cutting may be justified.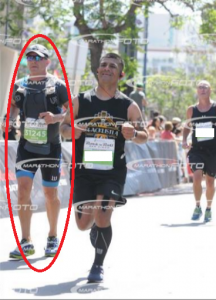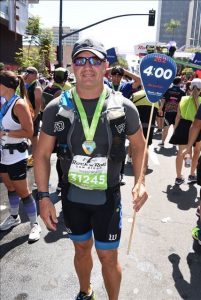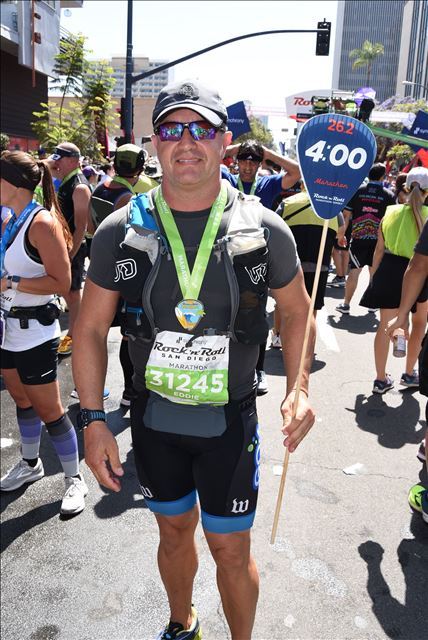 He was carrying the pacer sign pre-race as shown in the first photo. The 2nd photo shows that he was not carrying the stick at the finish. He then appeared to wait for the 4:00:00 pace group to cross the line and posed for a photo with the sign.
I Have been unable to confirm who provided this information to the club, but it is inaccurate.
I have downloaded the entire marathon results, and was able to determine Eddie's actual start time of day. This is confirmed as it matches another runner that was pictured with him at the start. Eddie and this other runner started 12:17 and 12:18 after the gun.
Had Eddie picked up the group at some point and brought them in under his time obligation, I should have been able to see evidence of that in the data. Eddie's clock time was 4:05:14. There is no one within a minute ahead or behind Eddie's finish time that started close to the same time as Eddie. The photos also indicate that he wasn't 'pulling anyone in' I checked all runners that finished near him. No evidence of the pace group or the 4:00:00 stick until after the finish where he apparently waited for the group to cross and got himself in a photo with the stick.
Assuming the 3:55:00 pace group was not well ahead of target, he would have passed them. That seems very unlikely that a pacer would pass another pace group while ahead of schedule.
At some point he turned his official pacer shirt inside out. I have learned that this is often protocol for when a pacer falls behind pace so that other runners don't think they are on track for that time. As shown in the data, Eddie fell behind pace almost immediately and was still behind pace at the half marathon point. So, by itself the fact that he flipped his shirt is not suspicious. One could theorize on other possible motivations, but that would just be speculation.
To summarize, the explanation provided does not agree with the evidence. The potential justification is moot.
EDIT: Attached is Ed's response to the article. His account is different than I received from the running club that was in charge of the pacers. I will address a couple of his other comments regarding the missed mat in Phoenix and his practice of starting in the back.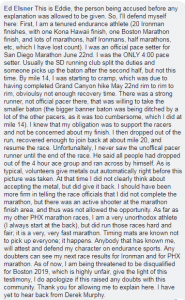 Thank you to all those that support the site. Contributions help cover costs associated with running MarathonInvestigation.com. If you support what we are doing, please consider a small contribution.