On August 5th, I emailed the SF Marathon with a list of 29 suspicious results. Prior to that date, they did remove some runners that were initially flagged, but there are some obvious results that need correcting: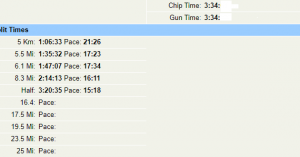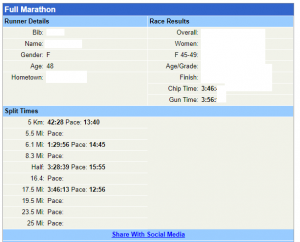 Above are just two examples. As it stands, these runners have qualified for entry into the 2019 Boston Marathon. I don't believe these runners attempted to cheat. They likely ran the "1st half" marathon, but there is no reason why they should still appear in the Full Marathon results nearly a month after the race.
Most of the results are similar to the above. Course cutting does not seem to be a major problem in San Francisco. The runners that bailed halfway through need to have their results removed.
There is one apparent spot to cut the course – just past mile marker 14.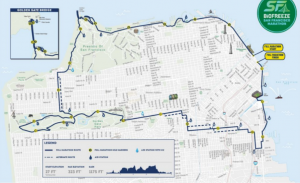 There, apparently, was a timing mat at mile marker 16.4, but the results were not published. The next mat was after the loop – at mile 17.5.
There are runners in the results that have sub-4-minute-per-mile pace from 17.5-mile marker to the finish. Fortunately, most of the runners that seemed to have cut this section do not have times fast enough to qualify them for Boston.
This article is not meant to disparage The SF Marathon, but rather to nudge them to clean up the results to make sure the proper age group winners are recognized and to be certain that no one is tempted to submit an entry into Boston that did not earn the spot.
Support Marathon Investigation
To support Marathon Investigation, consider making a small contribution.