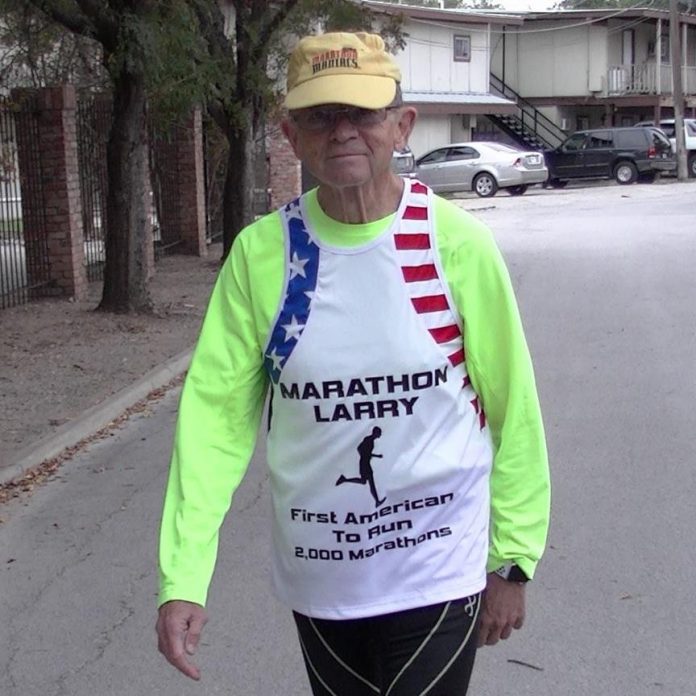 At the 'Mo Bell Marathon August 4th, runners witnessed Larry Macon skipping a loop section of the course. The course consists of 26 loops. It was reported to me that he skipped a 0.2-mile section of the course multiple times.
Officially Larry holds the record for the most marathons run in one year. This record appears to have been broken, but not yet validated, by Nick Nicholson. In addition to that record, Larry claims to have completed over 2,000 marathons.
To some, Larry has been described as a hero or an inspiration. He is definitely a legendary figure among the multiple marathon crowd, especially The Marathon Maniacs. He is often pictured in Maniac gear or 50 States Club gear.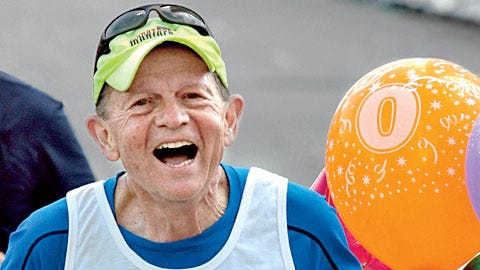 I felt the evidence was clear from the video and from the report I received explaining the events. Still, some were willing to look the other way. Some believe that this was just evidence of a mistake. Some believed that he just missed the turn – despite the short, repetitive course.
Larry Apologizes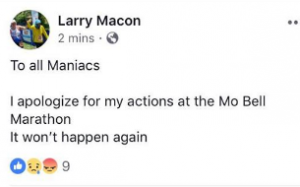 He posted a similar apology in The 50 States Club.
Predictably, many were forgiving. In my opinion, this apology was vague enough to allow wiggle room. What was he apologizing for? Was he claiming he accidentally missed a loop or admitting to intentionally cutting the course?
More To The Story
I was on the fence as to whether I should write a follow up to the story. I had spoken to Courtney, the race director, early last week. She confirmed that Larry skipped some laps and was left out of the results for that reason. While I was not particularly satisfied with the apology or the reaction, the apology wasn't meant for me. I am not an active member of The Marathon Maniacs. I decided I was likely going to report on the apology and my initial conversation with 'Mo Bell.
What we ended up deciding when we left him out of the results was that we can't come up with a logical explanation as to why he'd blatantly walk by the turn he'd made multiple times previously, particularly after it was heavily re-marked.
After giving Courtney a heads up regarding my follow up article, she shared a message that she just rescued from their spam folder. It was sent on August 6th, after my initial article was published.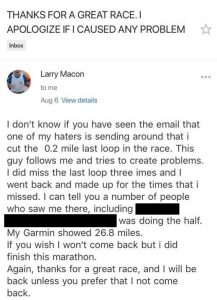 This apology is troubling.
By the time Larry had finished the race, he was being watched carefully.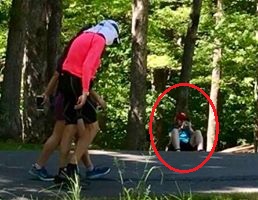 Courtney reported that when Larry checked in at the finish, the person recording the finish times saw Larry's Garmin. They recorded that Larry's Garmin read 25.03 miles. He did not return to the course as he stated.
Additionally, Courtney noted that Larry did not report anything to anyone at the race regarding missing loops or making up any distance.
Larry's email did not include any Garmin data.
Why Does This Matter?
I do not believe 'Mo Bell was an isolated incident. I have previously presented evidence that he claims results where it would be logistically impossible for him to be in two places at the same time (despite defenders claiming early or late starts). He is in results of races that include fictitious participants. I've received an email showing rental receipts where the total rental time was less than his race time.
There will still be people who don't care. But there are runners that do things the right way that deserve a piece of the attention that goes towards those that bend and eventually break the rules.
To support Marathon Investigation, consider making a small contribution.