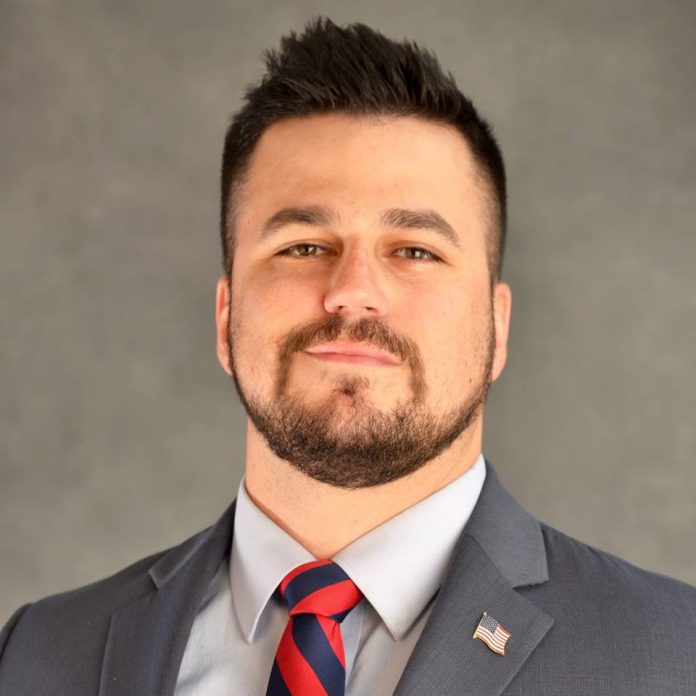 J.D. Greening is among the runners listed on the BAA entry list for the 2019 Boston Marathon.
He submitted his time of 2:43:23 from the 2018 Wenatchee Marathon. This is well under the qualifying standard of 3:05:00.
UPDATE: HE HAS BEEN REMOVED FROM THE ENTRY LIST. HE TOOK DOWN HIS GOFUNDME AFTER RAISING $30
However, J.D. did not earn that time running the full marathon. He ran the half marathon.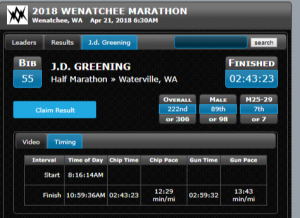 Also worth noting – he had a 16-minute start/gun differential. The other runners that I sampled all had differentials of under 1 minute.
He didn't just quietly try to sneak into Boston: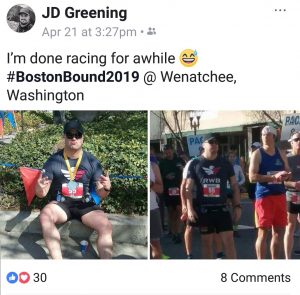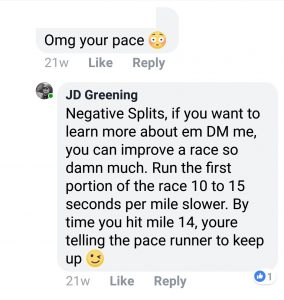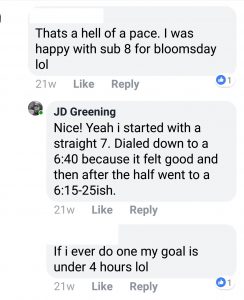 While he does not appear in any marathon results, he did with another runner's bib in the 2017 Marine Corps Marathon. He finished just under 6 hours. He also appears in the results of the 2018 Lake Sammamish Half Marathon in 2:22:16.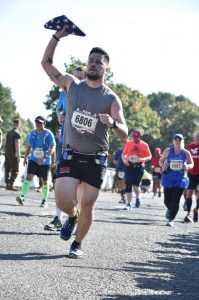 The photo above was found on the Facebook page for his candidacy for the Washington State Legislature.
GoFundMe
Not content with just attempting to convince friends and family (and voters?) that he qualified for Boston, yesterday he started a GoFundMe page asking them to donate so that he could afford the trip to Boston.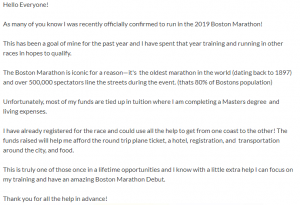 Some notes – no his entry was not confirmed. 

All runners that submitted times that are under the cutoff received an acceptance email stating that their entry has been accepted provided that the information you submitted is accurate.
All races provide their certified results to the BAA. Since J.D. did not even compete in the marathon, he would be missing from the results sent to Boston, and his entry will be removed. While he likely would have been removed before the entry period is over, I have been in touch with the BAA to make sure his entry does not somehow slip through, possibly costing legitimate runners a spot in Boston.
By posting this, I hope to expedite the process of removing his entry, and I hope to make others aware so that they do not contribute to his GoFundMe for a trip which will never happen.
To support Marathon Investigation, consider making a small contribution.
Don't want to use PayPal? Click below to contribute without going through PayPal.