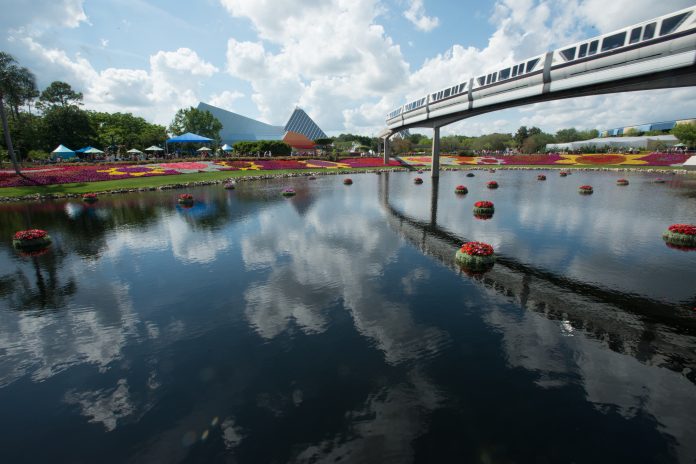 After reviewing The 2019 Disney Marathon results, as always, there were plenty of course cutters. I did not find any of these cutters with Boston Qualifying times. But, there were plenty of repeat offenders and some blatant examples of cheating to earn the coveted Disney medals.
The Family That Cheats Together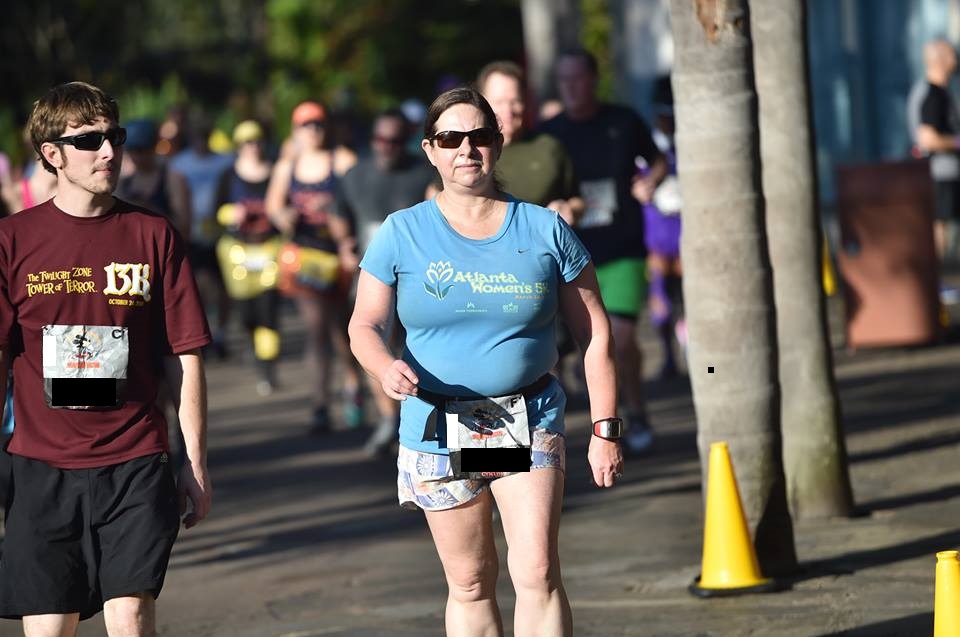 Andrew and Cynthia had nearly identical splits. They both missed the 20 mile timing mat. This is the area that is most known for course cutting at Disney. It is an out and back section. They had a 1 hour negative split.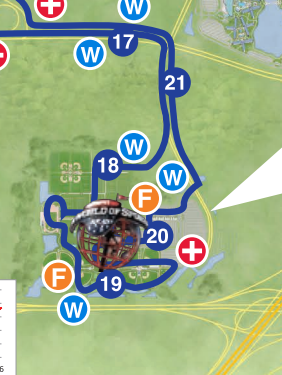 There is one more section of the course that seems to be an even more popular place to cut the course. That is between miles 10 and 13. There were conservatively 300 or more runners that cut this section of the course.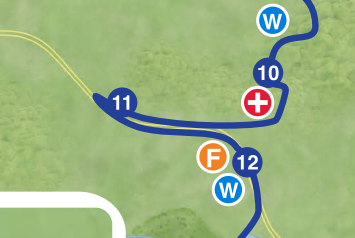 Andrew and Cynthia completed the first 10 miles at about an 18 minute per mile pace. Their pace for from 10-13.1 miles was about 10:15 minute per mile.
Additionally, the runner that was registered as Andrew is 63 years old. It would appear that Andrew's son, Andrew Jr. took his place.
In 2018, the senior Andrew  seemed to have run the race legitimately. The others all were registered but have no official times. It is unknown if they were disqualified, or just did not run the race.
In 2017, these two (Andrew listed as 21 years old) had a similar pattern. Missing the 20 mile checkpoint with a large negative split. There was a third member of the family, that ran separately, but also had a huge negative split accompanied by the missed 20 mile mat.
Andrew and Cynthia had the same pattern in 2016. The suspicious results for Cynthia go all the way back to 2013.
Dopey Runners
James
James is one of a handful that apparently did not bother to show up for the start. Why show up at 3:30 am for transportation is hard when you can sleep a few more hours and take the monorail? He missed the start for both the Half and Full Marathons.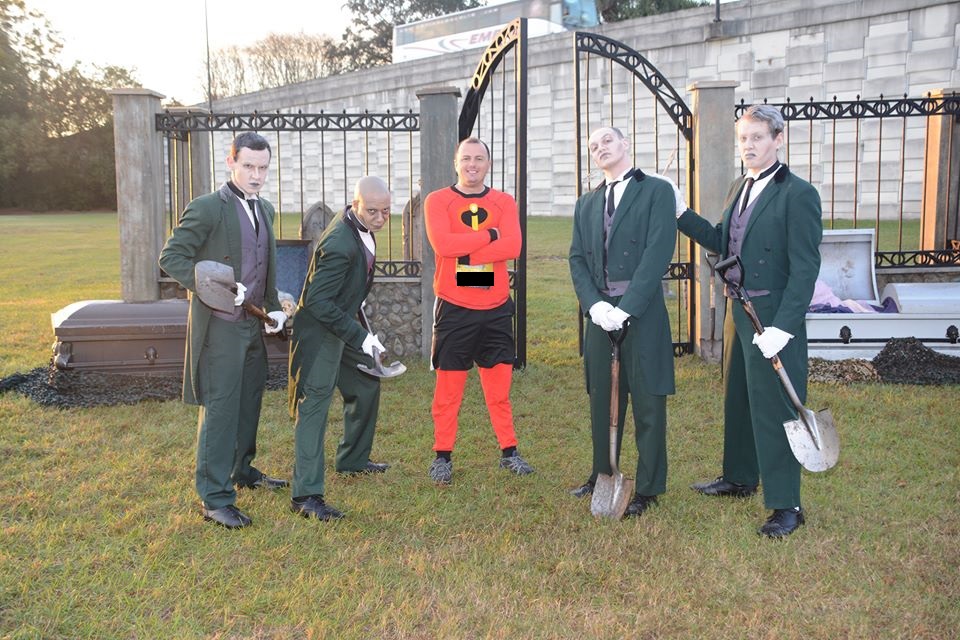 Donna
I received an email regarding Donna. Another runner that may have utilized the monorail.
I ran Disney Marathon yesterday. My family was waiting to cheer me on at approximately mile 24.5, just before you enter Epcot to run the last bit toward the finish line. This point is after all timing mats for the entire race. They saw a woman, dressed in running kit, with bib on. She did not come from along the course but ran from the sideline as if she had run from the hotel which was over a bridge away from the race course. She ran onto the course and went to a med tent, which is located at a 90 degree turn/choke point on the course. This makes all runners highly visible. She clearly did not come from the race course. She showed no signs of sweating or distress, unlike all the other runners. She applied biofreeze, then trotted on as if she had been running all along.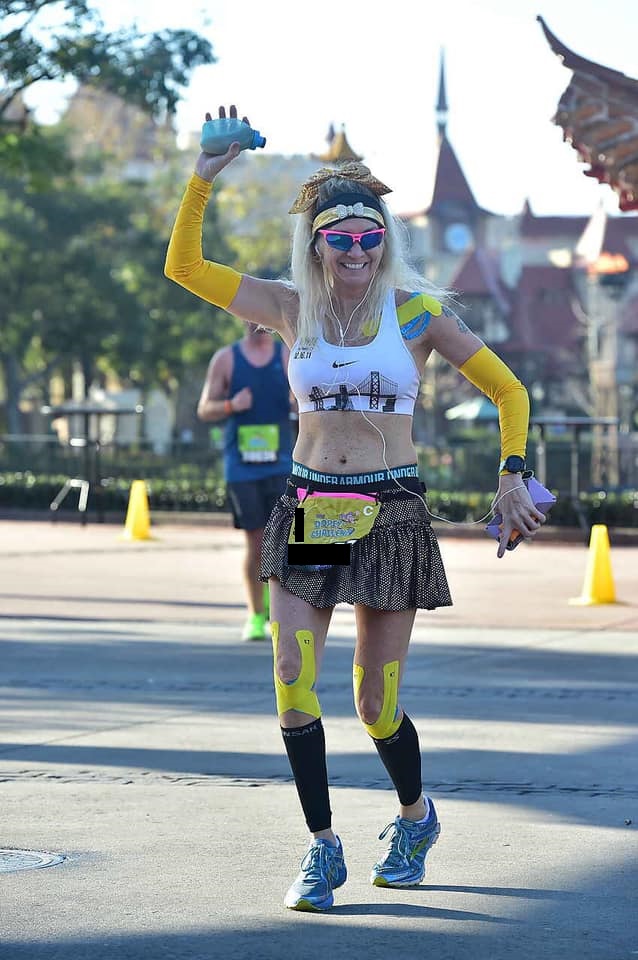 Christina
Christina posted in a Disney group that she was going to run all four races on Disney Marathon Weekend even though she was only trained for a 5k.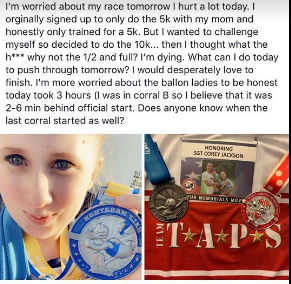 The 5k is not timed. It looks like she legitimately completed the 10k and the half marathons. As would be expected, she slowed with each race. She finished the half in approximately 3 hours.
For the full she finished the first half in just under 3 hours. She was slowing significantly after 10 miles in the full. She was running at 17-1/2 minute per mile pace by the halfway point of the marathon. She missed the 20 mile split and her finish time of over 6 hours represents a 40 minute negative split.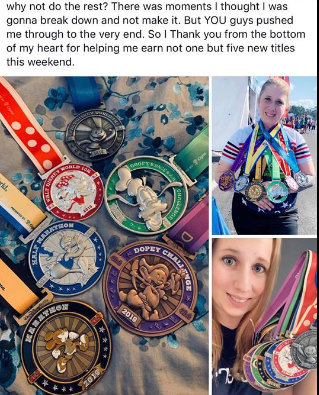 She somehow managed to claim a Dopey Medal for completing all 4 races despite not being registered for The Dopey Challenge. She registered for the half and full as part of The Goofy Challenge. She also received her Goofy medal.
There were other repeat cheaters..more than I can go through. These were a few examples of the most egregious.
Thanks to Brian Davis for the historical research and timing data and thanks to The N#TrD Facebook group for providing the photos used in the article.
Please consider a small contribution to support Marathon Investigation. Your contributions keep the site up and running.  If you represent a race, feel free to reach out for partnership opportunities.
Don't want to use PayPal? Click below to contribute without going through PayPal.

Lastly, be sure to check out The Marathon Investigation Podcast on iTunes or wherever you listen to podcasts. Please subscribe, rate, and review the podcast.