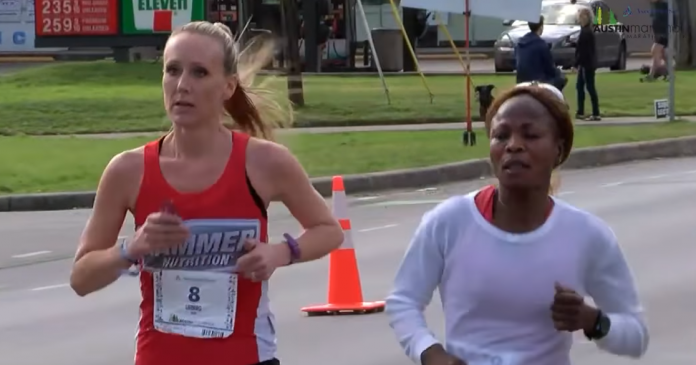 Heather Lieberg won The Austin Marathon. She was leading the elite women very early on in the race. Despite this, she found herself engaged in an unexpected battle with Mary Akor. Mary is an elite runner, who faced a 2 year drug ban in 2013.
I caught up with Heather on Wednesday evening and discussed the race with her.
Heather knew who her competition was. She felt that Anita Perez was her main competitor.
"I knew where Anita was and that's really the only person I looked for at the start."
"It was probably within the first few miles or so…I saw who was Mary in this long sleeve t-shirt. She all of the sudden kind of picked on to me, and she kind of controlled my pace and what I did from the get go, from the second we met up with each other. "
"I'd go to pass her and then she would speed up pretty fast. I'd try to pass her because we were clicking heals."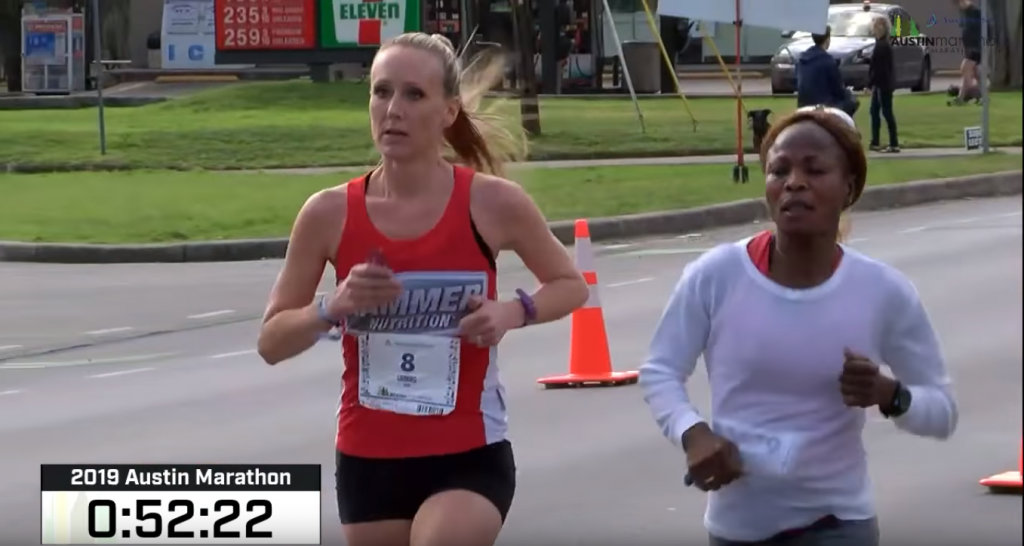 "I would literally go all the way to the left of the course and she would go to the left side of the course Then I'd go all the way to the right and she would go to the right. She was like spitting in front of her and it was flying back in my face.
"This started pretty much right away. I was hoping to run 2:38:00. I was planning to do 6 minute pace for the majority of the race. When I got to her she was running slower than that."
"She would get me kind of cornered sometimes because I'd see where the tangents are. I'd see where the tangents were…she would run right next to me, almost pushing me off the course. Even at the water stations."
Mary's bib was covered. Heather did not know who she was, or in what race she was competing. She did not recognize Mary as one of the elite runners in the marathon. She assumed Mary was running the half marathon.
"I thought she was trying to beat me for the half marathon or something. I told her I'm running the full. Are you running the full? She didn't say anything. She was really intent on not letting me lead her. I wanted to let her know, it's ok. I'm not running the half."
"I was trying to look down at her bib. I don't know if she understood me or was ignoring me. You don't have to do what you're doing to me. She knew what she was doing."
The below video is queued to show an example of the aggression that Heather described.
Around mile 13 Heather realized she was in second place. She did not know for certain that Mary was not competing for prize money.
At Austin, a runner has to be accepted into the elite field in order to be eligible for prize money. Mary did not not apply to run the race as an elite. Had she applied, she would not have been accepted due to her prior doping ban.
"She wouldn't let me run what I wanted to run. She literally would not let me past her. I've never experienced this before"
In contrast to setting the pace, Heather said that Mary was holding her back.
"Her pace was so slow. At one point I looked down, and it was at 6:20 pace. I was like you are worried about me, but there is a 2:45:00 group behind us. I started worrying about the other girls. If we keep running this pace, you and I are both getting passed. That's what I though"
"Finally, I was like I have to pass her. I didn't run, I didn't train to run 6:30 pace. This is ridiculous. I felt like we were just strolling. I knew she was suffering quite a bit. She knew what she was doing. She was holding me in a spot where she could compete."
"I just had to get past her. I went to the right, to go around her and she went over to block me, and I didn't care, I slammed right passed here…and that's when she gave me her little two hand push."
After the race, Mary proceeded to try to get into elite athlete area. When Mary was notified that she was not eligible for prize money she became belligerent according to what I was told by both a race official and Heather.
A previous article in The Statesman stated that Akor was disqualified. I spoke to a race official who stated that the intent was not to disqualify Akor, but simply to not include her in the elite results as per their rules. Akor finished the race first in her age group, and was the 2nd woman across the finish line with a time of 2:43:21. Lieberg won with a time of 2:42:27.
This situation could have been much worse. Since Heather went on to win the race, Mary's actions did not impact the final results.
Heather was forced to race against Mary. According to Heather, Mary did not answer when she was trying to determine what race Mary was competing in. She was concealing her bib. All of this led to confusion. The blocking forced Heather to change her strategy. Theoretically, this could have led to her being caught and cost her the victory.
Fortunately, the race was saved from having to deal with any real controversy when Heather won the race.
Personally, I think they could have easily disqualified Mary simply for the covering of her bib, especially if they determined she was not being upfront about which race she was running.
Throughout the video of the race you can see some examples of this aggressive behavior.
Heather was not the one that first brought up the behavior. At the press conference, someone commented on the aggressiveness, and Heather responded.
While the video of Heather passing Mary was not on the telecast or video of the race, there were cameras on Heather the entire race. Heather hopes that the video of her passing and the shove will be made public. She's read the letsrun thread and the news, along with some comments suggesting that she was in the wrong.
USATF rule 163.4 reads in part:
Any competitor or participant responsible for jostling, running across, or obstructing another competitor or participant so as to impede his or her progress shall be liable for disqualification in that event.
To me, the video evidence seems to meet that standard for disqualification.
I am not an expert on what is typical, and at what level the blocking behavior becomes a disqualifiable offense. I would welcome opinions from those experienced running in the front.
In addition obscuring a bib could also lead to disqualification: USATF Rule 143 states the following: If one bib is provided, it must be worn visibly on the front.
This rule provides an assurance that runners know who they are competing against. Heather went through a large portion of the race unaware what race Mary was competing in.
The Austin Marathon is a USATF sanctioned event. If they were to determine that Mary violated any USATF rule they would be within their rights to issue a disqualification.
Support Marathon Investigation
Thank you to all that have contributed to Marathon Investigation. Your contributions are what enables me to continue the work of Marathon Investigation. To support the site, please consider making a small contribution.
Don't want to use PayPal? Click below to contribute without going through PayPal.