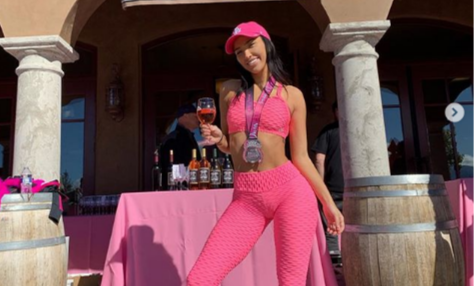 Bre Tiesi-Manziel and Khloe Terae (Chloe Thompson) claimed that they completed their Half Marathon debuts in under 2 hours each. Bre is the wife of former Heisman Trophy Winner and pro football bust Johnny Manziel. She is also a model and the creator of Body By Bre 12 week Transformation.
Khloe is a model and has appeared in Playboy, Maxim and Sports Illustrated.
As first posted on letsrun, A quick look at their splits shows that all is not as it seems.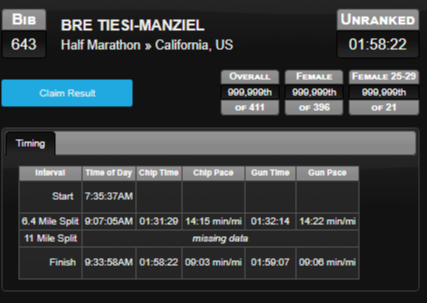 Both runners had identical split times. Doing the math, it is clear that they both cut the course.
After running the first 6.4 miles in over 1:30:00 at a 14:22 minute per mile pace, they finished the remaining 6.8 miles in 0:26:53 – a 4 minute per mile pace.
Showing off her running 4:00 minute per mile form.
"I see it, I see the finish line"
Cheating for Likes
This was not cheating for a qualifying time, but is a textbook example of cheating for likes. Khloe has over 2 million followers on Instagram, Bre has over 363,000 followers. Their posts have thousands of likes.
I've come across dozens of cases of cheating where the only motivation seems to be to post for likes on social media or to brag to friends. This seems to be a popular motivation whether someone is trying to build an online brand or just impress their friends.
Hopefully by spreading this story, someone will see that when you lie about your accomplishments on public platforms, it will not go unnoticed.
My First half marathon with no prep in exactly 2 hours
Not only did Bre cut about 5 miles off of her half marathon, but she posted to her thousands of followers that she did so unprepared. This is disingenuous and irresponsible.
Edit: She tweeted, and since has deleted this. Because a photo of a mile marker without context is proof she ran nearly 7 miles in under 30 minutes. The course was modified due to weather. I am working to get an up to date map of the route. Mile marker photo or not, she did not run a 4 minute pace for 5 steps or 5 miles.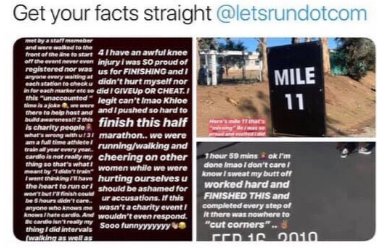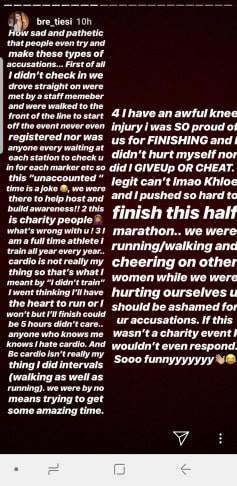 Support Marathon Investigation
Thank you to all that have contributed to Marathon Investigation. Your contributions are what enables me to continue the work of Marathon Investigation. To support the site, please consider making a small contribution.
Don't want to use PayPal? Click below to contribute without going through PayPal.