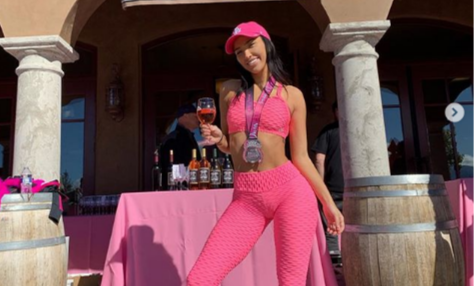 Bre Tiesi Manziel and Khloe Yerae did not run the full 13.1 miles at The Diva Half Marathon. This is not debatable.
Bre provided 'evidence' that is dubious. I have seen some floating the possibility that Bre and Khloe may not have known they cut the course short. Even letsrun's Robert Johnson has said that he thought this was a possibility.
In my opinion, it would have been impossible that Bre and Tiesi were not aware that they cut the course short by the time they crossed the finish line.
They would not have been the first to inflate their accomplishments for the purpose of getting social media likes, and unfortunately they won't be the last. It is my hope however that this story will serve as a deterrent to someone that may be tempted to 'cheat for likes"/
What I Believe Happened
Below is a track of the actual course. The course maps that were previously published on letsrun.com were inaccurate. As I commented in my initial article, the course was altered significantly due to flooding in the area. I have confirmed the actual course layout. Deadspin also published an article. The author consulted with Marathon Investigation, and I provided him the below track which was shared by a Marathon Investigation follower.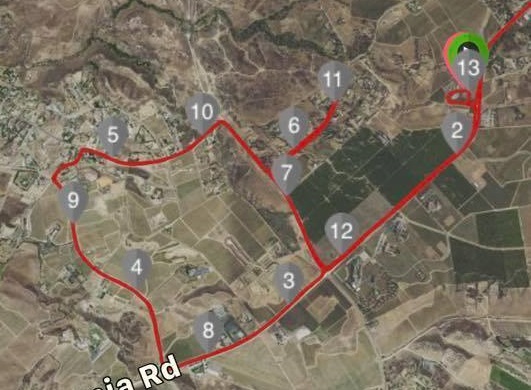 The revised course consists of two loops. It is apparent that Bre and Chloe ran the loop and the out and back one time. Instead of turning right at the 7.5 mile mark for their second loop, they turned left towards the finish. They cut 4.6 miles off the course. I feel there is no chance they would not have been aware that they did not complete the entire distance.
The 6.4 mile checkpoint was at the end of the first out and back. They hit that timing mat. The 11 mile checkpoint would have utilized the same timing mat on the next loop. They did not register at the 11 mile checkpoint.
If they ran the entire half marathon as they claimed:
| | | | | |
| --- | --- | --- | --- | --- |
| Mile | Total Time | Split Time | Total Pace | Split Pace |
| 6.4 | 1:31:29 | 1:31:29 | 0:14:18 | 0:14:18 |
| 13.1 | 1:58:22 | 0:26:53 | 0:09:02 | 0:04:01 |
Let's check the revised math.
| | | | | |
| --- | --- | --- | --- | --- |
| Mile | Total Time | Split Time | Total Pace | Split Pace |
| 6.4 | 1:31:29 | 1:31:29 | 0:14:18 | 0:14:18 |
| 8.5 | 1:58:22 | 0:26:53 | 0:13:56 | 0:12:48 |
Examining Bre's Excuses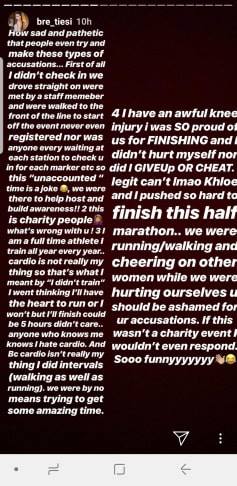 It Was For Charity
"It is for charity people"
"We were there to help host and build awareness"

Bre says they were building awareness and racing for charity. That is not an excuse to cut the course or claim you completed a half marathon when you did not. I saw no mention on social media relating to a specific charity. She did use #breastcancerawareness in her Instagram post where she referenced her time.
Runners can raise money through the race, but none of the entry fees do to charity. A fundraising page could not be found for Bre, but Khloe raised $65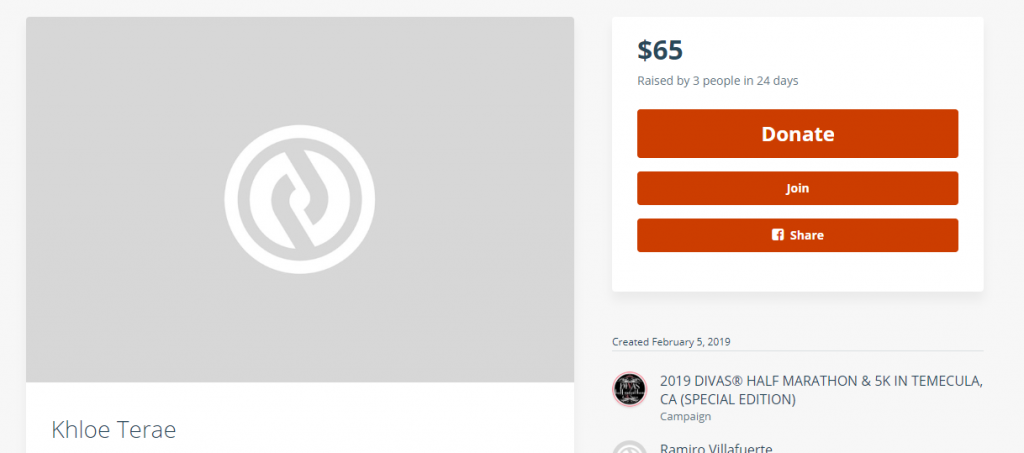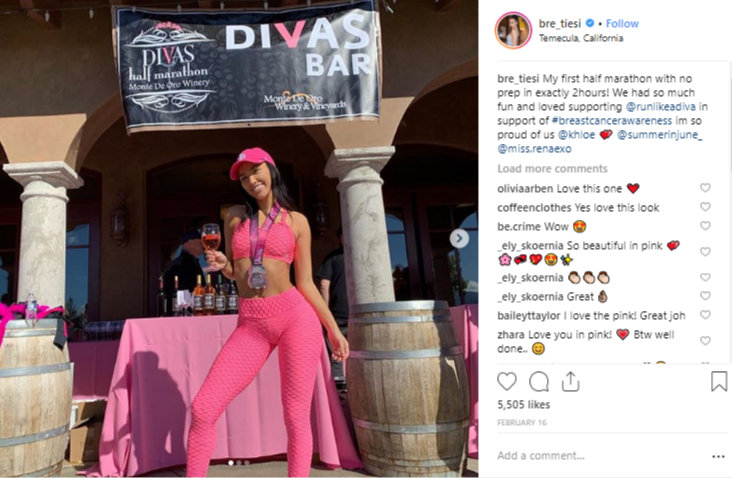 Evidence Provided by Bre
Nor was anyone every waiting at each station to check u in for each marker etc. so this "unaccounted" time is a joke.


"Here's a mile 11 that's "missing" Bc I was so proud and excited I did take photos of every single step of this! so sad I would even need to prove this you think none of this would matter sept supportin the cause and women around the world struggling and yet people take something I tried to do for a good cause and support of women and called me a cheater"
What is clear is that Bre is not familiar with timing systems. There is a timing chip embedded in the bib. You do not need to check in at the start, nor are there people at each checkpoint. This is done electronically. The same timing mat registered at 6.4 that she missed at mile 11.
Her photo of mile marker 11, shows in my opinion the intent to cheat. After crossing mile marker 6, they would have come across mile marker 11.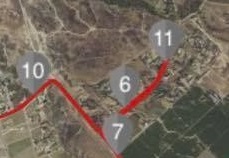 Approximately 0.4 miles after passing the mile 6 mile marker, they would have come to mile marker 11, which would have marked their distance when running that section for the second time. Her photo of mile marker 11 only proves that she did that section of the course 1 time.
They passed mile marker 6, 11, 7, and 12 in that order. She took photos and posted miles 11 and 12 as her "evidence". I cannot believe that both runners would not have realized the sudden jump from mile 6 to 11.
It is feasible that they followed the faster runners towards the finish instead of completing the second loop. But, in my opinion there is no way they could not have been aware that they didn't complete the race.
I do think that Bre is completely unaware of how the timing works and therefore thinks that a couple photos of mile markers and her explanations are enough to prove her innocence. This is evidenced when she googled an article on average half marathon time as part of her defense.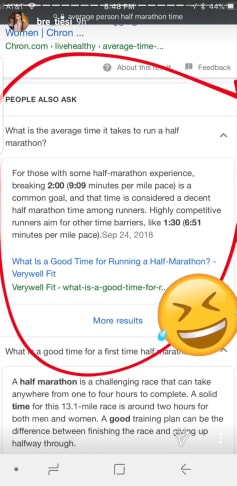 She clearly is choosing to ignore her world record pace for the final 6.7 miles of the race. No one is saying that a two hour marathon is impossible.
Running 6.7 miles in 27 minutes is impossible for a human..
Blame The Media
U Should be ashamed for ur accusations
No. You should be ashamed for claiming you completed a half marathon.
By claiming that they completed the half marathon, they are cheating and diminishing the efforts of everyone that trained and fought to run the distance.
They are cheating and diminishing the attempts of those that may have struggled and couldn't finish. There is no dishonor in not finishing. There is dishonor in claiming a false finish. You are cheating every and disrespecting the event and all the honest participants.
Support Marathon Investigation
Thank you to all that have contributed to Marathon Investigation. Your contributions are what enables me to continue the work of Marathon Investigation. To support the site, please consider making a small contribution.
Don't want to use PayPal? Click below to contribute without going through PayPal.