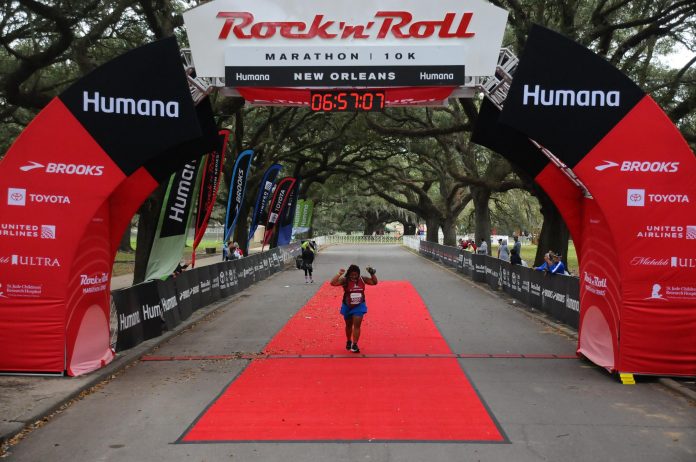 On Runningfatchef.com, Latoya Shauntay Snell'is described as a Food and Fitness Blogger, Influencer, Journalist and Chef. She has a number of sponsors. She has written about her experiences for a number of publications. She went viral after she wrote that she was heckled during the 2017 New York City Marathon.
I received a message last Monday morning. A follower of Latoya's directed me to a Facebook post where Latoya detailed her race. Latoya wrote that she finished the marathon. But, in that thread it was mentioned that Latoya did not have a time on the results page. I agreed to take a look at the result.
As part of my research, I reached out to Latoya via private message through Facebook and then through email. Latoya shared those messages on her public Facebook wall to her approximate 3500 friends. Her public page serves more as a fan page.
The intentions behind these two messages got twisted. The narrative is that I targeted and harassed Latoya, and that I falsely accused her of cheating.
I feel obligated to respond. The narrative is spreading that I falsely accused her of cheating, and that I wrote about runners that were diverted.
The below post was appeared The Marathon Maniacs Facebook page, a group with over 21,000 members.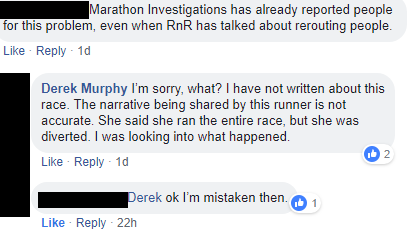 I never accused Latoya of cheating. I did not make this public, Latoya did.
The Investigation Begins
I really did not know much about Latoya until I received the message. While Latoya was not vying for a BQ (She's a back of the packer, same as me). I agreed to look into the result. Here was my response that I sent to the emailer.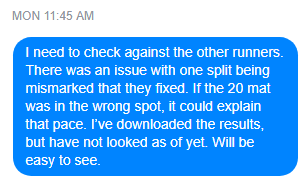 I have always been as upfront as possible about my investigations. The procedure I followed here is the same as I always do.
First, I looked at the available data. Her times were cleared out from the race website, but the splits were still showing on the RnR Marathon app. She had no time registered at the 18 mile mat and an increase in pace from over 16 minutes per mile to just over 10 minutes per mile. This fact was brought up in Latoya's thread. She posted that she was going to contact RnR over the timing error.
I contacted the timer. I wanted to check to see if there were any known timing issues that could explain her result.
Latoya Snell RnR New Orleans

Questionable split times…and gone from the results page. Is this a clear disqualification? Haven't looked at the full results yet, wanted to make sure the pace change wasn't due to a missed timing mat.
They confirmed that the data was accurate.
At this point, I was fairly certain that she did not run the entire 26.2 miles. I was not certain what led to that happening. I hope that the messages I sent to the original emailer and the timer show that I did not enter this investigation with any assumptions.
Reaching Out
As I always attempt to do, I reached out. I chose to reach out via Facebook messenger. The thread where she was interacting was on Facebook. I did not want to post on the thread. I wanted to reach out to her privately.
As I typically do, I also sent a friend request. I know from experience that it is not always obvious when someone you are not connected to sends you a message. They are easy to miss. I've had many occasions when I attempted to contact people and the messages went unread. Her page appeared to be more of a fan page, she had thousands of friends.

She responded within a few hours and was very polite. She talked about the race experience, but nothing about the timing situation, etc. She asked that I email her with any further questions.
Shortly after she responded to my messenger request, I looked up her Strava. Her Strava Flyby video confirmed that she had not completed the entire course. It showed she was short approximately 3 miles on the out and back section where she missed the timing mat.
I knew she had not completed the entire course, but I did not know the circumstances.
Later that evening, I sent her a follow up. I was more direct. At this point I knew with 100% certainty that she did not complete the full course. Publicly she was still maintaining that she ran the complete distance. I did not know why she turned around where she did. I was hoping to get that answer.
Hello, this is Derek from Marathon Investigation.

Just have a simple question. Did you complete the full marathon at RnR New Orleans? You are missing the 18 mile split, and had a much faster pace along that stretch, which raises flags.

Thanks
Derek Murphy
Marathon Investigation

She responded to me stating that she had run the entire distance. She Thanked me for reaching out and wrote the following regarding the marathon.
"Thanks for reaching out again. I completed the full marathon. My pace was around 16 to 16 1/2 minute pace or so each mile with a finishing time hovering painfully close to 7 hours."
She went on to express that she felt that she felt my initial message was less than forthcoming.
"To be very frank –I'm very aware of what you do and would've appreciated if you were bit more forthcoming when writing me on Facebook messenger. Your 'simple question' and comment about 'red flags' infers something else and already gives me an indicator of what you're looking to claiming. Feel free to do as you wish, as each marker was up on the course until the very end. I was one of the last 20 or so people who crossed."
I wrote a quick response, telling her that was not my intent, and began composing an email where I would show her why I felt it was clear that she did not complete the full 26.2 miles.
Making it Public
After this, she made my emails to her public by posting on her wall. I attempted to explain that I was following my normal procedure and simply was trying to figure out what happened. Readers of the thread felt that I was harassing Latoya. I was honestly trying to get to her side.
At that point, I knew that she had not run the full distance, and she was saying that she did. Had I already decided I was going to publicly write that she not completed the full 26.2 miles, I could have done so. I reach out to runners in an attempt to allow them to provide an explanation that explains the evidence.
In the thread where she shared my messages, she reiterated that she had run the entire marathon.
let him check. The course markers were up the entire time and I was so slow that I started seeing a vehicle sweep a number of times. There's photos of me all over the course all the way up to the finish.
I replied to comments within the thread. Latoya's main complaint was that I was not upfront with my intentions in my initial message and that I chose to contact her through messenger and that I sent her a friend request.
I wrote: "You are disparaging me on your page when I had not written a word about you. It would have been disrespectful had I not reached out. By reaching out I was giving you a chance to explain what happened. "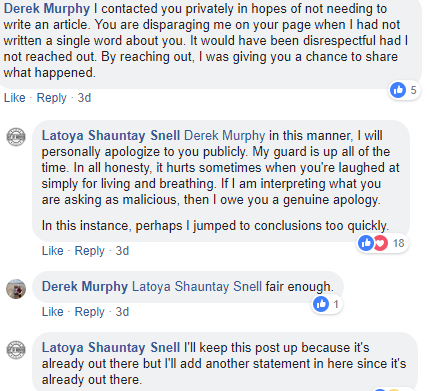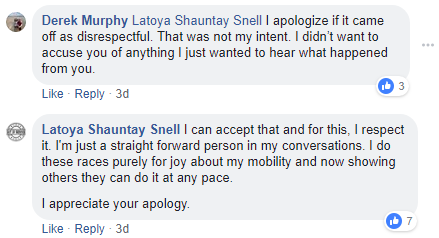 I thought we were back to the point where we could continue the email dialogue. I intended to follow up with her the following day and share the details of my information to try to figure out what happened that led to her missing the 3 miles.
On Tuesday afternoon, she posted statements across social media stating that she was misdirected on the course along with 18 to 20 other participants.
Early that morning she had made the initial thread private. She re-opened that thread around the same time she posted that she was misdirected. I knew she reopened the thread when I began receiving notifications through Facebook.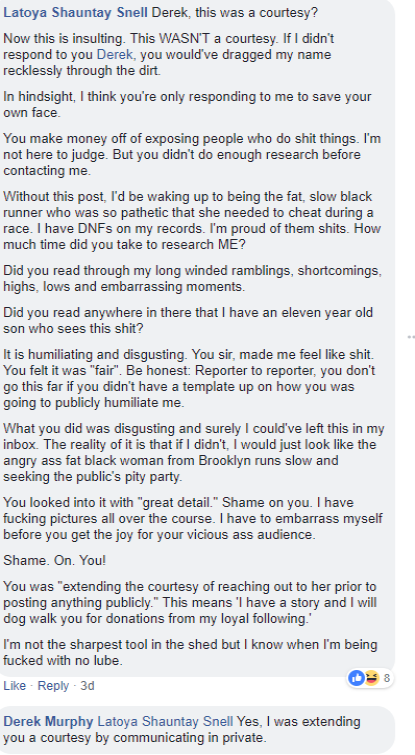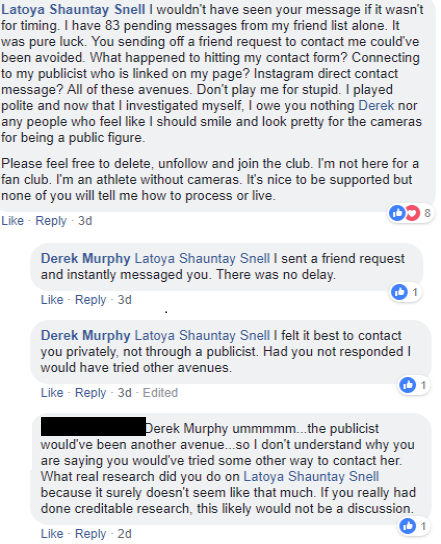 To this point I had not written a single word publicly about the situation besides my replies on Latoya's wall. I wrote nothing on the website or the Marathon Investigation Facebook page or group.
It also needs to be mentioned that I was being criticized in the thread for not doing enough research on Latoya. Contacting Latoya was part of the research. I had not written any article, I had not made any conclusions regarding the circumstances on race day. I was criticized for not doing enough research while I was still doing research.

Had I not legitimately wanted to get Latoya's side, or if I wanted to label her a cheater, I would have had no need to reach out to her. I could have posted an article on Tuesday morning. At that point, she was saying she had run the full marathon, I had clear evidence that she didn't. I didn't need to contact her to post that if that was my intent. I truly wanted to know the circumstances.
While I was trying my best to have a rational discussion despite the harsh replies from Latoya and others on her wall, I was blocked.

Further Investigation
Still, I continued my research. I concluded that it was very possible that she was actually diverted. She was behind the required pace which would require a 7 hour finish. Had she not been diverted, she would have finished well over 7 hours. This is not a criticism. I am also a back of the packer.
I do not know what was communicated to Latoya on the course. There could have been confusion. I consulted with the timer and we agreed that there was likely no intent to cheat.
I sent an email to Latoya (and copied her publicist as she requested) telling her what I thought had happened and that I do not believe she did anything wrong on race day.
Hello Latoya,
I again want to reiterate that my intent was not to accuse you of cheating.

When I said there were flags, I meant there was something not right with the result. It wasn't meant to be a comment on any intent on your part. I could see how you may have taken it that way.

I was certain at that point that you had not run the entire course. I did not know the circumstances that may have led to that.

I do know that RnR has been known to redirect runners from the back if they were behind pace, so that they could collect a medal even if they aren't official. Based on your post this afternoon, I think that is quite possibly what happened. It is possible that whoever told you to turn around did not communicate that clearly.

Again, I apologize if I came off as accusatory. That really was not my intent. I've found no good way to ask these questions.

By the way I've completed 11 lifetime marathons. Just got back into it last year. I am a back of the packer to be sure. My two finishes last year were close to 7 hours, and I got pulled from the course at the Air Force Marathon due to the heat. I was on pace for well over 6 hours there as well.

Good luck.
Derek
But the threads continued on her page. The narrative was that I was harassing Latoya. All I had done was send her those 2 original messages in private.
I still had not written a word about her on my site or on The Marathon Investigation Facebook platforms. She continued to disparage me on her page despite the fact that I had not written a single word about her publicly, aside from attempting to respond to the claims made on her page.
The below post was made on The Marathon Investigation Facebook Group. At the time this post was made, the group was private.

I responded on the thread, trying to clarify that I had only sent the two private messages to Latoya and the email where I said that I believed she was diverted. It was Latoya made this public. It was only after her supporter posted in the group that Marathon Investigation followers became aware of the situation. Even then, this was in the private group, not on my public page..
There was criticism that we were discussing this in a closed group, I then opened the group up so anyone could read the posts. The debate was only happening because of the post saying I harassed Latoya. Her criticism is ironic as I was blocked on Latoya's page and unable to respond on these threads.
The narrative continued on Latoya's page. They felt I accused Latoya of cheating, and that I had not done my research, etc.
She responded to my apology on her page:
"Fuck Your Apology, Your followers came over here trying to avenge you. They can lick the same toilet seats with that bullshit apology."
She went on to write that "My 'outrage' is due to what he could do" . At this point there are a half dozen or so threads on her page that are serving to publicize the narrative that I was harassing Latoya, based on something that 'I might do'.
"My Outrage is due to what he could do"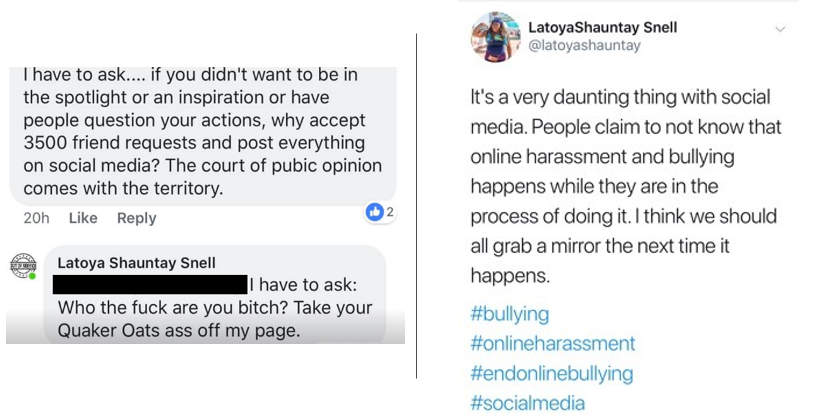 In Defense of RnR
There was an established cutoff for The marathon. The cutoff was 7 hours. Latoya was one of the very last runners at the time I believe she was diverted. It is my opinion that Latoya, and the other runners,were diverted so that they had an opportunity to cross the finish line, even though they would not be in the official results.
Latoya's unofficial time was 6:42:46.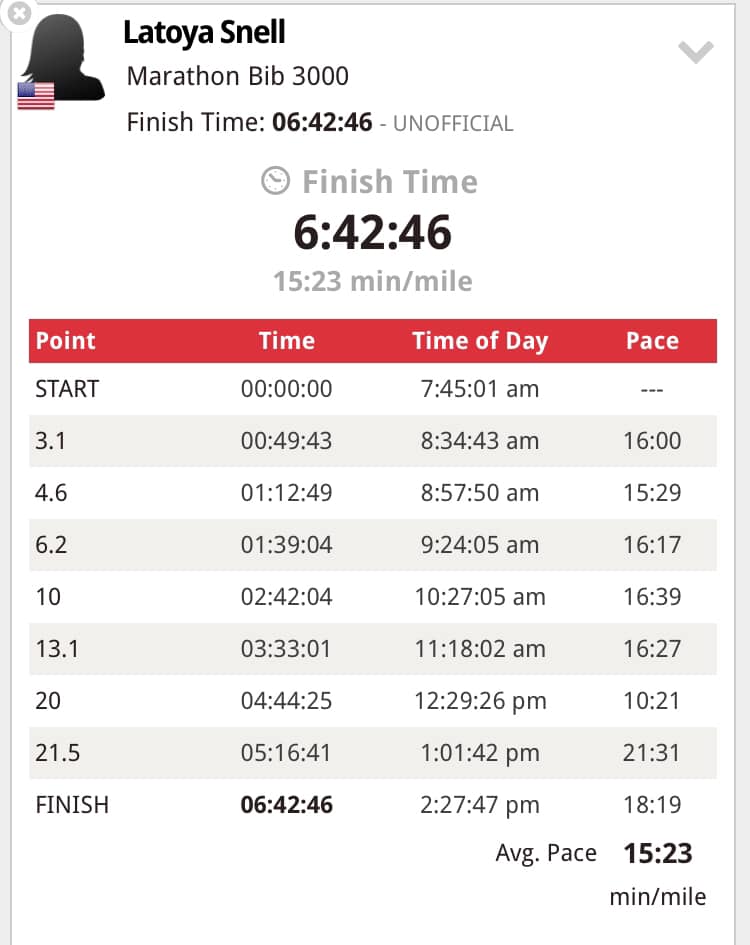 Adding in the time it would have taken Latoya to finish the missed 3 miles, she would not have been able to finish without being diverted.
In the past, many runners at RnR events that were diverted or bussed to the finish ended up in the official results. They have cleaned up their processes, and rightfully remove runners from the results if they did not physically run the entire distance of the race.
Summary
I was put in the position of having to defend my process against the narrative that was continuing for nearly a week. The claims against Marathon Investigation were unfounded and inflammatory. The examples that I posted were just a small portion of the comments made regarding my intentions, my methods, and my research.
I have not sent anyone over to her wall to make comments. On the contrary, I discourage that behavior. I do not hold Latoya responsible for her fan's behavior. I welcome the debate on my pages and on my site.
While I have questions as to how it was that Latoya didn't know that she was diverted or how she didn't know that she only ran approximately 23 miles, I would not have written an article once she conceded that she did not run the entire course.
Support Marathon Investigation
Thank you to all that have contributed to Marathon Investigation. Your contributions are what enables me to continue the work of Marathon Investigation. To support the site, please consider making a small contribution.
Don't want to use PayPal? Click below to contribute without going through PayPal.