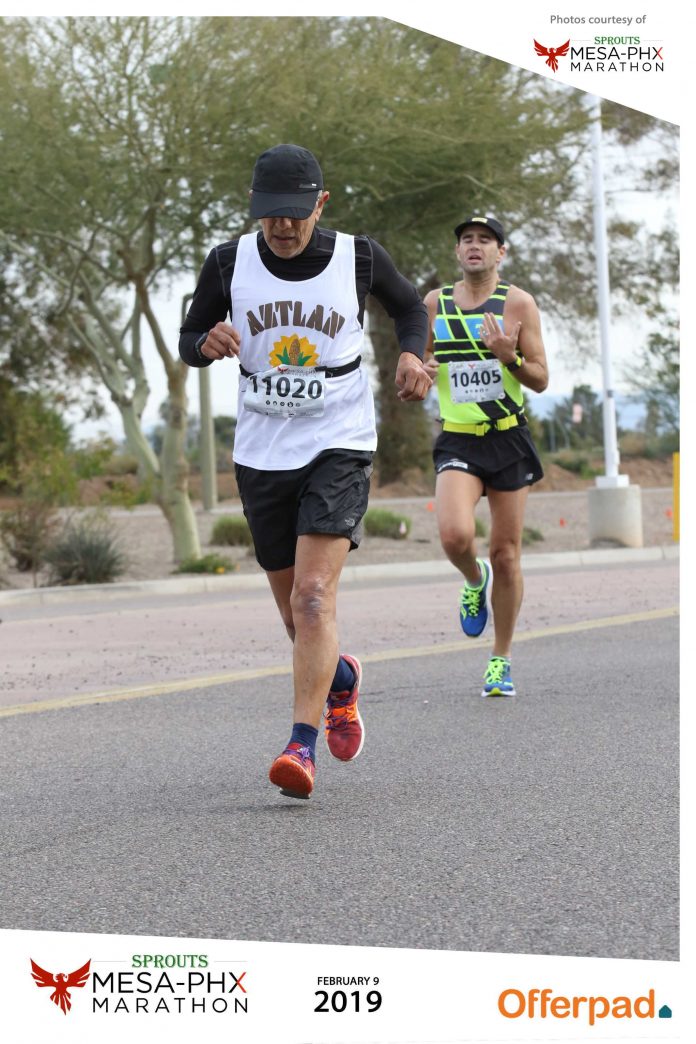 Frank Meza has two record breaking Marathons in 2019. Yesterday I provided information relating to The 2019 Los Angeles Marathon.
Prior to The L.A. Marathon, Frank set an age group record at The Sprouts Mesa-PHX Marathon with a time of 2:53:54. There is evidence that indicates that Frank did not run the entire course.
| | | | | |
| --- | --- | --- | --- | --- |
| | Frank Meza | #11020 | | |
| Mile | Chip | Gun | Total Pace | Split Pace |
| 6.22 | 0:40:55 | 0:41:29 | 0:06:35 | |
| 13.1 | 1:26:40 | 1:27:14 | 0:06:37 | 0:06:39 |
| 20 | 2:12:20 | 2:12:54 | 0:06:37 | 0:06:37 |
| 26.2 | 2:53:54 | 2:54:28 | 0:06:38 | 0:06:42 |
As with his 2019 Los Angeles Marathon result, Frank did not miss any checkpoints, and his splits are very consistent.
It is only after taking a closer look at the evidence that the validity of this result begins to unravel.
Photographic Evidence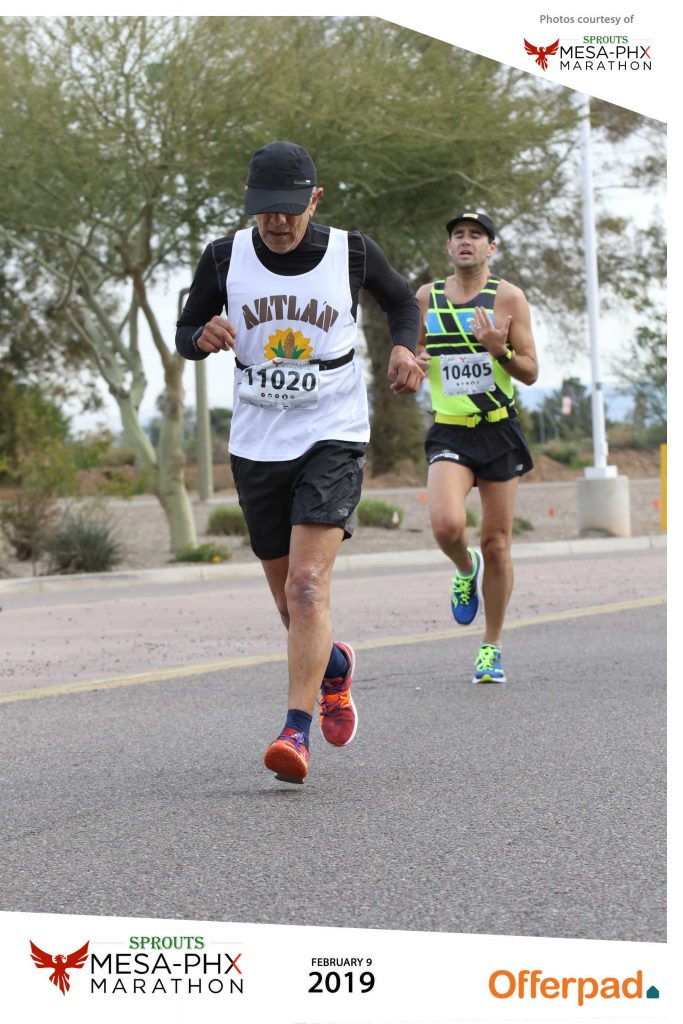 In the above photo Frank is pictured ahead of runner #10405. Below are each runner's gun (clock) times. The photo was taken after mile 25.
| | | |
| --- | --- | --- |
| | 10405 | Frank Meza |
| Mile | Gun | Gun |
| 6.22 | 0:41:26 | 0:41:29 |
| 13.1 | 1:26:19 | 1:27:14 |
| 20 | 2:11:41 | 2:12:54 |
| 26.2 | 2:52:00 | 2:54:28 |
Comparing the splits to the photos, we get a picture of what would have happened.
Frank crossed the 20 mile marker over 1 minute behind runner 10405. He would have made up that minute over the next 5 plus miles (even though runner 10405 ran the last split at a 6:30 pace), only to be passed and beat by over 2-1/2 minutes in the last 1/2 mile or so.
As with Los Angeles, in the location where we have visual evidence of Frank on the course, his pace is significantly slower than his typical sub 3 hour marathon pace.
The below collection of photos are a sequential view of the photos, beginning with Frank.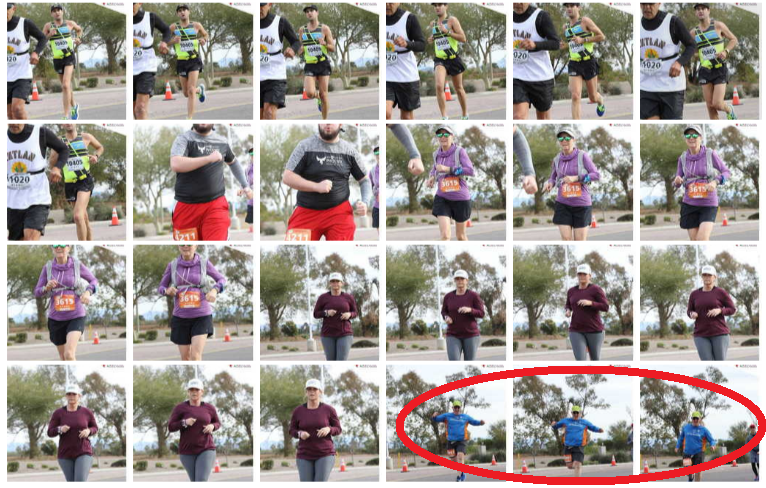 The runner in the blue shirt was a half marathoner. He was behind Frank at this photo location. Frank and the half marathoner crosses the finish line at the same time. The runner in the blue shirt averaged over 13 minutes per mile for his half marathon. Frank lost ground to this runner over the last half mile or so of the race. By my calculations, at best, Frank ran this section at a 12 minute per mile pace, significantly slower than his 6:42 overall pace.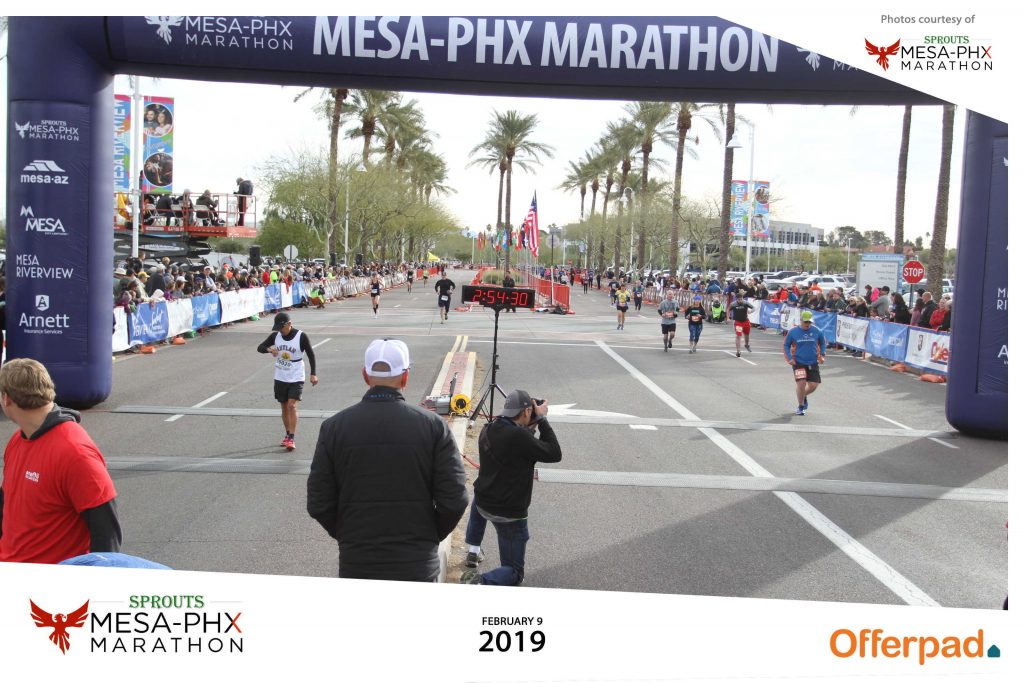 Video Evidence
The Sprouts Mesa-PHX Marathon has a video feed of the race on their Facebook page. The video was taken at approximately mile 22. The location on the course is noted below.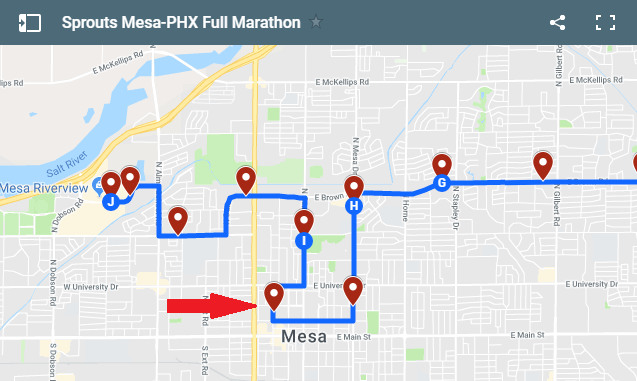 Frank should have been within a few minutes of runner 10405 at the point this video was taken. Frank crossed the 20 mile mat over a minute behind 10405, passed him at some point before being overtaken in the last mile.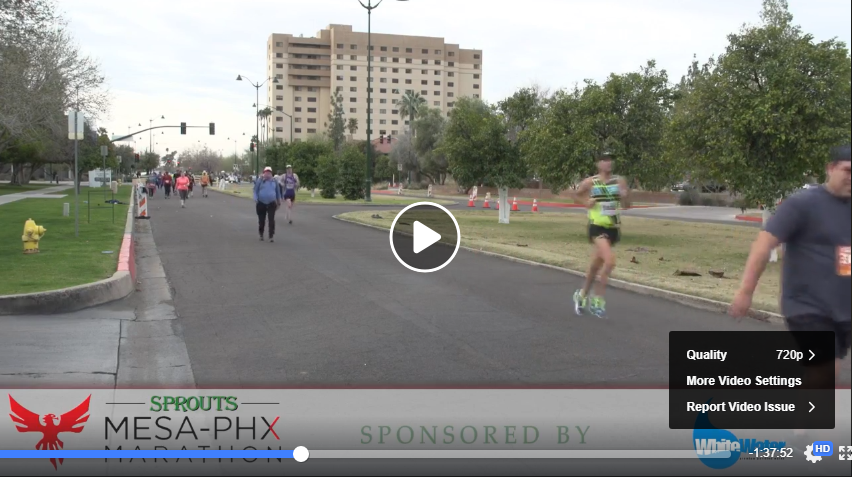 I watched the 30 minutes of the video surrounding this point in the video. Frank did not appear in the video. The only reasonable explanation is that he did not run this section of the course.
Summary
I will forward this article to The Sprouts Phoenix-Mesa Marathon along with a request that they investigate Frank's result. I have previously contacted The L.A. Marathon regarding Frank's 2019 result.
When I report on more of Frank's results the pattern will become even more clear. Whenever Frank's pace can be verified through course photos or video, his pace is significantly slower than his official splits. This pattern will further show itself in upcoming investigations.
Frank has become meticulous with his pacing in between the timing mats. Without the photo and video evidence, there would be no evidence that Frank did not run the full course at Mesa-PHX.
It is my opinion based on his split times, and his pace over the last half mile or so, that he specifically targeted his finish time and carefully monitored his pace at the checkpoints to make sure they were consistent and believable.
He slowed down significantly at the end of the race, to the point that a 2:55:00 Half Marathoner outkicked him down the stretch.
Frank's time beat the unofficial record of 2:54:23 set by Gene Dykes at The 2018 Toronto Marathon by less than 1 minute. By slowing his pace, he beat Gene's time by what may have seemed like a reasonable margin at the time.
Support Marathon Investigation
Thank you to all that have contributed to Marathon Investigation. Your contributions are what enables me to continue the work of Marathon Investigation. To support the site, please consider making a small contribution.
Don't want to use PayPal? Click below to contribute without going through PayPal.