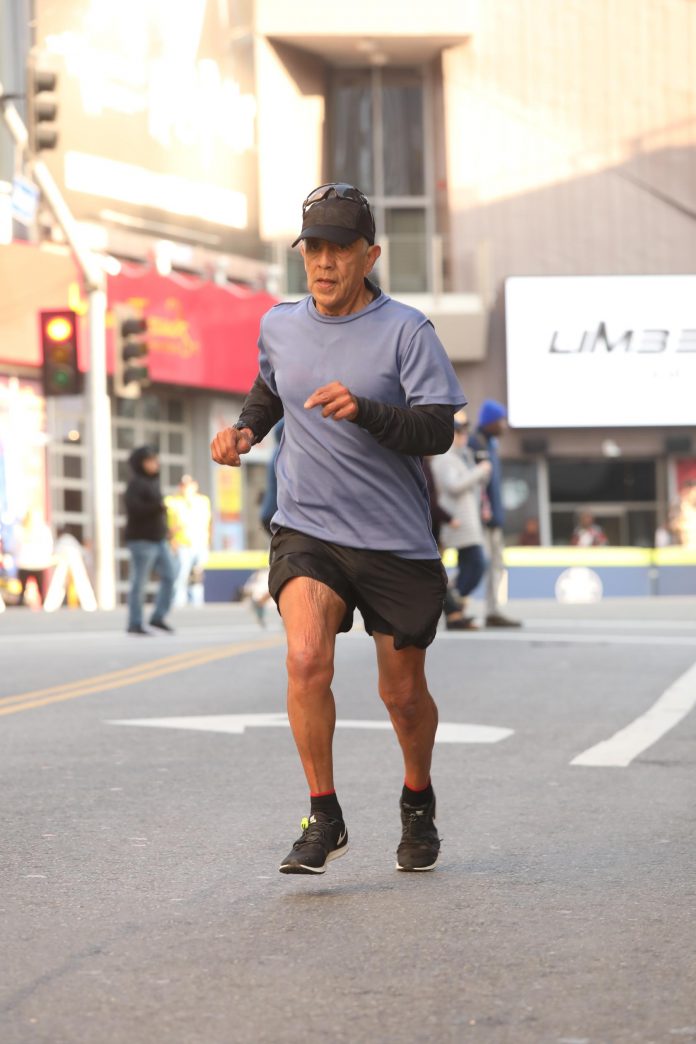 Frank Meza has seemingly defied the clock. At age 70 he is running record marathon times.
His marathon results have been improving over the past 10 years. Frank recently has turned 70 years old and has run record times for his age group. The records have not been deemed official because they were run on non-record eligible courses. I have charted his fastest marathons over the past 10 years.
| | | | |
| --- | --- | --- | --- |
| Age | Year | Best Time | Marathon |
| 70 | 2019 | 2:53:10 | Los Angeles |
| 69 | 2018 | 2:56:12 | Los Angeles |
| 68 | 2017 | 2:57:09 | Long Beach |
| 67 | 2016 | 2:59:23 | Oakland |
| 66 | 2015 | 2:52:47 | Los Angeles |
| 65 | 2014 | 2:52:33 | CIM* |
| 64 | 2013 | 3:00:16 | Los Angeles |
| 63 | 2012 | 3:09:27 | Surf City |
| 62 | 2011 | 3:09:09 | San Francisco |
| 61 | 2010 | 3:17:15 | Santa Clarita |
| 60 | 2009 | 3:19:59 | Santa Clarita |
This improvement has not gone unnoticed. Frank was listed as a Runner's World Masters Distance Runner of The Year in 2014 for his finish at The California International Marathon (CIM).
However, Frank was disqualified from the 2014 California International Marathon. Frank was flagged after his final 10k time was flagged as anomalous. He ran the final 10k in 36 minutes, nearly a minute per mile faster than he ran the previous 20 miles.
He also did not appear in any on course photos. He was disqualified by the USATF referee after he chose not to appeal the decision.
Frank was also disqualified from CIM 2016 and subsequently banned from participating in future events.
Frank completed 20 marathons from 2014 through 2016. 16 of these races resulted in sub 3 hour finishes.
2015 Los Angeles Marathon
The 2015 LA Marathon was run in record breaking heat. The temperature hit 88 degrees. Disregarding The 2014 CIM result, this is Frank's fastest marathon. Frank ran the race in a time of 2:52:47.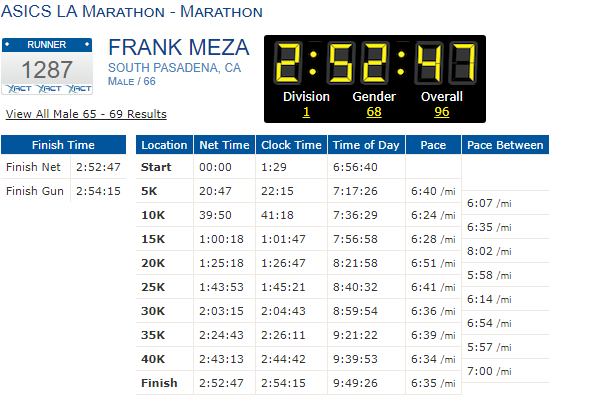 The uneven splits and the sub 6 minute miles in record heat did nothing to ease the skepticism regarding Frank's races.
There were other races with uneven pacing, and limited photos, but not enough direct evidence was found, in my opinion, to write about Frank until now.
2019 Los Angeles Marathon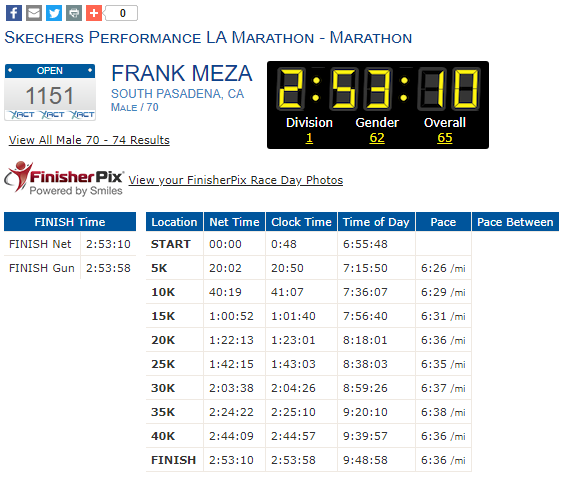 Frank turned 70 this year and his times are now setting age group records. With the record setting performances, Frank is facing even more scrutiny.
A user posted about Frank's LA Marathon result on letsrun.com. The initial post was congratulatory, but the letsrun readers were skeptical.
Someone uncovered a photo that appeared to show Frank jumping onto the course on Hollywood Boulevard across from Graumann's Chinese Theatre.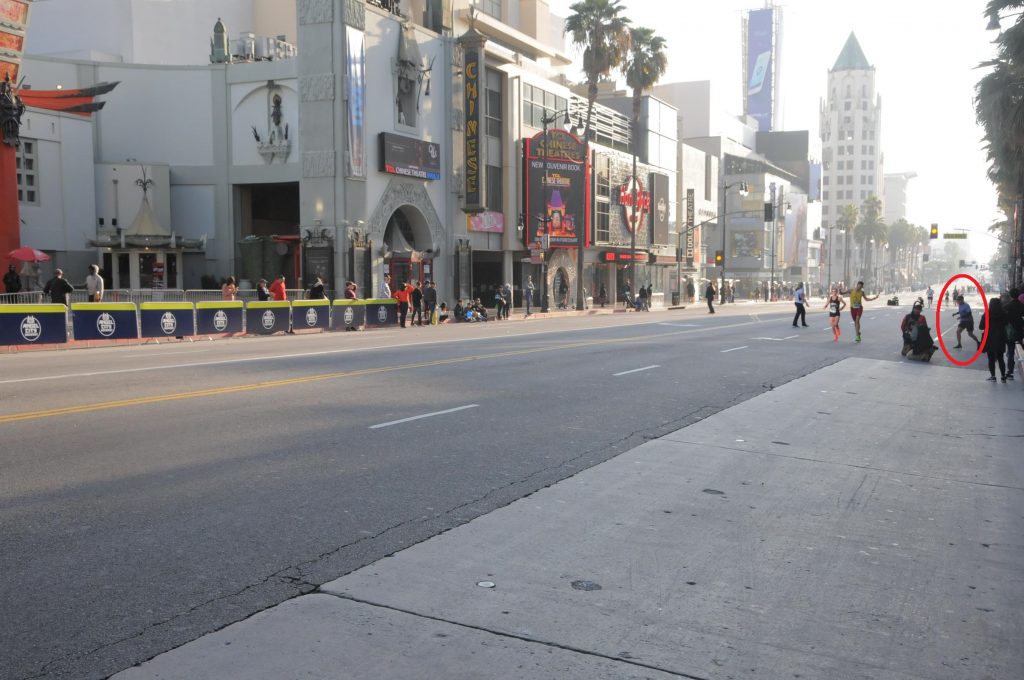 I have posted the hi-resolution photo above, which confirms that the person in the photograph is Frank Meza. In the last photo, Frank is shown running just after the point where he jumped on the course.
There is evidence of Frank coming in from the sidewalk. But what does this prove? It looked suspicious, so I reached out to Frank. At the point that I reached out to Frank I only had the low resolution photos. I shared the photo to Frank to ask him if he'd confirm that it was him, and if he could explain the photo.
"I looked at the photos and I can assure you I did not cut. I cannot recall exactly where on the course but I did pull off to pee one time I was not able to find a portapotty so I found a building wall maybe 20 yds from street. In 2018 I had a similar problem so I waited and ran into a hotel I lost 2 min this time I was hell bent on not losing 2-3 min."
I asked him to confirm how long he was off course.
"No the hotel was 2018. This year a wall a few secs"
After contacting Frank, I was able to obtain some additional information. The camera that captured Frank re-entering the course was set to automatically take pictures every second.
I combined over 3 minutes worth of the photographs into a video. If Frank only left the course for a few seconds, we would expect to see him on this video exiting the course before relieving himself and reentering the race. I looked at every individual photo contained in this video and I do not see Frank running on the course prior to running in from the sidewalk. The video below was sped up to 3 frames per second. Frank appears at the end of the video.
Also note that where Frank appears from is not a cross street. There is a change in the pavement, but he enters from the sidewalk. Below is an image from Google Street View showing the location where Frank entered the course from.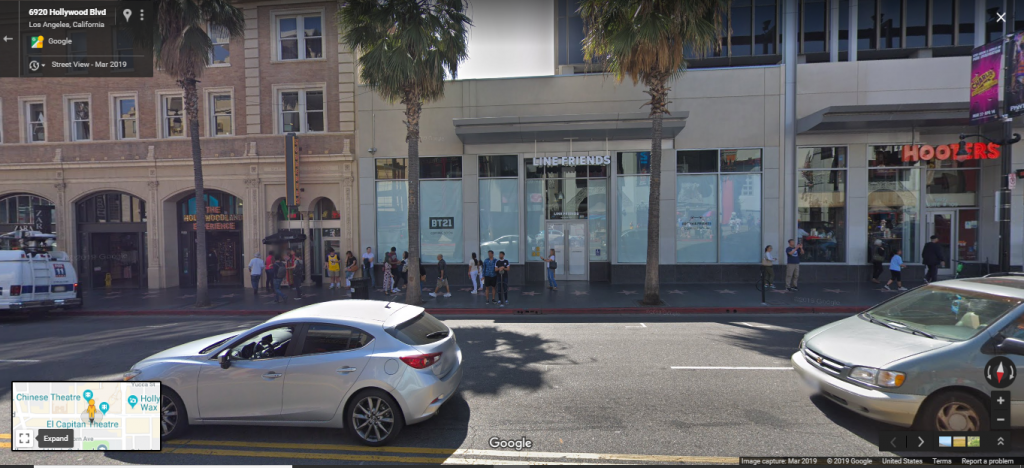 I contacted Frank again to let him know that I found no evidence that he ran the course approaching the spot that he re-entered. I asked him to reply if he had any additional information that may lead me to change my conclusion.
He denied cutting the course and closed the lines of communication after stating that I was clearly out to harm and discredit him. He informed me that he would be obtaining counsel.
I am not out to harm or discredit Dr. Meza. I would have preferred to be able to vindicate Frank. I have no agenda, I could have written about his results and the questions surrounding them two years ago. But I waited until there was more than odd splits and times that most believed unlikely.
In addition to not seeing him in the photo sequence above, it should be noted that there was a photographer taking photos near The El Capitan Theatre, less than half a block before the point that Frank jumped on the course. I went back through over a hundred photos taken at that point on the course, and Frank was not photographed. Remember he said that he stopped "to pee" for a few seconds. The photographs I reviewed went back over a minute. I also looked at a total of 6 minutes of photos from the automatic camera. Frank was not spotted on the course before he entered from the sidewalk.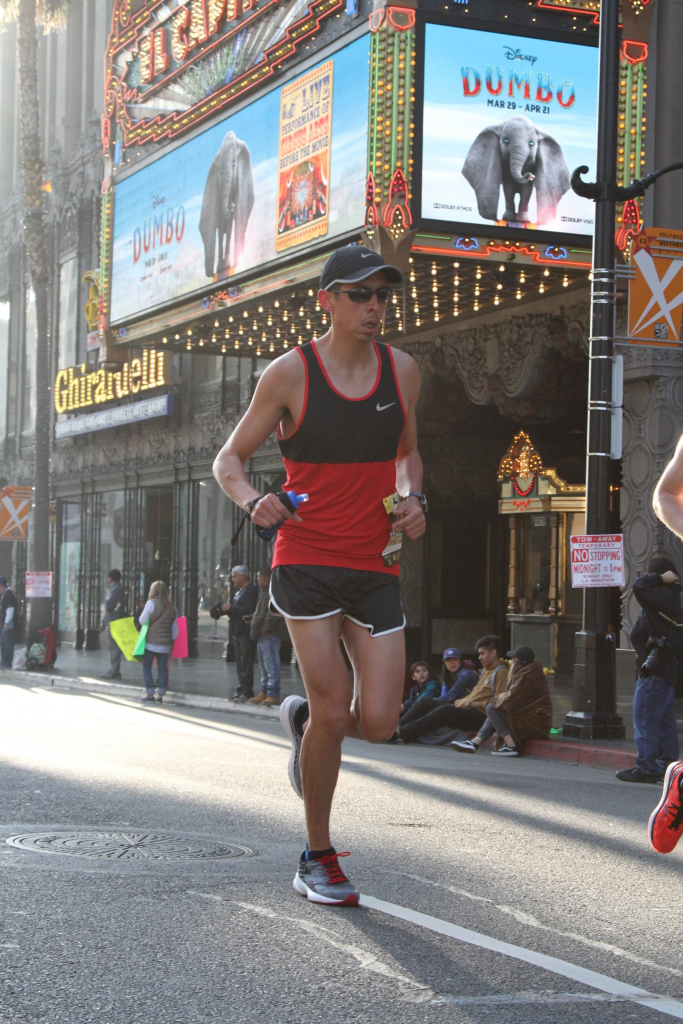 Pace Calculations
The runner that Frank jumped behind put his run on Strava. Using that data, I was able to determine exactly what time Frank entered the course. I estimate that Frank entered the course at mile 11.62. I accounted for variance in GPS and consulted the course map. I am confident that this estimate is accurate.
Frank entered at this point at 8:11:29 AM. I was able to calculate the pace to the next timing mat which was .78 miles down the course.
| | | | | |
| --- | --- | --- | --- | --- |
| FRANK | net time | pace | split pace | time of day |
| 9.3 | 1:00:52 | 0:06:33 | 0:06:38 | 7:56:40 |
| 11.62 | 1:15:41 | 0:06:31 | 0:06:23 | 8:11:29 |
| 12.4 | 1:22:13 | 0:06:38 | 0:08:23 | 8:18:01 |
On the section of the course that we can prove Frank ran, his pace was much slower than any of his other recorded splits. His verified pace of 8:23 minutes per mile is nearly two minutes per mile slower than his overall pace.
There have been additional theories relating to Frank and The 2019 LA Marathon. One letsrun poster uncovered additional photos regarding "a shadowy figure" showing on a corner before Frank emerged just prior to the 25k point in the Marathon.
I want to present this information while making it clear that I do not find the photos 100% conclusive. I am putting it out there to acknowledge this information and to allow readers to make their own determinations.
The individual that was by the pole in a number of frames is no longer there when Frank appears on the course.
Frank in the background on the left, the individual on the corner is gone.
Additional Information
I felt that this article was already a bit too long, but I wanted to present everything as reasonably in depth as I could relating to The 2019 LA Marathon. I have additional information which I will present later this week regarding Frank's performances at The 2019 Pasadena Half Marathon and The 2018 Long Beach Marathon.
He also has what would be a record breaking time at this year's Phoenix Marathon. He does not have many photos in Phoenix and there are no gun times, chip time differential provided for the race, so detailed analysis is proving difficult.
Support Marathon Investigation
Thank you to all that have contributed to Marathon Investigation. Your contributions are what enables me to continue the work of Marathon Investigation. To support the site, please consider making a small contribution.
Don't want to use PayPal? Click below to contribute without going through PayPal.