Suad Suljic has an official time of 2:44:40 at The 2019 Vienna City Marathon. His time in Vienna would be a Personal Record by over 1-1/2 hours.
He used his time in Vienna City to enter The 2020 Boston Marathon.


It seems that Suad may have a goal to run the World Marathon Majors. He has recently run The Chicago Marathon, The New York City Marathon, and The Berlin Marathon. If he were to run Boston, he would only need to complete The Tokyo Marathon, and London Marathons to earn his Six Star Medal.
| | | |
| --- | --- | --- |
| Oct 13 2019 | Chicago Marathon | 4:09:40 |
| April 7 2019 | Vienna City Marathon | 2:44:40 |
| November 4 2018 | New York City Marathon | 4:55:32 |
| September 24 2017 | Berlin Marathon | 4:20:19 |
The Vienna Marathon is a clear outlier. Looking at the photos, it is clear that the Vienna City runner marathon is a different runner. The Vienna City runner was a bib mule.
Photographic Evidence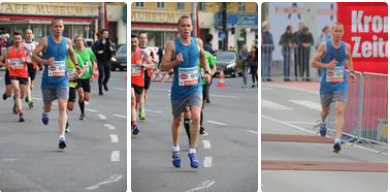 It is quite clear that the Vienna City Marathon runner is not the same runner from Chicago, New York City or the other marathons. Whether the Vienna City Marathoner thought he was just buying a bib or knowingly acted as a mule is unknown.
I will be in contact with The Vienna City Marathon and The B.A.A. I anticipate that the runner's Boston Marathon entry will be rescinded.
Support Marathon Investigation
Thank you to all that have contributed to Marathon Investigation. Your contributions are what enables me to continue the work of Marathon Investigation. To support the site, please consider making a small contribution.