By all accounts, "Will" has been an asset to the running community. He has volunteered as a guide in many races, including The 2019 Boston Marathon. Guides get no official recognition for running Boston. Guiding can be a truly selfless act.
Examination of the runner's participation as a guide in the 2019 Los Angeles Marathon led to more questions than answers after his time was submitted for entry to The 2020 Boston Marathon.
I have decided against providing any identifiable information regarding the runner profiled in this article. I am doing so to protect other runners and organizations.
2016
There are a handful of questionable results. I have reached out to the runner for possible explanations, but have been unsuccessful in my attempts.
"Will" finished The 2016 LA Marathon in a time of 3:26:00. He missed the 20k and 35k splits. His pace was consistent throughout. There are no photos of Will on the course. This time is much faster than Will's normal Marathon time. Prior to 2016, Will was typically running marathons in the 4:30:00 range.
Next, Will ran the 2016 Seattle Marathon in a time of 3:21:xx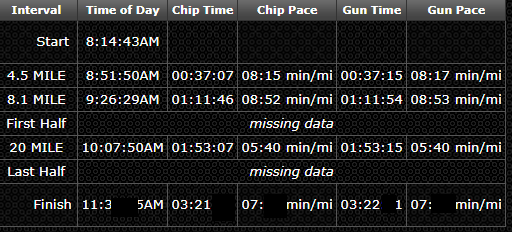 Again, there are no photos of Will on the course. But the missing splits and change in pace are clearly indicative of course cutting.
2018 LA Marathon
In 2018, "Will" finished The LA Marathon in a just over 3:30:00. This was not a Boston Qualifying time, and it was not an age group winning time. He only registered split times at 5k and 40k. He missed the 6 splits between 10k and 35k.
His first 5k was run in 34 minutes (an 11 minute per mile pace). His finishing time is 3:33:47 (8:10 minute per mile pace).
2019 Boston Marathon – Ran as a Guide
Will ran Boston in 2019, but is not in the results. He is not in the results because he served as a guide for a vision impaired runner. The Boston Marathon does not recognize guides as official participants. Guides provide a valuable service for runners needing assistance, and are considered volunteers.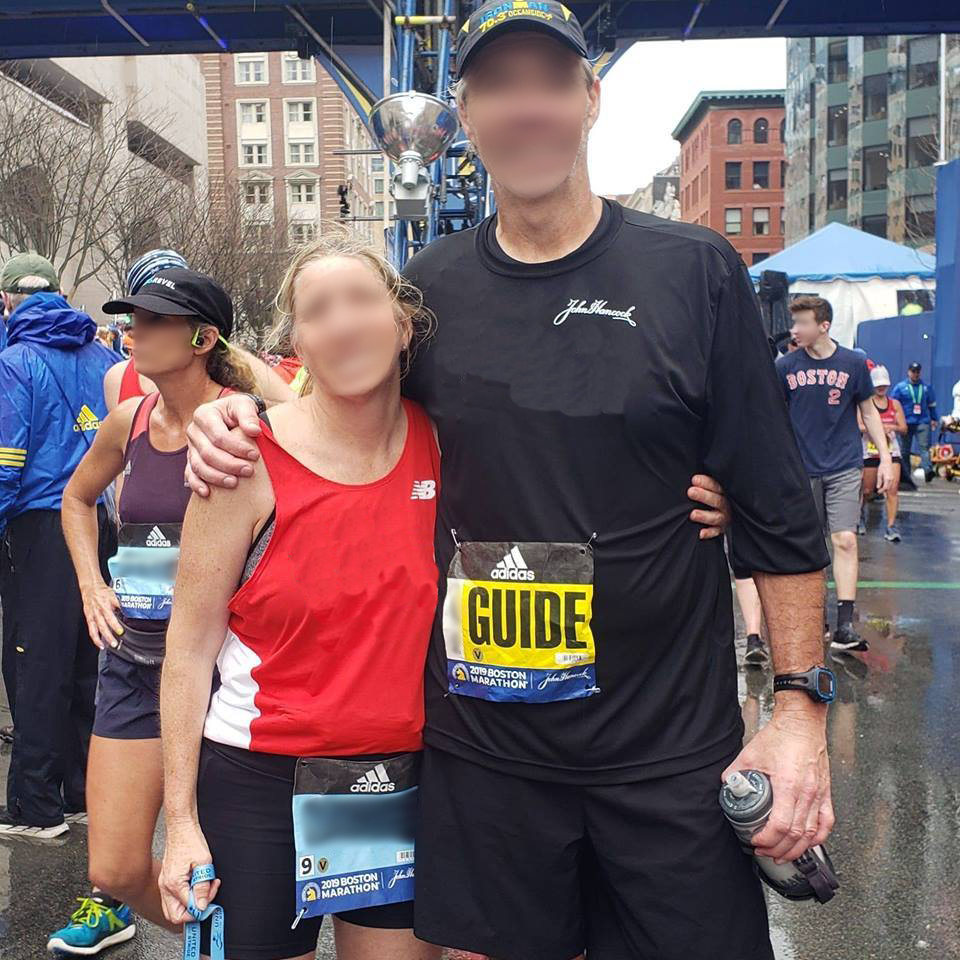 2019 LA Marathon
Will also participated as a guide during The 2019 LA Marathon. He guided a vision impaired runner. Both the runner and the guide finished with an official time of under 3:20:00.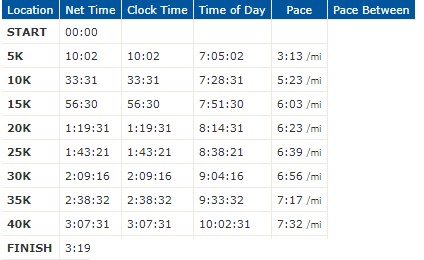 One point to note is that the runners started ahead of the gun. The times were not adjusted, which is why the first 5k is showing an impossibly fast time. Beyond that, there is nothing with the split times that would generally raise any questions.
It is a common practice for guides to split up, in essence running a relay in order to guide a runner. This is an accepted procedure. Boston, for example, allows for two transitions. This policy is in place so as not to exclude faster athletes that are in need of assistance.
However, there were clear issues with the procedures relating to Will's participation in LA.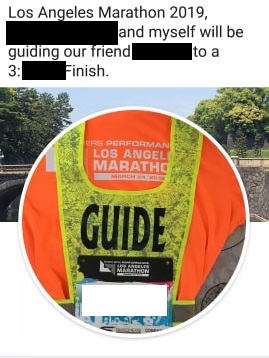 Three runners teamed up to guide the vision impaired runner. In of itself, that is an accepted procedure. The issues are as follow:
They used a single official bib that was registered to a single participant. The result is that the owner of the bib (Will) has an official LA Marathon finishing time.
The start time was never adjusted for either the vision impaired runner or for the guide. The net time is therefore understated.
2020 Boston Registration
I was Previously aware of both the 2018 and 2019 LA results.
While unsure of the circumstances related to The 2019 race, when looking at the LA Marathon photos, it was clear what had happened. Will only ran the last portion of the race. He never claimed to have run the full race.

When I saw that Will was registered for Boston, the perceived procedural issues became something much more concerning. Will's LA Marathon result was used for his Boston entry.
I emailed BAA and the LA Marathon while registration was open. I also messaged Will. Will never responded. I did not hear back from Boston or LA, but Will's name was pulled from the entry list just prior to the close of registration.
I did also attempt to reach Will through a mutual acquaintance. It was relayed to me that Will claims that a family member submitted the entry on his behalf. Will says that he emailed the BAA to remove the entry. I have not received confirmation as to what triggered his removal, or if he did indeed email The BAA .
Summary
Thanks goes to those that provided information regarding procedures relating to pacing and guiding. Thanks to those that provided their insights on Race Director's Hub. I think that the organizations that work with pacers and guides perform a great service. For this reason only, I kept this runner anonymous. I did not want his behavior to cause any ill-will towards the runners he guided or the organizations that coordinate the guides.
It is my hope that by publicizing this situation that consideration is made to make sure that the results are accurate and that procedures are clearly put into place to ensure the accuracy of results relating to guides, pacers and early starts. I understand it it is easy to overlook some of these things. But it only takes one person with bad intentions to take advantage of any procedural flaw.
Support Marathon Investigation
Thank you to all that have contributed to Marathon Investigation. Your contributions are what enables me to continue the work of Marathon Investigation. To support the site, please consider making a small contribution.