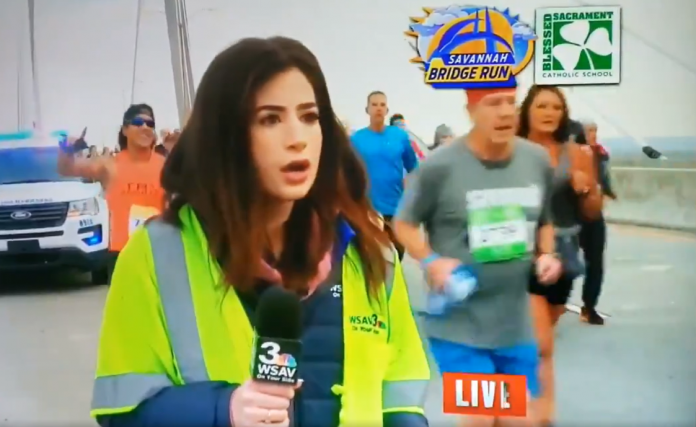 EDIT: I have modified the title of this article. Initially the title gave many the impression that the responses in the referenced thread were reflective of the opinion of the site operators. That was an unfair. My criticism is directed at the individual users that made those comments. Unfortunately, similar comments can be found throughout social media and in the reply sections of other articles.
The story of a runner delivering a hard slap to the rear of the Savannah reporter Alex Bozarjian is getting national attention.
Nearly everyone was quick to admonish the behavior of the man. The LetsRun message board was littered with posts that were downplaying the incident.

The above post is despicable and is a typical example of victim blaming

This post clearly is downplaying the actions of the assailant. The poster actually compared this reporter being assaulted to someone stealing a light bulb from a string of Christmas lights.

"She should take it as a compliment" Ridiculous. Again, there is no justification for this behavior. It wasn't a compliment. It was an assault.

I am not sure what this individual saw. But she was clearly struck, and was clearly affected.
The behavior of this individual is worse than the course cutters and bib mules that I typically write about. The people that are shrugging off the behavior or marginalizing the impact of his behavior, are sadly out of touch.
Summary
Not all the comments on letsRun were condoning the behavior. The original poster was critical as were others that reacted to the posts above.
Support Marathon Investigation
Thank you to all that have contributed to Marathon Investigation. Your contributions are what enables me to continue the work of Marathon Investigation. To support the site, please consider making a small contribution.