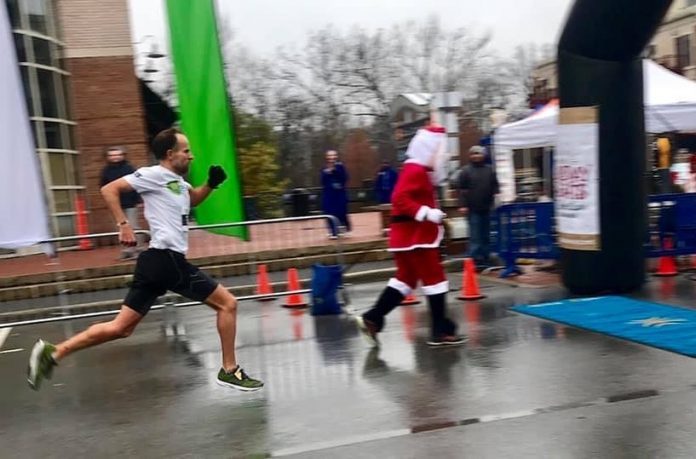 Harvey Lewis, a member of the 2019 Gold Medal Winning USA 24 Hour National Team won the Santa 5k in Gahanna, Ohio in a time of 18:08.
He almost did not win. Harvey narrowly edged out another competitor at the finish line. Harvey ended up finishing just fractions of a second ahead of the runner in the red and white suit.
Allegations quickly surfaced regarding the 2nd place runner. A post on The US National 24 Hour Running Team Page on Facebook alleged that the runner jumped in just before the finish: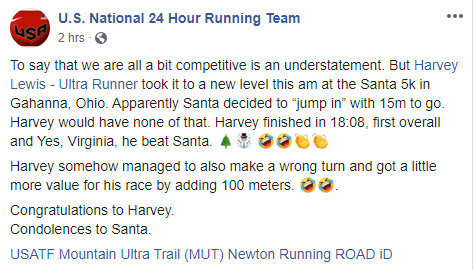 The post above only identified the runner as "Santa". There was no Santa in the results – it appears that he was quickly disqualified. Through an anonymous tip, I checked into 'Santa Claus'.
I messaged Harvey, and he provided this eyewitness account:
"It turns out that Santa heard the winner was getting vegan chocolate chip cookies and almond milk. He could not resist!" – Harvey Lewis
Additionally The US National 24 Hour Running Team posted this:
also- It's also been reported by numerous people that mid morning – just 20 minutes before the race- Santa was spotted at the local mall. I can't see how he could've gotten from the mall and the start line and still finish! Something definitely worth investigating…
Confirming the Runner's Identity
I found the below photo on Santa Claus's Facebook page:
I put the photo from Facebook next to the photo from The Santa 5k in Gahanna.
I compared the photos, and concluded that these photos are of the same runner. In fact, Claus is wearing this exact same outfit in practically ever photo on social media.
Same gloves
Same hat
Same pants
Same boots
Similar jacket
White beard
Also of interest is the Facebook photo shows him winning the race. I went to Athlinks, and was unable to find any evidence of Claus winning the race.
There are over 100 results for runners named 'Santa Claus' but none that match the age of the runner in question. Before being disqualified, he was listed as 1749 years old, and was the winner (and only competitor in his age group). There is no one that old in the Athlinks results.
Strava Does Not Lie?
I looked at Claus's Strava to determine if he logged the race, or to find evidence of his ability. I found one especially interesting entry:

Felt good. GPS died, Do not have data for full run. In total I ran 317,000 miles in 36 hours. New PR!

Santa Claus – Strava 12/24/2018
I was immediately suspicious of this entry. There is no map, and the pace does not seem believable to me. Santa does not provide cadence or heart rate data. It is my belief that he used another form of transportation, or that he fabricated the data.
I reached out to Santa and he immediately blocked me.
Thanks to The U.S. National 24 Hour Team Page and to Harvey Lewis for their cooperation and contributions to this article.
Support Marathon Investigation
Thank you to all that have contributed to Marathon Investigation. Your contributions are what enables me to continue the work of Marathon Investigation. To support the site, please consider making a small contribution.