KTSM reported that" Joe Morales" won The El Paso Marathon on Sunday with a time of just over 3 hours.
In the first marathon of his life, San Antonio native Joe Morales put in a show to win the 2020 Michelob Ultra El Paso Marathon on Sunday.

Normally an ultra-marathoner, Morales joined a friend in El Paso and surged past the rest of the field to a victory in three hours flat to win the 14th annual El Paso Marathon.

"I just wanted a sub-3 (hour time)," Morales said. "That's it. Yesterday was my birthday, so I'm 32 years old and I thought I'd just go for it. It's special to be over here and be a part of your community today."
KTSM.com
In the video posted by KTSM, the winner said that Saturday was his 32nd birthday. However, Morales was listed in the 40-44 year age group.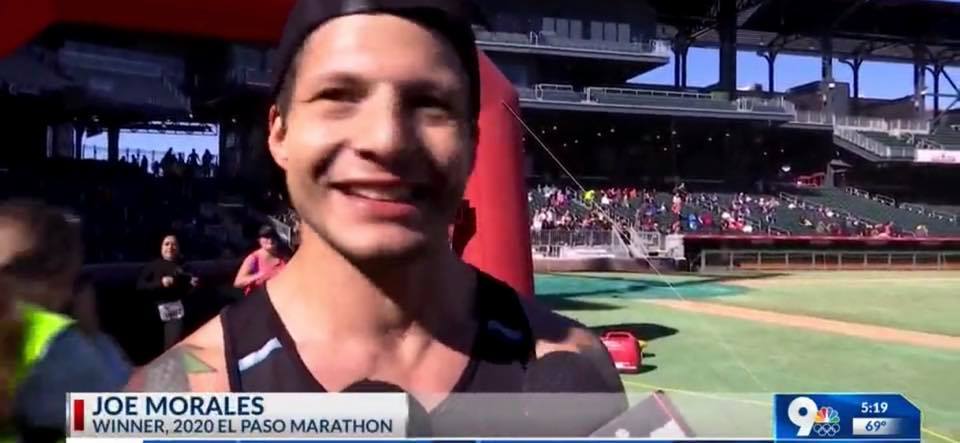 It turns out that "Joe" is actually Ken.
About one minute of research by KTSM would have revealed that when Ken gave the wrong first name (the registered runner was not "Joe") and that the registered runner was not 32 years old.
Ken posted about his 'victory' on Facebook.
Ran my first marathon, and ended up getting 1st place the day after my 32nd birthday…..us the bib is in another name since I didn't register. I may or may not get in trouble for this idk
"I May or May Not Get in Trouble"
Ken was not secretive about the bib swapping . However, he did not mention in the post race interview that he was not registered for the race. He did accept the first place plaque, Which he told me that he will "gladly give it over".
I chatted with Ken on Tuesday evening. After his finish line interview, he was upfront about the incident. In Ken's initial Facebook post, he posted about coming in first place, and admitted that he was not registered for the race. Shortly after he made that post he realized that his actions had consequences.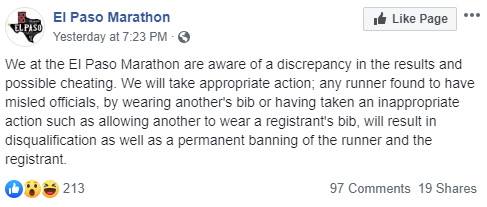 Ken says that the owner of the bib couldn't run the race, and that he couldn't pay for it, so the registrant just gave it to him.
I didn't know how serious this would get…sorry if I made a mess of this.
Unintended Consequences
I don't think that the bib swapping was malicious. If the intent was to earn "Joe" a Boston Qualifying time, I would not expect that Ken would have posted about this result on Facebook. He did not expect to win the race and have his face posted on local television.
This is just one of many incidents where bib swapping had unintended consequences. Usually this behavior affects age group awards (as it did this time), but this time it had a much bigger impact, as the now official winner lost out on the chance to break the tape.
I want to reiterate that I don't classify Ken as a cheater. He ran the full race. He did break the rules, and was appropriately punished by the race. After realizing the repercussions, he shared this apology.
I just wanted to apologize to the community of El Paso and the running community and to the staff of EP Marathon having to put in the extra man hours to adjust the results.

If I need to pay for the registration, please let me know – at the end of the day, I'm just an average runner, that just so happened to have a better than average time. I got too excited on first place and didn't use common sense to mention, "hey, btw I'm not this racer".

I was wrong and this is definitely a learning experience for me.
Support Marathon Investigation
Thank you to all that have contributed to Marathon Investigation. Your contributions enable me to continue the work of Marathon Investigation. To support the site, please consider making a small contribution.