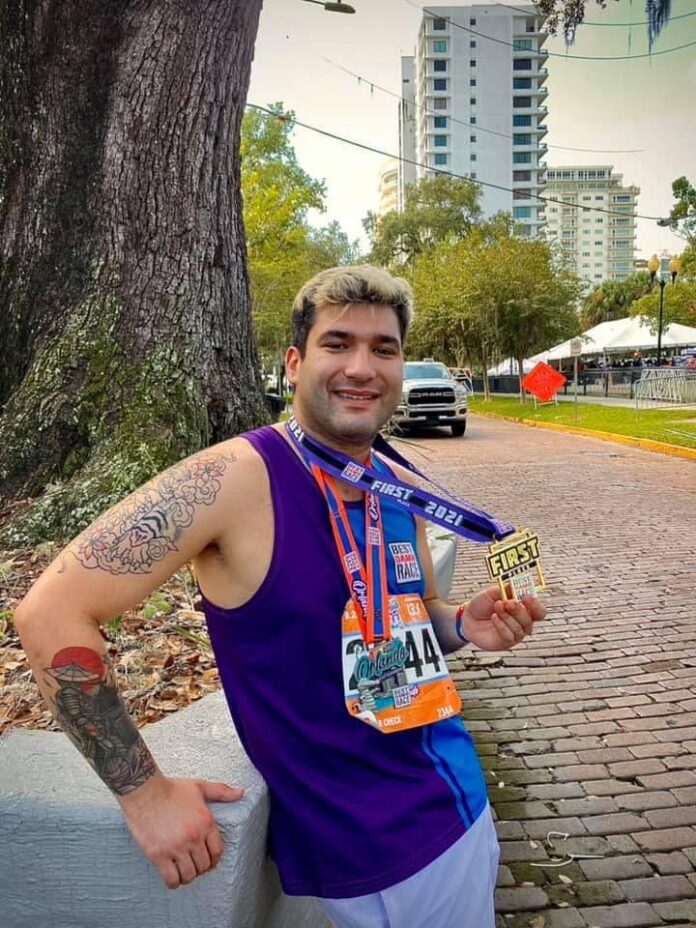 To support Marathon Investigation, you can make a contribution by clicking on the bottom of the page, or by going to Paypal.me/marathonsleuth or Venmo:@MarathonInvestigation
Everyone's support is appreciated!
I won this Gold Medal for all of us!
On Saturday evening, I received an email linking to the Facebook post shown below:
I ran in the 2021 Orlando Best Damn Race Half marathon today and I'm proud to day I won 1st place. In a race with 1,000+ participants I finished the race 80mins (one of the best clock times in the races history) it's God blessing me with great friends that kept me true to my strict training regiment that made this possible! What an amazing feeling to have a goal and exceed my wildest expectation through honor and integrity. Work hard and anything is possible in this life… I won this Gold medal for all of us!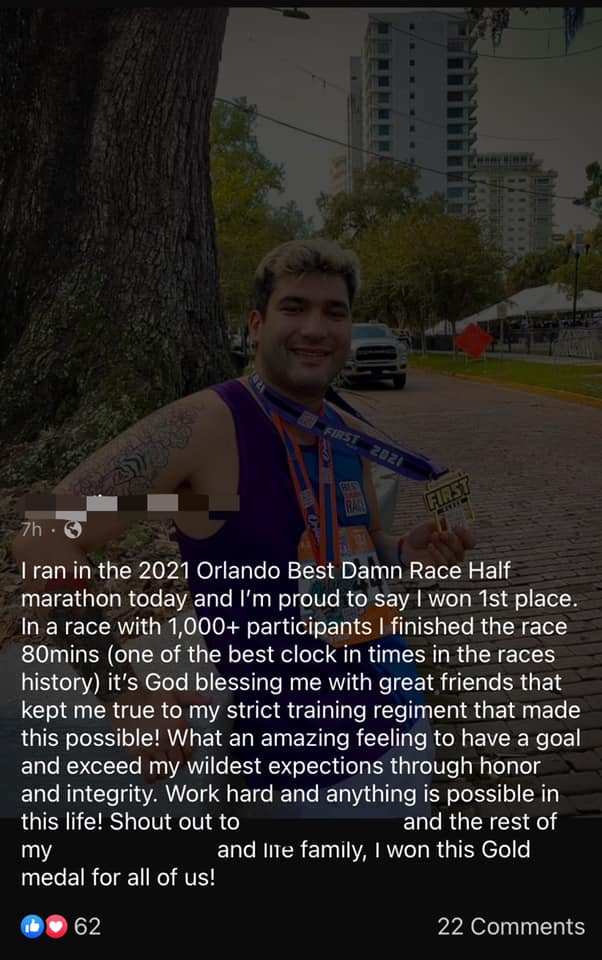 A quick scan of the results and the finishers shows that John did not win the race. He was not on the podium. He did have a finishing time of about 80 minutes, which would have placed him 4th overall (overall results are determined by clock time, not gun time), and first in his age group.
"through honor and integrity"
Additionally, and most importantly, this was not just the case of someone exaggerating on social media. John did not register any intermediate timing splits. Not only did he not win the half marathon, he did not run the half marathon.
I reached out to Nick Zivolich, CEO and Founder of Best Damn Events. Working with his timer, he confirmed that John did not complete the race.
"The runner was disqualified for not running the half marathon course. The runner confirmed he ran the 10k route instead and did not tell the timer or race officials. We did not catch this before we gave him an Age Group Award" – Nick Zivolich, CEO and Founder – Best Damn Events
John immediately admitted that he did not run the entire race:
"Yeah that was a total fluke I wasn't trying to cheat I was just trying to get back to the starting line the quickest way possible so I took the 10k route I should be disqualified sorry I didn't say anything yesterday I didn't really know what was going on" – John
Nick asked John to remove the Facebook post claiming he had run the entire race. Nick said that he would do so.
"Yes sorry I'm in a event right now I'll have it taken down tonight that's wasn't good sportsmanship on my part" – John
Late last night it had appeared that the post was removed. But I confirmed this morning that he only changed the privacy settings. It is still there, unedited for his friends and family to see.
Summary
John cheated. He may claim that he "wasn't trying to cheat", but that is difficult to believe given his actions after the race.

He cut the course and took the age group award. John made a Facebook post, making the lying and cheating worse by claiming he won the entire race.

Furthermore, he claimed to run one of the fastest times ever when that time is not even close to a course record.

Once caught, he did not follow through with deleting his post. Instead he hid it from public scrutiny.
To support the site, please consider making a small contribution.Your contributions help to cover the costs associated with running Marathon Investigation.