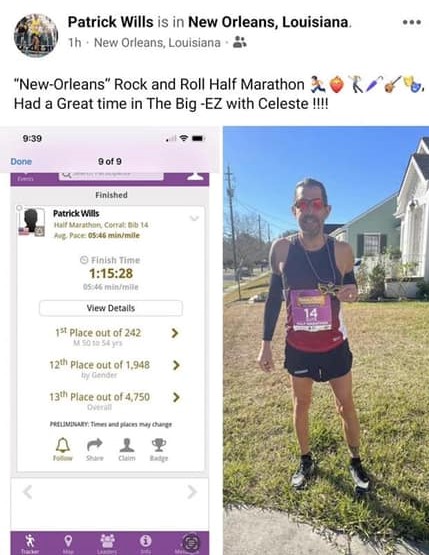 To support Marathon Investigation, you can make a contribution by clicking on the bottom of the page, or by going to Paypal.me/marathonsleuth or Venmo:@MarathonInvestigation. Everyone's support is appreciated!
Patrick Wills competed in the Rock 'n' Roll New Orleans Half Marathon this past Sunday. Patrick finished 13th overall, and was listed as The 50-54 age group winner on the RnR App (Although as an elite he would be ineligible for any age group award).
His splits are below:
| | | | |
| --- | --- | --- | --- |
| Miles | Total Time | Total Pace | Split Pace |
| 3.1 | 0:18:38 | 0:06:01 | 0:06:01 |
| 6.2 | 0:37:24 | 0:06:02 | 0:06:03 |
| 13.1 | 1:15:28 | 0:05:46 | 0:05:31 |
Patrick didn't register a 10 mile split, and his pace increased significantly over the last half of the race.
Immediately following the race, he posted on social media and the run was uploaded to Strava.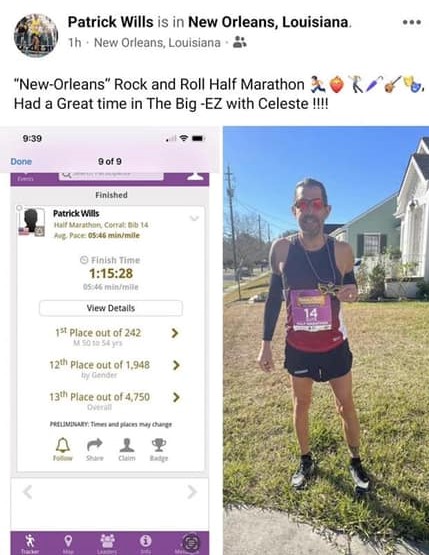 Patrick is a talented runner. There is no question about it. He ran as an elite and lists multiple companies on social media including Hoka, Squirrel Nut Butter, Dry-Max and Honey Stinger. Added note: it is unclear whether he is actually sponsored by any of these brands.
What Happened in New Orleans?
There are plenty of questions about Patrick's result. His Strava entry shows he only ran 12.23 miles.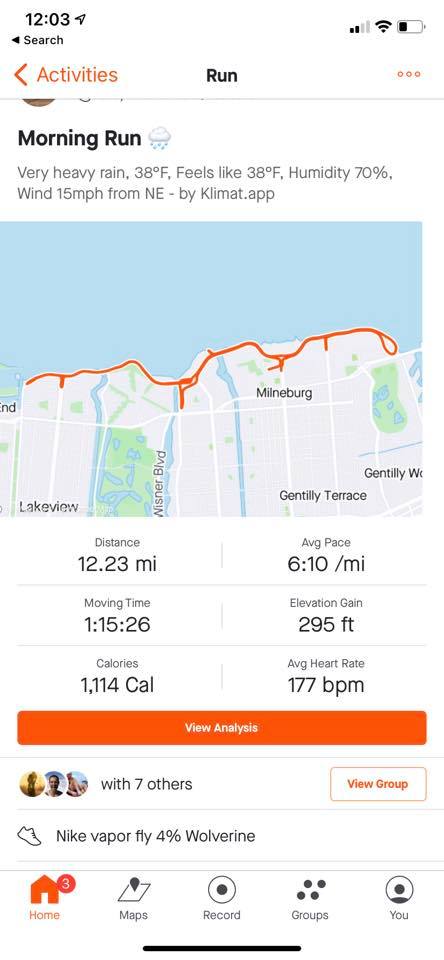 The course consists of many loops and out and backs. It wouldn't be out of the realm of possibility that Patrick took a wrong turn.

Not long after Patrick's run was posted, people started to question the result. I followed Patrick and was immediately blocked. However, I was able to log into a secondary account and view his run in more detail (I also received about a dozen emails and messages with screenshots and links).
Eventually Patrick responded to the comments stating that he missed a turn:

I made a recording of Patrick's Strava Fly By. Patrick's icon is outlined in black. You can clearly see the section he cut short.
The section in question is around mile 8. I noted earlier that he missed the timing mat at mile 10. His Flyby shows that he did not cut that portion of the course. He only missed the portion in the video, resulting in cutting a total of 0.9 miles off the course.

My suspicion is that he purposely did not run over the 10 mile mat. Had he done so, he would have recorded an even more unlikely split, having cut 0.9 miles of the previous 3.8 miles of the course. A missed split would raise less of a red flag than a sub 5 minute split time.
A couple key points which I think are likely indications of of intent:
Someone that has run 'hundreds of races' would immediately know if they only ran 12.2 miles of a half marathon. Patrick had initially claimed the result as legitimate – he made the Facebook post showing his time and holding his medal.
He didn't 'miss a turn'. Patrick simply turned around prematurely. There is no explaining how he could have unintentionally turned around where he did.
His belligerence when questioned. Patrick has removed comments, and is calling out those that question him as haters.

It's Complicated, and I'm Tired of Driving for My Races with No Love or Support!!! So I'm im going to keep doing it my Way . Because that's the Way I Was Built!!!

-Patrick Wills
Not The First Time
Patrick was disqualified from the 2018 Rocky Raccoon Trail Race. In a statement that was pulled from TexAgs.com forums from Chris, the RD.
The unfortunate DQ of Patrick Wills was secondarily due to the red flag our systems showed from his negative third-lap split. [Editor's Note: 3:41 for 25 miles or 8:50 per mile.] We compared those times with splits of the last 16 years among all top runners. Obviously, that would be an incredible negative average mile [i.e., quicker pace] for miles 50-75 with a course getting muddier and sloppier every hour that went by. [Editor's Note: 2 minutes and 52 seconds per mile faster than his second lap that took 4:01. Wills's splits.]

However, the primary reason was due to the mandatory check-in at the two out-and-back aid stations. He only had check-ins recorded for the first two laps for both of these aid stations. I stated before the race that even though volunteers were there to make this happen it was ultimately up to each runner to ensure their bib number and time of day was captured each lap at both Gate and Farside Aid Stations.

Finally, after I questioned him post-race, I was told by Mr. Wills that he did in fact have .gpx track of his race, which would satisfy us that he completed the correct route. After three reminders to send the file, he failed to do so.
There have been many accusations floating on social media and reports that he has been banned from local running clubs. Digging through comments on multiple posts, it is clear that there have been suspicions surrounding Patrick for years.
Note: Many others have posted about allegedly fake Strava segments, and his odd Strava trail at The Houston Half Marathon. I have not, and don't plan to look at the alleged 'Strava cheating'. I have looked at the Strava track from The Houston Marathon, and while odd, he hit all of the timing mats at reasonable pace. The portions that skip ahead and the portions off course are not following roads.
Support Marathon Investigation
To support the site, please consider making a small contribution.Your contributions help to cover the costs associated with running Marathon Investigation.