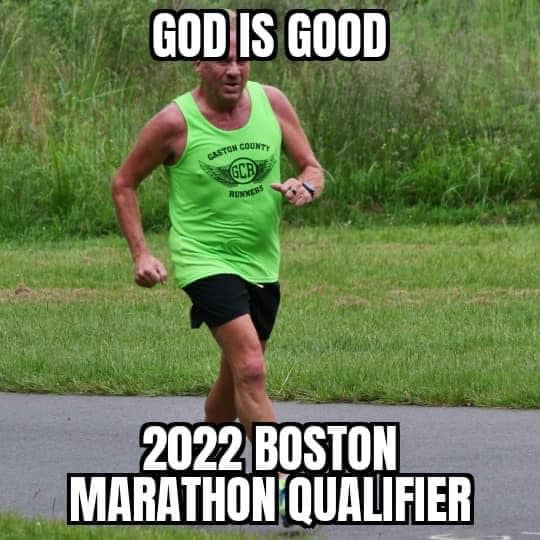 To support Marathon Investigation, you can make a contribution by clicking on the bottom of the page, or by going to Paypal.me/marathonsleuth or Venmo:@MarathonInvestigation. Everyone's support is appreciated!
The Boston Bound Marathon is a 26 loop course. The race starts with an extra .2 mile section and concludes with 26 1 mile loops. Tim is a 61 year old male, and entered the race with the goal of qualifying for Boston.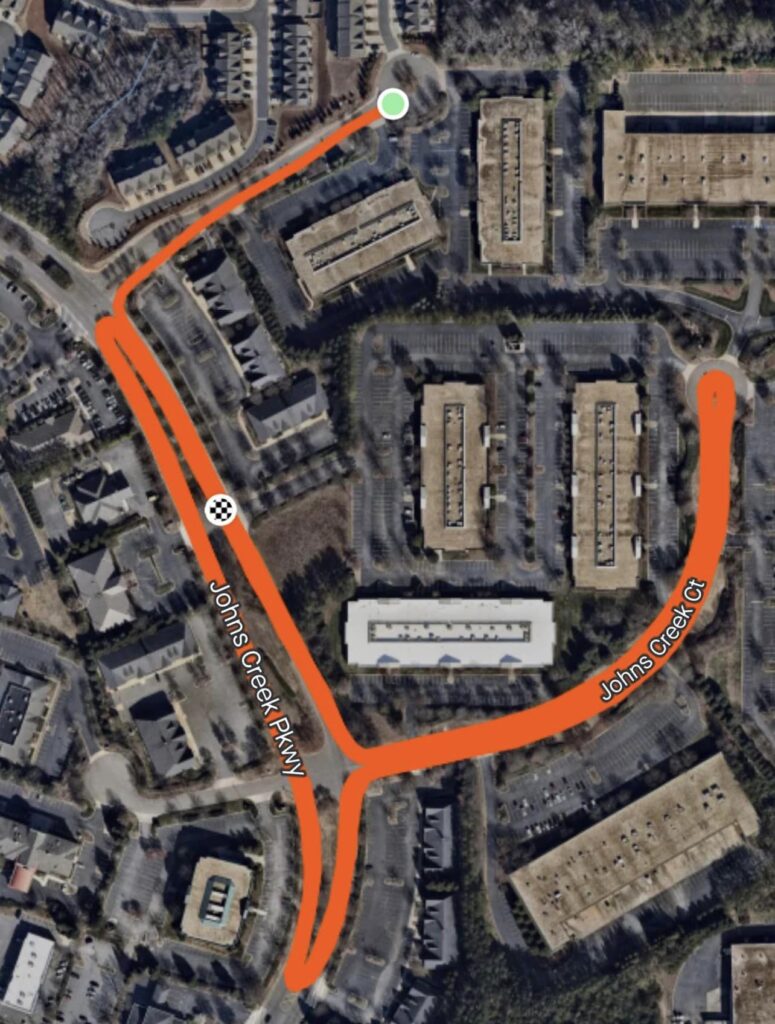 Tim officially finished the race with a time of 3:23:29, safely under the 3:50:00 needed to qualify to run The 2023 Boston Marathon. Last week, Tim posted that his time was accepted by Boston.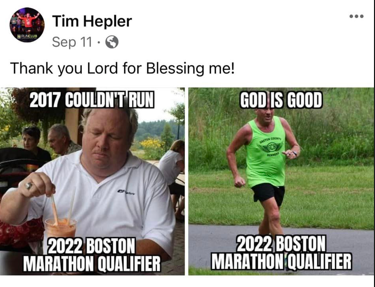 All of Tim's previous marathons were over 4 Hours and 50 Minutes. This result was nearly a 1-1/2 Hour Personal Record. He posted on August 22nd that his training had peaked. Looking at his Strava, it would appear he peaked at about 6 mile training runs. He posted daily workouts and runs, but none of these posted runs approached double digits in the time leading up to his supposed taper.
Reasons for Suspicion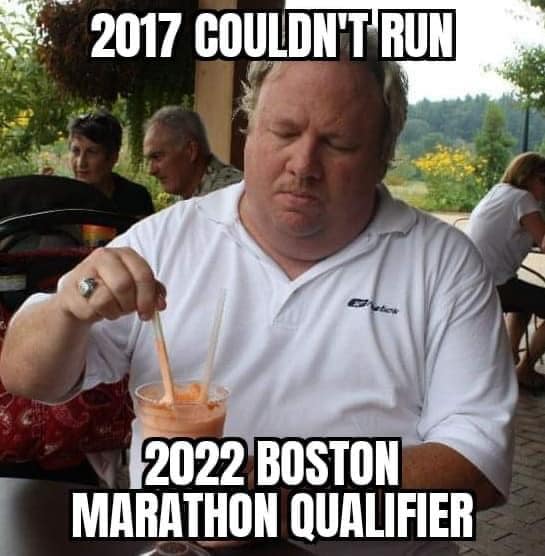 Tim's mile splits are uneven. The start of his race is in line with his 5k and 10k results. His Athlinks profile is now private, so I cannot reference all of his results. There are searchable results showing 5ks in the range of 22:30 and he ran a10k in 48:15 this past August.
His Boston Bound splits follow:
First .2 1:39.91
Lap 1 8:05.62
Lap 2 8:15:07
Lap 3 8:15:05
Lap 4 8:23:09
Lap 5 8:32.9
To meet his qualifying standard, Tim needed to average 8:47 miles for the entire race. At this point, he was on track, but given his apparent lack of training and looking at his historical times, a qualifying time would seem to be unlikely. Tim may have come to this realization.
Lap 6 5:46:17
There was nothing in his training or races that I found indicating that Tim is capable of a sub 6 minute mile.
Scanning through the results, I believe that the 5:46:17 was likely the 2nd fastest lap of ANY runner the entire race. Only the overall winner had a faster lap.
Following the unlikely lap 6 was a series of laps roughly between 8 and 9 minutes.
Lap 7 7:54.6
Lap 8 9:03.07
Lap 9 7:59.09
Lap 10 7:59.3
Lap 11 8:05.49
Lap 12 8:21:27
Lap 13 7:15.06
Lap 14 8:51.16
Lap 15 7:42.72
Lap 16 8:49.15
Beginning with lap 17, his paces again become even more suspicious. This is a runner that was gradually slowing down within the first 5 miles from 8 minutes to 8-1/2 minute miles, running a series of laps number of sub 7 minute miles.

Lap 17 6:41.13
Lap 18 7:54.05
Lap 19 6:59.1
Lap 20 7:42.62
Lap 21 7:27.64
Lap 22 6:47.23
Lap 23 7:37:02
Lap 24 7:59.56
Lap 25 6:44.78
Lap 26 6:47.15

He posted on Facebook that his training peaked on August 22nd. Leading up to this point, he had Strava entries daily showing his workouts and his runs. There was nothing leading up to his marathon that was over about 6 miles (At the time of this writing, he has made his Strava private – so there may be an exception – but the volume was not indicative of a serious Boston Qualifying attempt, especially for someone with a marathon PR of over 5 hours).
Marathon History
2022 Disney 4:51:05
2020 Charlotte 4:50:20
2020 Disney 6:30:26 (Participated in Dopey Challenge 5km, 10km, half and full marathon on consecutive days)
2019 Charlotte 6:01:56
Tim is clearly in better shape now than he was before and when he started running. I believe his other Marathons were legitimate, but again, nothing in his training or races indicated that he would qualify for Boston, much less, run a 3:23:29 race.
Additional Details
Tim had no photos tagged to him on the course. Every single runner ahead of Tim had photos. I also scanned through the entire photo album and did not spot Tim.
I messaged Tim on Facebook:
Hi Tim. I'm the owner of Marathon Investigation. I've received a few emails questioning your BQ result based on some anomalous split times? Do you have any GPS of your run? Please note that I am in no way affiliated with the Boston Bound Race or The Boston Marathon. I work independently to help maintain the integrity in race results. Thanks
Within a day or two of sending this message Tim scrubbed his social media clean. His Facebook is private, he removed a post bragging about his Boston Qualifying time from the Runnin' Truckers group, he made his Strava private, he made his Athlinks private.

Prior to my message to Tim, all his social media was public. I am posting a sampling of his posts. I am comfortable in stating, without getting too political, that the evidence indicating that Tim did not legitimately qualify for Boston is stronger than any evidence supporting his beliefs below.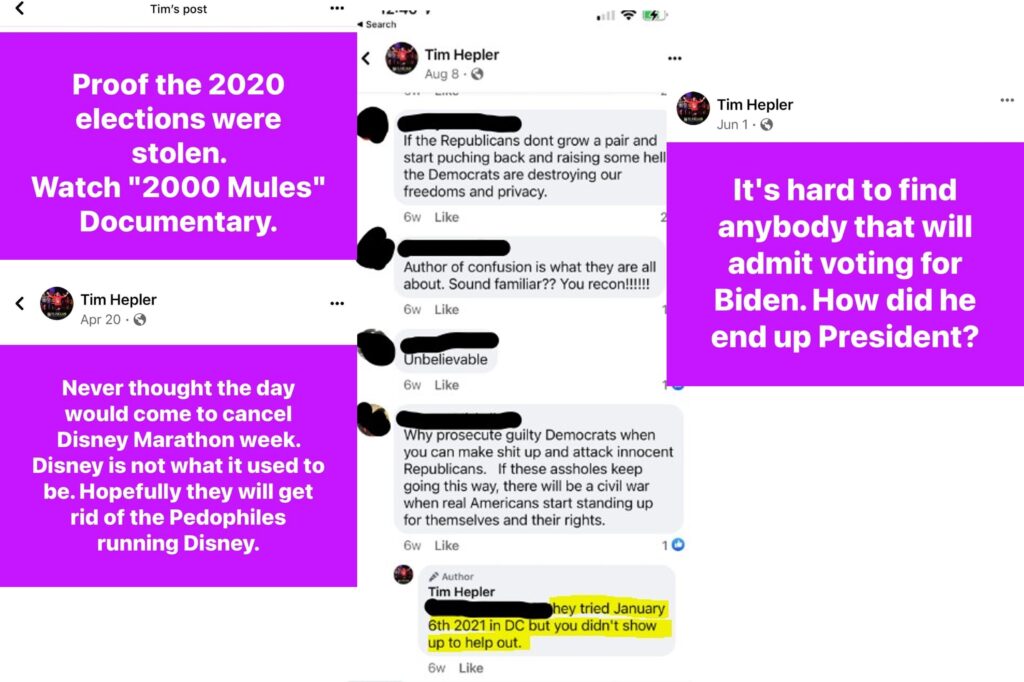 Summary
Tim clearly has improved his fitness over the years and is a capable runner with impressive age group times for 5ks and 10ks. By all available information, he was not prepared to run a Boston Qualifying time. While there was no visual evidence showing he cut the course, the data tells the story of a very unlikely finish. Adding to the questionable splits are the lack of photos, the lack of a Strava file (when he publishes his runs on a daily basis) and his reaction to my Facebook message.
I messaged the race over a week ago, and have not received a response, and Tim still has a finishing time which was accepted for entry to The 2023 Boston Marathon.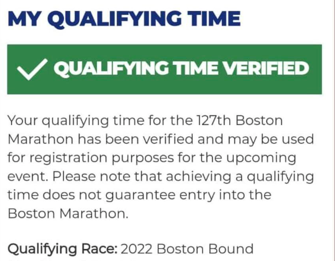 Support Marathon Investigation
To support the site, please consider making a small contribution.Your contributions help to cover the costs associated with running Marathon Investigation.