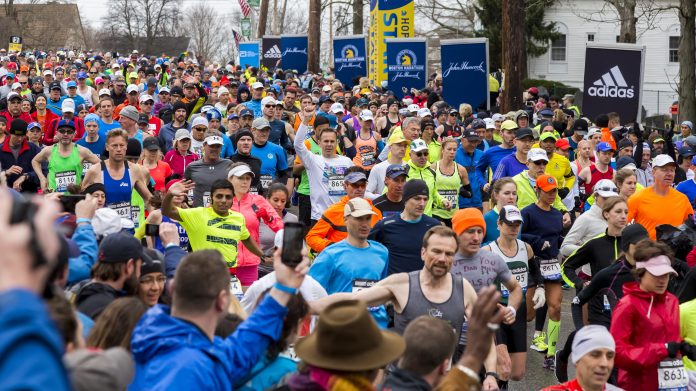 I wrote about "Fake Tina" after The 2016 Boston Marathon. In the initial article I gave her full name – that was a mistake. I do think the story is interesting, and sad. I am not posting her full name or any identifying photos in this version. Those details are not important to the re-telling of the story of a woman who went to great lengths to convince others that she ran The Boston Marathon.
Fake Tina was planning to run the Boston Marathon in 2016 – or that's what she told everyone.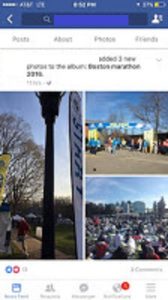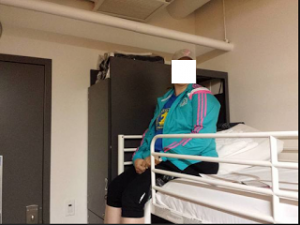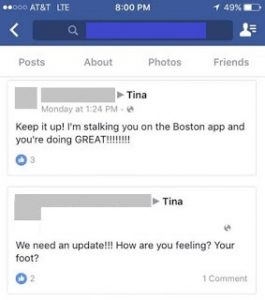 Her friends and her husband are very proud. There were multiple Facebook posts congratulating her. It is unclear if her husband was truly aware of what was going on.
She posted this photo on Facebook after the race.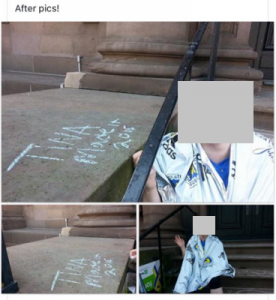 She had the Mylar blanket, but no medal. Also, she did not appear in the results. But she had an answer for that.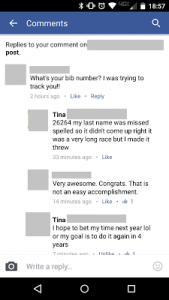 Not only did they misspell her name, they just gave her an entirely different last name, according to Tina.
Shortly after that, people started asking her where her medal and pictures were. She had no answer for the medal. She said the pictures were too expensive. Of course if there were any pictures, she could have sent the link through marathonfoto.
As it turns out, the "misspelled name" assigned to bib 26264 belonged to another runner –  "Real Tina".  Below is a photo of the real Tina wearing her bib and a medal – two items that the Fake Tina has been unable to produce so far.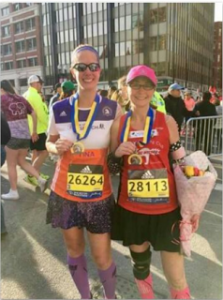 I can envision the non-running Tina grabbing a discarded mylar blanket to pose for her photos. We know now that she never had a bib. Maybe she went to the expo in hopes of somehow obtaining a bib, or was this the plan all along?
The real Tina  was tipped off by someone that saw this other woman claiming her time, and her identity. She was not pleased.
So I'm guessing she just searched the BAA website's entry list. (She) actually traveled from out of state, went to the expo, bought the jacket, took pics on Boylston and posted them on FB (her FB page isn't private so I saw them). I was shocked. None of the pics showed a bib and when I got the marathonfoto pics, they're all of me. She clearly didn't run but posted a pic of her wrapped in Mylar. just today, she posed pics with the medal. I'm not sure what to do since she didn't bandit my bib, but clearly this is so wrong.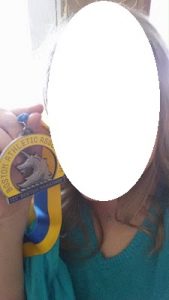 It is likely that she found a medal on EBay or Craigslist. They became available immediately after the race.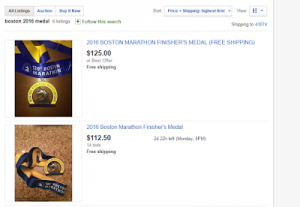 Initially I wasn't sure how to feel about this story. On one hand, she didn't bandit the race or actually forge a bib. And, while many runners may disagree, it's not a crime to own a Boston Marathon jacket if you haven't run the race. I don't think anyone is going to balk at a Mylar blanket theft. Buying a Boston finisher medal, is disheartening, but not illegal.
But the level of deception she attempts is really unbelievable – and unbelievably sloppy. If she were really a runner, she would know how easy it would be to uncover the truth. The fact that she involved an unknowing runner in her scheme, and attempts to deceive all of her friends, and apparently her husband is incomprehensible. This is an example of how prestigious the Boston Marathon is to many, and how far some will go to try to get a piece of the glory.
To support the blog, and my efforts to keep race results clean, please consider a small contribution. These contributions go towards purchasing race photos, compensating those that work to pull data, and general expenses associated with the site.