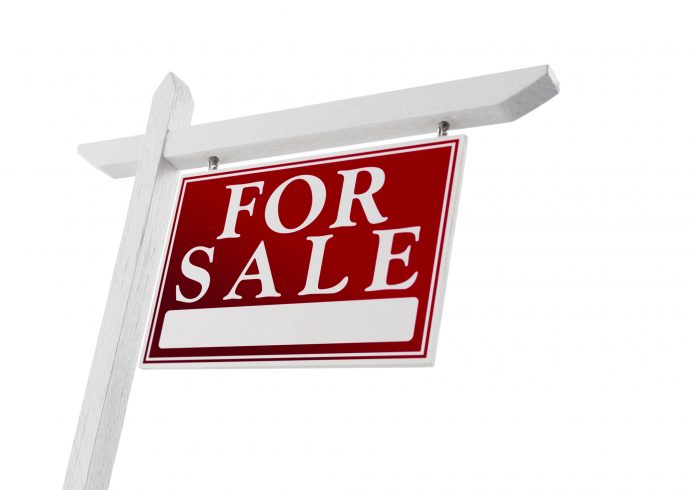 If you search on marathonguide.com's bulletin boards  or Craigslist, you see a variety of posts from people looking to buy and sell race entries. For some races, like The Pittsburgh Marathon, transfers are allowed.  For most others, like Boston, transfers are prohibited.
MarathonGuide

Despite Boston's clear policy on transfers, the sellers and buyers are allowed to post on marathonguide.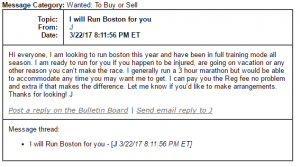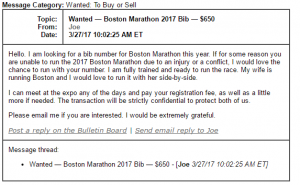 There are also a number of bibs for sale for The Tinkerbell 1/2 Marathon Weekend- which is two months away. There are a number of people looking for 5k bibs (sold out) and someone selling their half marathon bib. Transfers are not allowed.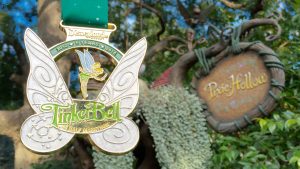 These posts are nothing new for marathonguide. I love marathonguide.com for their race reviews and results. When I raced, I always read the reviews . Now, their site is my primary resource when looking for a runner's history.
But, they are doing a disservice to the running community, and the races by allowing this behavior.  In my opinion, they should moderate their posts and not allow any buy/sell/transfer posts for races that do not allow it.
Craigslist
On The Boston Craigslist, there are posts from buyers and sellers of bibs. These posts will increase in #s over the next few weeks.


I kind of hope this guy sells this bib so he can be caught and banned. But for $5000? If they complete this transaction, there is no way that they wouldn't end up at the top of my list to review. If someone incapable of running a BQ time is in the first corral/first wave, I will get dozens of tips as well.
WHAT CAN WE DO?
Make it harder on these buyers, and sellers. I am not recommending that you harass the people that post on the boards. However, you can ask them for details. You can keep them busy. You can inform them that what they are doing is against policy. Make it more trouble than it's worth to try to sell/buy bibs. Agree to meet them, and don't show up. What they are doing is against the terms that the sellers agreed to when signing up for the races. Some sign up only to sell their bib and make a profit. For Boston, those types of entries keeps legitimate runners out of the race.
If you see sellers on craigslist, report their post. If enough people report specific posts, then Craigslist automatically removes them. I will allow links to craigslist posts and new marathonguide ads in the comments. Respond to the ads and try to find out the identity of the seller. Report them – to Boston or to me. Make it difficult for them to succesfully complete their transaction
If you want to legitimately transfer your bib and are looking for someone to transfer it to, I would recommend checking out bibswitch.com. They are advocates for races allowing transfers, and work with races to legitimately transfer bibs from buyer/seller. I have no affiliation with bibswitch, but I love what they are offering. You won't be able to get into Boston this way. But if you legitimately want to sell your bib, and mitigate your loss of registration fees, this is the way to go.
To support the blog, and my efforts to keep race results clean, please consider a small contribution. These contributions go towards purchasing race photos, compensating those that work to pull data, and general expenses associated with the site.