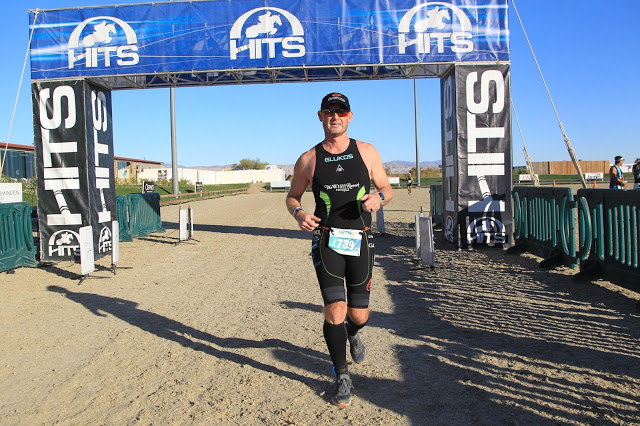 Last week, I first reported on Jason Easter (The Wish Runner) and his attempt to break the Guinness World Record for most Ironman 70.3 races completed in one year.
It would appear that his effort to break the record is over. Amid questions relating to the legitimacy of his race in Palm Springs and concerns over the transparency of his fundraising, he has removed his website. He has also taken down social media sites related to The Wish Runner project.
Fundraising Questions
After each of the two articles were published, Jason defiantly posted on the Marathoninvestigation.com Facebook page.  Each time he eventually deleted his posts. I screen captured most of his comments before the deletions.
On March 3rd, he posted this:
"The part you are confused about is the 10%…There is also a link to donate to the project for travel, race entry, fees, etc…10% of THOSE donations go to Make A Wish and another 5% goes to CTF."
In his email to me on the same day:
"The only thing that would ever be different than a direct contribution to them is a contribution to the project. 10% of those contributions go to Make A Wish and 5% goes to CTF."
The issue with this is that NOWHERE on the site did he disclose the breakdown. The main point of the follow up article was to make clear the breakdown as Jason explained it. Jason replied after the 2nd article. Here was his .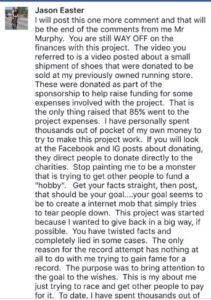 He directly contradicts his email and prior Facebook posts about the breakdown. I would be curious to hear from anyone that feels I misinterpreted his explanation of the fundraising.
As much as I may personally have an issue with 85% of contributions to The Wish Runner Project going to fund his travel and race expenses, had he disclosed this breakdown, it wouldn't be nearly as questionable.
In my opinion, it is very telling that he removed his website and social media accounts. Had he really felt that he was being truly transparent in his fundraising, he would have willingly disclosed the breakdown of contributions.
It would seem that with the hit to his fundraising, that it would be difficult for him to continue much longer with his quest to break the record.
To support to the site, please consider a small contribution.
One Time Contribution