On Friday morning, as reported here, Lance Bergeson the Race Director for Capital Pursuit Races wrote an editorial for the Des Moines Register regarding Racepass.
This race director was frustrated that his races were appearing on Racepass.com after he had requested that Racepass remove his events.
Chase Rigby one of the co-founders emailed me a link to their response.
https://medium.com/racepass/response-to-how-racepass-is-affecting-capital-pursuit-eadc55403df
In the response, written by co-founder Tom Hammel, he states that the race was removed within 48 hours and that the race may have been showing up in this case as a result of cached browsing data not being refreshed. It does appear that the race is no longer being offered on Racepass.com
I am aware of other races that have asked to be removed and I am keeping an eye on those to see how long it takes for those requests to be honored.
Conceptually, I can see where a platform that lists all races in one place in an easily searchable interface would be beneficial to runners and races. From that standpoint, Racepass could be a useful tool and potentially beneficial to races.
As part of the Racepass response, they state that they are still working on the functionality to allow for race specific waivers. Until that process is fully implemented, any Racepass accepted registrations could be in violation with the Road Runner's Club of America (RRCA) waiver requirement.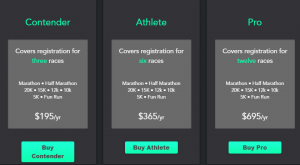 I stand by my belief that in order for the Racepass subscription model to survive, they need Race Director approval. To do this they need to be able to offer the products in a manner that is fully compliant with what the industry requires from a legal and liability standpoint.
Please consider a small contribution to help support the site. Contributions help to offset costs associated with running the site.
Thanks to all of you that that support Marathon Investigation!