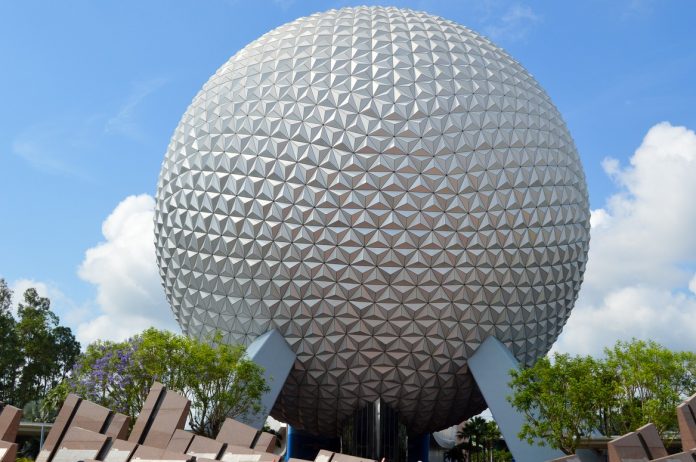 I re-shared an article on the Disney runner that has a Boston Qualifying time with zero recorded splits. SInce I published the article initially, through the help of some Disney Annual Pass Holders, I was able able to obtaing a couple of photos on the course of the 2017 Walt Disney World Marathon.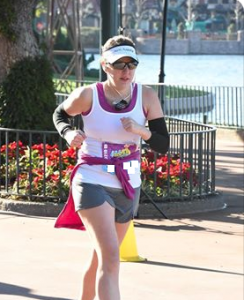 It was determined that this photo was taken between miles 25 and 26 of the marathon course. The time stamp show that the photo was taken at 9:16 am. There was some thought that the photo was taken later based on brightness and shadows. But when comparing brightness and shadows to photos of a runner that finished at the same time, I believe that this was taken at 9:16. The 9:16 AM photo time makes sense based on her finish time.
An additional photo was found, at the finish line – less than 1 mile after the above photo.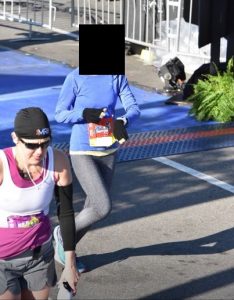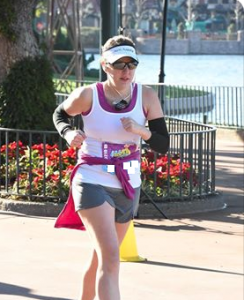 In, less than a mile, she switched out her visor for a skull cap, and she re-positioned her sweater to completely cover her bib. She claims to have run a Boston Qualifying time, but she took measures that made her much less recognizable. One reader commented  that this reminded them of Kip Litton. It is also similar to Mike Rossi, putting his head down after getting his BQ at the VIA Marathon.
Her obscured bib may explain the lack of photos, but not the lack of splits. She claims her chip was damaged. I broke that down in the prior article. Everyone I spoke to says she easily should have been able to obtain a replacement bib if there was a concern. This is just another case where she has timing issues in her BQ races. She was eventually disqualified from the 2015 Miami Marathon – which she used to run in Boston 2016.
She has been disqualified from 3 races to date.
I compared these photos with her recent finishes in London (approx 5:30:00) and Grandma's (approx 5:45:00). There was no such outfit change in those races. She also hit all of the timing mats in London and at Grandma's.
Summary
This is another example of why I re-share older posts. Often times additional information comes to light. While the finish photo isn't quite a smoking gun, combined with the other photo, it does show that she was on course for the last mile or so of the race. She did cross the finish line at the time she was credited. But, so far there is no information that has been presented showing her on the course at other times. If anyone recognizes her from their race photos, please send me a message.
After the B.A.A. notified races that they may be asking for more information to validate qualifying times for particular individuals, I am feeling more confident that this runner will not be allowed to use this result to enter the 2018 Boston Marathon.
Please consider a small contribution to help support the site. Contributions help to offset costs associated with running the site.
Thanks to all of you that that support Marathon Investigation!