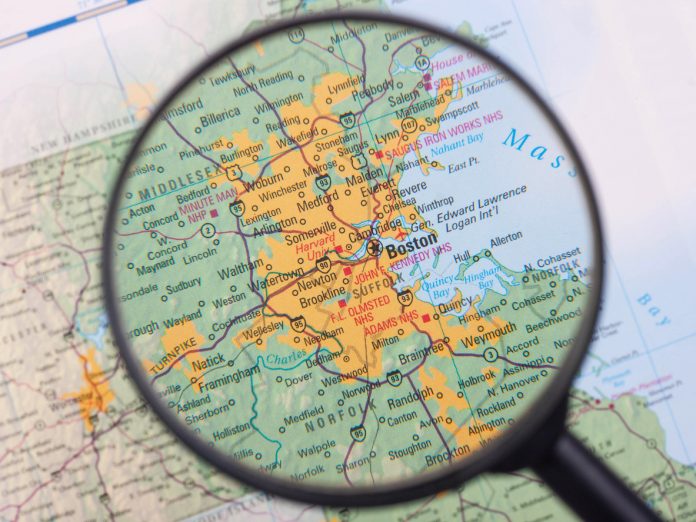 A runner (who I previously have written about) with 4 previous disqualifications, has a Boston Qualifying Time posted from the 2017 Walt Disney World Marathon.
This runner denies that she has cheated at any races, but the evidence, and disqualifications leave doubts. I wrote about this runner earlier this year. There have been some developments since that article. The most concerning development was the discovery that she has a very questionable Boston Qualifying time that was earned at the 2017 Walt Disney World Marathon.
I mentioned this incident in an earlier post, and have posted about this runner's other results in the past, but have never gone into detail regarding the Disney result. I am hoping that by bring attention to this, that RunDisney will step up and properly review the circumstances regarding this result.
2017 Walt Disney World Marathon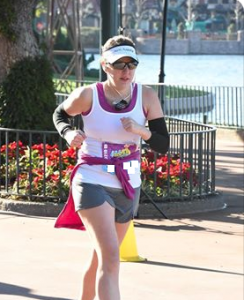 This woman has a Boston Qualifying time that was registered at the 2017 Walt Disney World Marathon. This was not initially discovered in the prior article written about her because the time is not on Marathonguide or Athlinks. It is not listed on those sites because she was added to the results after the race.
She has zero splits. She claimed that there was an issue with her bib.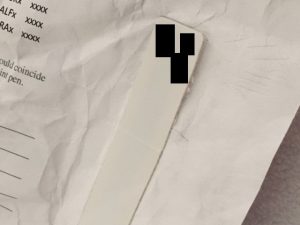 She says that she took the above photo at the expo.
The reason I didn't show up on your initial radar at Disney was because of my bib, only NOT my fault.  I signed up on the very first day to run the Dopey Challenge with Runner's World.  When I arrived at the Expo for packet pickup I had to go to one area where they had all my shirts and bibs set aside for me.  There are several bibs to wear over the course of the 4 days.  My half and full marathon bib (its combined and meant to wear twice) was damaged.  Literally bent and not adhering to the bib.  This was an immediate finding at the desk and nobody knew how to handle it because all bibs are personalized to the designated runner.  After an hour of waiting for an answer, the guy at packet pickup finally told me he didn't know what to do about it and just hope it wouldn't be a problem.
I've asked the question in a Disney Running group, and without exception, the runners say that getting a replacement bib should have been very easy. Disney should have offered replacement – non personalized bib if she was concerned about the damage.
At the 5k and the 10k bibs were "chiming" as each runner crossed the threshold.  Like a single chirp sound, if you will. At the full, the same thing was happening only everyone  else's did around me but mine didn't so I ran back to the mat, held the bib straight out and it chirped.  At the last aid station they had white medical tape out so I used that to smooth down the corner because it was poking me .
I ran the 5k and 10k without issue and then the half was cancelled (rightfully) due to weather.  When I was lined up for the full my bib DID NOT activate when I crossed the platform.  Disney marathon actually has me on video running back, trying to hold my bended bib straight to activate it.  I wasn't planning on a stellar time, truthfully.  But I had a few warm up miles the days before with the fun runs and then with the half cancelled and it being cold I just thought I'd run the best I could.  
There is no way she would have known that her bib didn't chime at the start. Many runners would have simultaneously crossed the start line. It would have been impossible to discern if her bib 'chimed' or not. I surveyed a number of Disney runners. Nearly all report that they never hear beeping or chiming as they cross checkpoints, particularly not at the start.
RunDisney or Trackhack have not confirmed or responded when I asked about her story.
She went on to state that she stopped at two aid stations, and she said her presence at the aid stations was how Disney verified her participation. I was able to easily determine where the aid stations are located. Even if Run Disney did verify her presence at two aid stations, this should not be enough to validate a Boston Qualifying time. The runner mentioned nothing about verifying course photos or GPS data.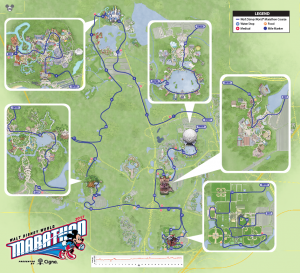 "…so my presence on the course was verified by run disney.  I also like to add that I ran all their races and I'm not sure how someone could actually cheat at Disney.  You start in the middle of nowhere, you run in and behind the parks, security is everywhere and the parks are closed to the public.  I kept thinking how private the races were with no cheering or people with signs on any course.  They did have bands and the characters and such but other than a set "cheer zone" there was nobody but staff and security."
Many runners have reported seeing runners cutting the course by cutting the median between miles 17 and 21. Disney is notorious for cheating.
DISQUALIFICATIONS
There are other questionable results for this runner- with missed chips, etc. The races below are the ones where she was actually disqualified.
2015 Miami Marathon – Disqualifed (Boston Qualifying Time)
She used this time to enter and run the 2016 Boston Marathon.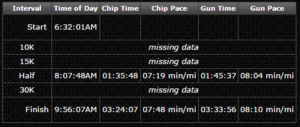 She was initially disqualified from this race, but convinced the timer that there was a chip malfunction. After I requested a review, the race and timers made the final determination that the disqualification was warranted. Unfortunately this decision was made after she had already run the Boston Marathon.
In the race photos, she has a GPS watch, but did not offer the data as evidence. She only appears in pictures at the finish line and before/after the race.
2015 Marine Corps Marathon – Disqualified
She is no longer listed in results, and I do not have splits to analyze.
2015 Chicago Marathon – Disqualified
Her time was well over 5 hours.She was slowing to between a 16 and 20 min/mile pace, but then ran from 25k to 3ok at under 8 min/mile, and then missed the 35k split. She has claimed in our various emails that this slow time was due to pacing friends. In this case she ran with her friend, but her friend went ahead of her just before the questionable and missing splits.
2016 Vermont City Marathon – Disqualified
The conditions were brutal for this marathon. They actually had to shut down the course due to extreme heat. She initially had a time of just over 4 hours. She did not hit ANY of the intermediate timing mats.
One oddity about this result is that she is pictured with another runner after the finish.
"It was hot and sticky but I ran with this girl, ******, that I met at the beginning and she was just so fun"
" I ran with a stranger named ****** that I befriend at the start of Vermont because it was an 80 degree date and we had a lot in common but I only knew her that day. I have a picture with her that I can send but that's about it."
I contacted the other runner, and she says that she "never laid eyes" on her until the finish.
I have attached my emails with the race director for VCM. As you can see, I never laid eyes on her until she started blabbing to me at the finish about how grateful she was to have me "pace" her. 
The runner in question does not have any clean results that are under 5 hours. In the multiple emails I have from the runner, she references multiple possible reasons for the missing splits.
However, she has never offered any evidence that any of these times are legitimate. In photos, she often is wearing GPS. But she was unable to provide any GPS data verifying her times.
Conclusion
The runner has offered up a variety  of rationalizations and theories as to why she has had so many instances of missed timing mats. But, when I press for any sort of evidence that she actually has legitimately run these races, she has nothing to offer.
She has no verifiable races under 5 hours. She claims that she paced slower friends in most of those races. However, as is the case in Chicago, she didn't necessarily finish with her friends that she was supposedly pacing. In Chicago, she finished behind the 'slower' friend.
Even if her chips actually failed in multiple races due to how she was wearing her bib, etc..there is no evidence of her actual times. There is no evidence of her times in these races despite the fact that she is pictured with a GPS watch. When she was questioned by Miami officials immediately following the race, she did not think to provide GPS data (I am also stunned that the timer did not ask for her data).
There is a lack of photos from Vermont and Miami. She only has photos in one location at the 2017 WDW Marathon.
If everything the runner told me were true, I still do not think she should be eligible for Boston '18. A video of her crossing the start of the course, and proof that she was at a couple of aid stations, is not enough to verify that she ran the full 26.2 miles.
She recently ran Grandma's Marathon and hit all of the timing mats. She finished just under 6 hours.
Multiple emails to TrackShack (the timing provider for RunDisney) have gone unanswered.
Please consider a small contribution to help support the site. Contributions help to offset costs associated with running the site.
Thanks to all of you that that support Marathon Investigation!