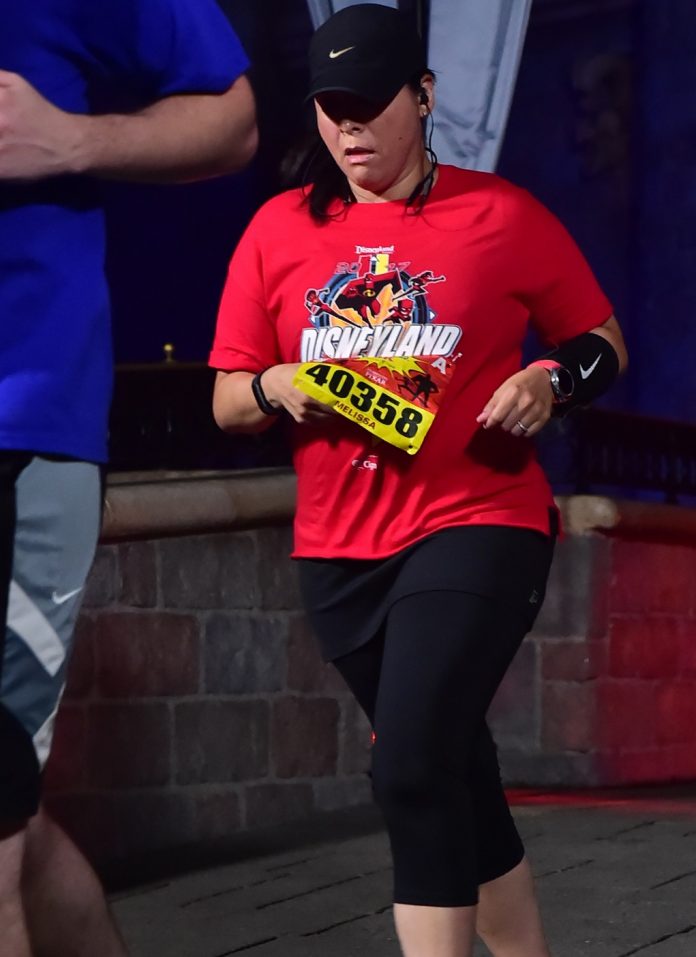 In Serial Bib Thief Identified at Disney, I wrote about a runner that reported their bib was picked up by someone else for The Tinkerbell 10k and Half Marathons in May.

This post went viral within the various Disney groups on Facebook and led to the runner being positively identified as "Patty". As detailed in my article there were many other instances of her appearing in race photos wearing bibs that were not registered to her.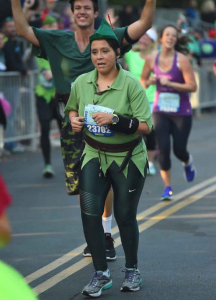 Further investigation also indicates that she likely cut in a previous half marathon and may have used another runner's results for her proof of time to move up to earlier corrals.
Disneyland Half Marathon Weekend
Another participant had a very similar story regarding the Disneyland Half Marathon:

In follow up posts and via a text conversation with this runner, more details emerged:
The runner reported that her name was forged on the race waiver as well as the bib pickup sheet. The thief also filled in the runner's waiver. Date of Birth is required to pull up the waiver.
Again, this was no accident. This runner was targeted. Also the runner is signed up for "Double Dare" which includes the 10k and Half Marathons on Saturday and Sunday. That runner whose 5k bib was stolen signed up for the Double Dare as well. That bib was not stolen.
Disney requires a photograph to be taken when participants pick up their Double Dare bibs, but not for runners signed up just for the individual races.
Disneyland 5K Photos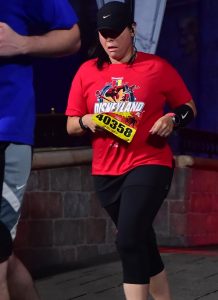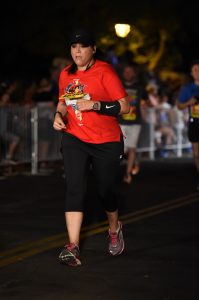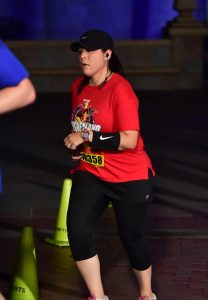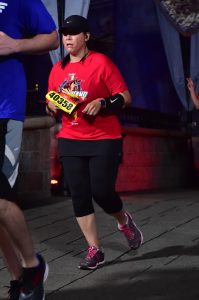 After the 5k race, these photos were linked to the stolen bib.
My initial reaction was that this runner looked very similar to Patty. Closer inspection proved beyond a shadow of a doubt that Patty once again was the recipient of a stolen bib.
Comparing photos from both races there are identifying characteristics that make the positive comparison clear.
Comparing The Photos
I marked up a zoomed photo from both races. I circled identifying characteristics that are common to photos from each race.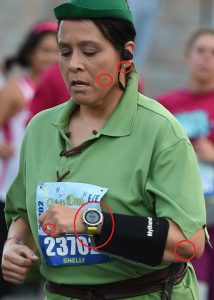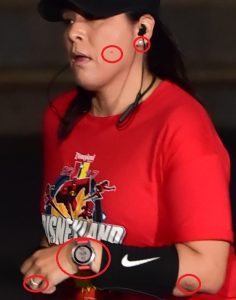 I circled features that are clearly visible in each photo. The clearest evidence that these are the same runner is the  freckle on her left cheek and the scar on her left elbow.
Her earrings and ring also appear to be identical.
I did not mark the similar pouches on her left arm. She also has Brooks shoes in each photo and it  she has the same model watch (with a different band).
This analysis may have been overkill, but it is provided to show beyond a doubt that the runner that was identified as having run with the stolen bib at Tinkerbell weekend is the same runner that ran with the stolen Disneyland 5k bib.
It is also interesting that you can see where the 5k bib was creased in an apparent attempt to fold over the name.
Double Dare
Patty is registered to run the 10k on Saturday and the Half Marathon on Sunday. These races combine for The Disneyland Double Dare Challenge.
I am posting this article at the start of the 10k race. Race officials are aware that Patty has been identified as the runner wearing the stolen bib. I waited to post this article because I did not want Patty to know that she was identified before the 10k race. I wanted her to run this as she normally would. I wanted to give race officials the chance to question her after the race. It remains to be seen if they do so.
I also did not want to have a huge number of runners trying to confront Patty during the 10k.
I previously identified an Instagram post where she posted her costumes for the 10k and Half Marathons. I shared those photos with the legitimate runner to help race officials identify Patty on the course. I assume that others may have seen the photos of those costumes as well – Patty made that account private sometime on Friday morning.
Run Disney
It is Run Disney's policy to check ID's at registration. When I shared the post from the legitimate bib owner that her bib was stolen, a couple people said that they were not asked for ID at bib pickup. It is possible that Patty got lucky and managed to get the bibs from the Tinkerbell races and the 5k without being asked for ID. But, the possibility that there was an accomplice at the expo should not be dismissed. It is purely speculation on my part, but it would seem like quite a big loose end for Patty to go through all this without being sure that she wouldn't be stopped by a request for ID.  Security needs to be stepped up at bib pick up.
I will post an update. Hopefully Patty is nabbed at the finish line and Run Disney takes the appropriate action and takes her bib and bans her from future events. She probably could be charged criminally as well. This is beyond copying a bib or running as a bandit. She went to great lengths and specifically targeted a particular runner.
UPDATE: She was caught after the 10k and detained by the police. She was cuffed and then escorted to her car. I will post more details in a follow up article.
In the meantime, you can visit the Marathon Investigation Facebook page. There is currently rough video of her being pulled by the police. Better video is being produced and will be posted when available.
To support the site, and my efforts to keep race results clean, and hold participants and race officials accountable, please consider a small contribution.