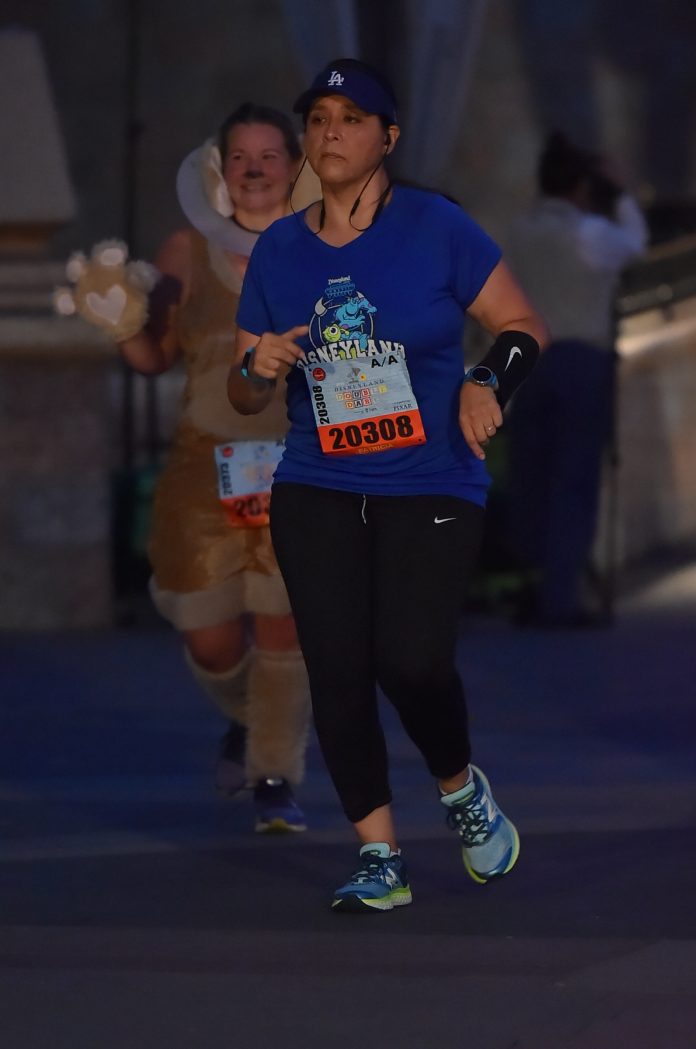 As I reported on Saturday morning, the individual that ran with a stolen bib in Friday's Disneyland 5k was positively identified as the same individual that ran with a stolen bib on Tinkerbell weekend earlier this year.
Disneyland 5k Bib Reported Stolen – Photos Show a Familiar Suspect
The below video (posted with permission) shows the runner approaching the finish line and Anaheim Police and race security detaining her after yesterday's Disneyland 10k. She was able to be detained on the course based on information that was relayed to Run Disney officials regarding her identity. These details were included on the article I posted yesterday.
Patricia (Patty) was never accused of running with a stolen bib for the 10k. The bib that was stolen was for the 5k only. She was able to be identified in the following day's race because she was running with her own bib. I was in direct contact with Melissa (the true bib owner) and she relayed the evidence that was gathered positively identifying Patty as the woman that ran with her. There was some confusion regarding a report appearing on San Diego 10 News where they initially reported that she was accused of stealing the 10k (Double Dare) bib.
She has not been charged with a crime at this point related to the bib theft.  She was escorted to her car, at which point she was cited for parking in a handicapped space using someone else's placard (as reported by San Diego 10 News)
I have not confirmed with Run Disney directly but I have heard from a few different sources that Patty was banned from all future Run Disney events and Disney properties. I will update the article once I get confirmation that this is the case. Despite being banned from the races, she was reportedly not asked to turn over her bib after being detained. She was signed up for the Double Dare which includes Sunday morning's 1/2 marathon. The bib she wore yesterday also serves as the bib for the 1/2 marathon. Theoretically, she could attempt to run this morning's race if she is still in possession of the bib.
According to Melissa, Patty claimed that she purchased the bib online and that she was not the one that picked it up at the expo. In my opinion, this is unlikely in that the method in which this bib was stolen is identical to what was reported with the bib she wore at Tinkerbell.
I will be posting a detailed summary of all the work that went into identifying her, and locating her on the course during the 10k. It took efforts of quite a few people to keep the lid on this between Friday morning and the start of Saturday's race. We wanted to keep this information quiet up to that point so that Run Disney officials could identify her at Saturday's race. Had this information been public before then, it would be unlikely that she would have been apprehended.
To support the site, and my efforts to keep race results clean, and hold participants and race officials accountable, please consider a small contribution.