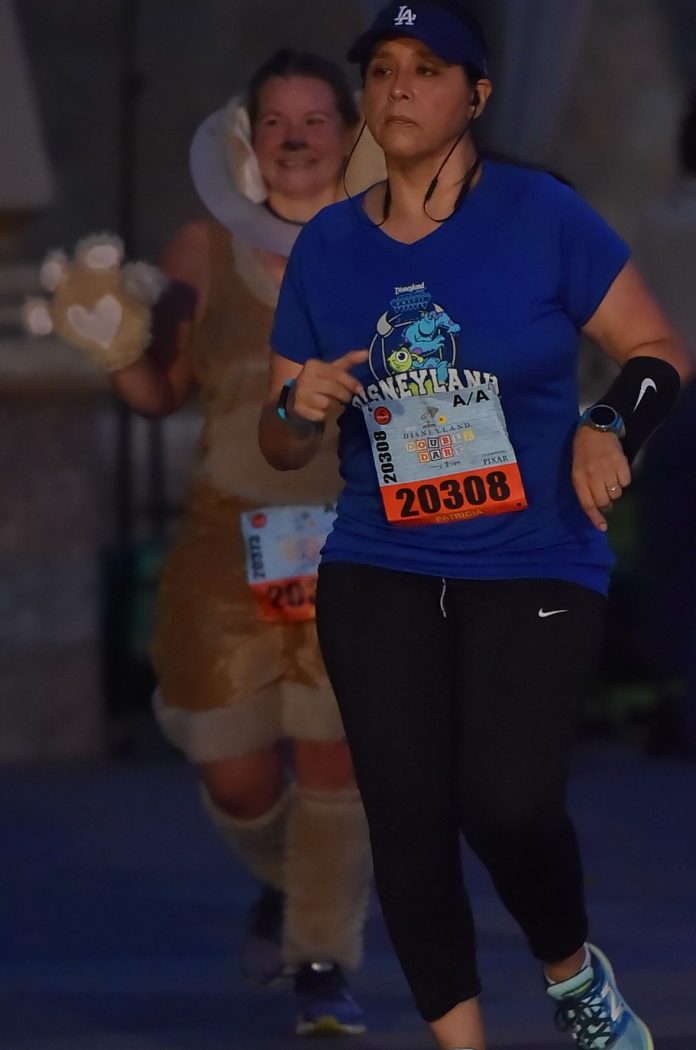 This will be a long article. There have been many rumors and misinformation regarding the circumstances surrounding the events leading up to the Disneyland runner being apprehended after Saturday's Disneyland 10k. This article will detail the process in identifying the runner in possession of the stolen bib, and the process that culminated in her being detained and banned from Disney properties.
THURSDAY
Thursday 12:13 PM

Melissa is the founder of Team Muscle Makers. From the website:
Our mission is to raise awareness for Ullrich Congenital Muscular Dystrophy. Ullrich Congenital Muscular Dystrophy (UCMD) is a rare form of muscular dystrophy with only a few hundred documented cases world wide.
As a team, it is our goal to raise money for the research for new treatments and, one day, a cure for UCMD. To do this we run! We're making muscles, one mile at a time.
I've learned that Melissa is well known in the Run Disney community. Her charity raises money through the Disney races. Melissa has relationships throughout Run Disney.
I shared Melissa's post on my page. Many others shared her post as well. The posts and discussion of this apparent theft made it's way into the popular Disney Group runDisneyRun and NTRD, both pages are dedicated to Disney and Disney racing. RunDisneyRun was instrumental in identifying the culprit in a similar instance of bib stealing that took place during Tinkerbell Half Marathon Weekend. With nearly 30,000 members, if a photo emerges of a Disney runner, odds are someone will recognize them. As it turns out, both the victim of that theft and the person caught running with the bib were members of RDR
On Thursday night, I reached out to Kelly Delaney, who I knew through #NTRD  (and who serves as a moderator for the Marathon Investigation Facebook page) to assist with searching for photos of the culprit once the pictures were published on the Disney site.
There was discussion and some theories that the runner identified in the Tinkerbell bib theft may be the same runner that was responsible for this bib theft. The consensus was that after her public outing resulting from the past incident, that there is no way she would be involved in the theft of a Disney bib again.
FRIDAY
1:02 PM  – Kelly sent me this photo with the comment "It kind of looks like her" – referring to Patty, the runner that received the stolen bib from the Tinkerbell 10k earlier this year.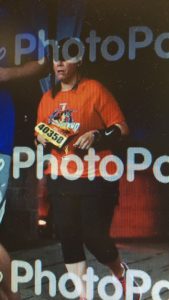 I agreed, and with a quick comparison with her Peter Pan photo from Tinkerbell 10k I felt fairly certain that these were photos of the same runner.
Throughout this process Kelly was in contact with another group member, Caitlin Oishi. Caitlin was able to provide the hi-res photos. After comparing these photos I was 100% certain that these were both photos of Patty. This meant Patty received the stolen bibs for both the Tinkerbell 10k and the Disneyland 5k.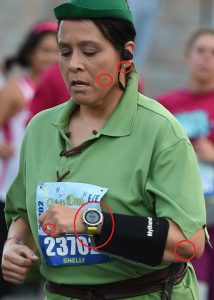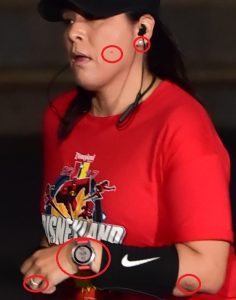 I quickly contacted owners and admins of both RDR and #NTRD to make them aware and also to ask their opinions on my conclusion that these were the same runner. I figured it was only a matter of time before someone else in these groups made this discovery and I wanted to give the owners of the groups a heads up because I expected they would want to stay on top of any threads on the topic.
I was going back and forth trying to decide whether to post this information immediately or to hold off until the next morning. Patty registered legitimately for the Double Dare (The 10k and 1/2 Marathons on Saturday/Sunday). Getting photos of her from Saturday would provide further confirmation on the identity of the runner with Melissa's bib.
Kelly was an advocate of holding off. I agreed, but I felt that there was a strong likelihood of this information getting out through social media beforehand. I did come to the realization that releasing this information could lead to potentially dozens (or hundreds) of runners attempting to spot Patty on the course. I had my article written and ready to post Friday afternoon, but decided to hold off until the start of the 10k unless the information leaked out publicly beforehand.
Upon identifying the runner as Patty, I contacted Melissa. She relayed this information to Run Disney. She notified me that they were going to attempt to catch Patty at the finish line of the race on Saturday. This served as one more reason to hold off on publishing the information. I did not want to do anything that would have compromised these plans.
One of the RDR admins is Caitlin Oishi. Kelly had been in contact with Caitlin from the start. I reached out to Caitlin earlier in the day. Caitlin kept a close eye on the RDR group. She later posted that there were a couple of members that identified Patty as well. But Caitlin successfully buried those posts and turned off comments in order to keep that information from spreading. Her top priority at this point was avoiding this information getting out so that Run Disney security could do their job.
SATURDAY
Caitlin was running the 10k . She messaged me from the start when Patty's live tracking showed she crossed the start lin. Patty had a corral A bib but it appeared she started in B or C. (It does appear that she got corral A status by using another runner's result as her proof of time). I informed Caitlin that there were plans to detain Patty at the finish and that she should hang around to capture video. Caitlin was way ahead of me. She informed me that herself and 2 other runners "were on finish line duty".
At 8:12 AM (Eastern) Kaitlin messaged me that she was starting her run.
By 8:28 AM she messaged me that her friend Brian,  spotted Patty  and was tailing her. Shortly after that their other friend, Jen met up with Brian and they continued to run the rest of the race with Patty in their sight.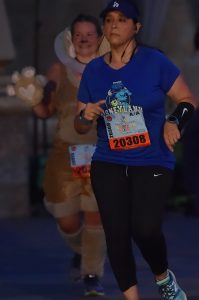 I think it is critical to point out that at no point did Brian or Jen confront Patty. Brian, Jen, and Caitlin were the only runners that I am aware of that were actively looking for Patty on the course. Caitlin, Kelly and the handful of others that knew Patty was the runner with the stolen bib from the 5k did a fantastic job making sure that the masses were not aware. It was top priority both to not tip off Patty so that Run Disney could pull her at the end of the race and to avoid a mob of people looking for and confronting Patty on the course.
It is rather remarkable that Brian was able to spot Patty during the race. I was aware of an Instagram account believed to be Patty's. On Thursday there was a photo of two costumes. We believed that Patty would be wearing one of these two outfits at the 10k.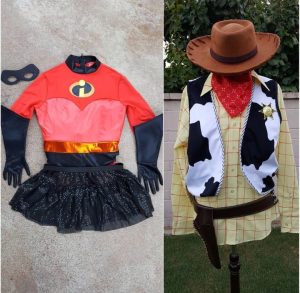 By Friday morning that Instagram account went private. As far as I am aware no one contacted Patty. But I am sure she saw comments on social media from people looking for the thief of the 5k bib. Likely this led to a change of plans and she instead ran with the Disneyland race shirt.
Kelly and I were following the Patty's splits on the live tracking. Charlene Ragsdale was also at the finish area. Charlene was hanging around in the finish area and was reporting that security was strong and that they were actively looking for Patty. Shortly after the live tracking indicated that Patty finished, I received a text from Melissa saying "They got her".
Shortly after that I was receiving a flurry of messages, and Jen contacted me for the first time, sending me her video and this photo: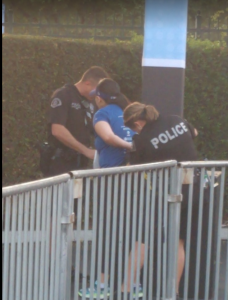 Late Saturday night, Caitlin sent an edited video which included footage from both Jen and Brian:
You can see in the video, that Patty was detained. It was later reported that Patty was escorted to her car and issued a citation for improper use of a handicap placard (San Diego News 10).
Jen told me that they did not need to point Patty out to security. They spotted her on their own. Jen and Brian never came in direct contact with Patty. They simply observed her. They also backed away when the police detained and handcuffed Patty.
I learned from Melissa that Patty had claimed to have purchased the stolen bib online. I personally believe that is unlikely. The bibs that she wore in these two separate races, 5 months apart were stolen in the exact same manner. Her involvement in the first instance was very public. To me, the only feasible way that she bought this bib online would be if she bought bibs from both races from the same individual. I find it unlikely that she would purchase a bib from the same person after the bib was determined to be stolen at Tinkerbell in May.
Summary and And Aftermath
In the initial article I wrote in May, I showed where there were multiple instances of Patty running in races that she was not registered for. It is not known whether she copied bibs or if those bibs were purchased or stolen. It is clear that she has a history of obtaining bibs that she does not own.
A few items worth pointing out. Different outlets picked up the story and some posts on social media contained wrong information as the story was developing. Below are the facts.
Patty has not yet been charged with a crime relating to the stolen bibs. As reported by San Diego News 10, "an investigation into the woman's potential involvement in reports of racing bib thefts is currently ongoing".  Charges could still be filed.
Patty has been banned from future Run Disney races and she also had been banned from all Disney properties.
Patty was not arrested – she was detained and escorted to her car.
Patty claimed that she purchased the stolen bib online.
Despite early reports, there was never any question regarding the validity of the bib she wore on Saturday. Only the 5k bib was stolen.
It is not believed that they confiscated her bib (which also would have been good for Sunday's Half marathon). Security was on the lookout for her at The Half Marathon, but there is nothing to indicate that she ran or attempted to run the race.
There has been speculation as to whether Patty has an accomplice. It is Run Disney's policy to require a photo ID to pick up your bib. At both races someone (Patty or someone else) was able to pick up these bibs without showing ID (discounting the remote possibility that fake IDs was obtained just to pick up race bibs).
Through the efforts of everyone mentioned in the article, I strongly believe this entire situation was handled professionally and any calls for harrassment or release of personal information have been quickly dealt with. Run Disney did a fantastic job in this instance for taking this seriously and acting appropriately when given clear evidence of bib theft.
No, this was not the crime of the century. But it goes beyond photocopying a bib in order to bandit a race. This took some planning. By getting this story out there and showing that races are beginning to take these things very seriously, it is my hope that others may come forward, and that potential bib thieves will think twice if they know there is a real possibility they could be detained and that charges may be filed.
To support the site, and my efforts to keep race results clean, and hold participants and race officials accountable, please consider a small contribution.