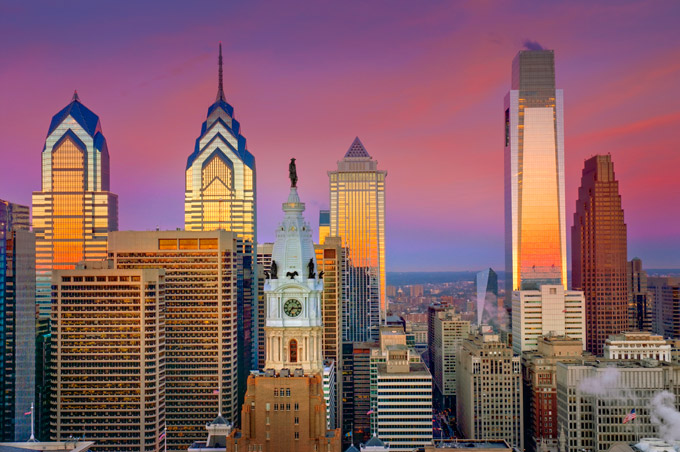 The Philadelphia Marathon was 3 weeks ago. Unfortunately most of the runners that obviously did not complete the full course remain in the results. I have notified the race of all of the instances of apparent course cutting that involve Boston Qualifying times.
Runners Not Being Disqualified:
The Philadelphia Marathon has an unpublished timing mat at the turnaround after mile 20. It does not seem that they are utilizing this to issue disqualifications.
Below is just one obvious example where a runner simply gave up.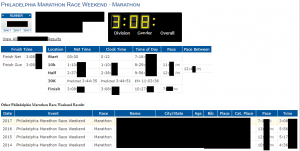 I've redacted most the information here because I don't have evidence to show that this runner was intentionally cheating. This could be a case where a runner just gave up. Yet, despite being given this information almost 3 weeks ago, this runner is still given an official finish time.
According to the results, this runner finished the 2nd half of the race in about 1/2 hour. There is no excuse for runners like this to be immediately removed from the results. If races don't want to burden the runners with a "DQ", just remove them from the results.
This One is More Interesting…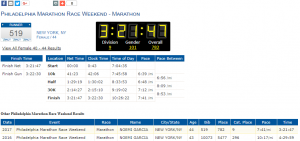 Looking at the result on it's own does not raise much suspicion. The most suspicious thing from looking at just this page is the improved time from 2016. There could be many explanations for this.
But, looking at recent results for this runners does raise more flags: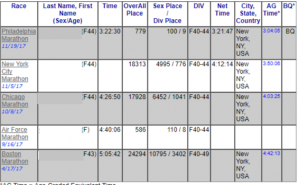 She ran 4 marathons in 2 months. After a 4:12:14 in NYC, she ran nearly 50 minutes faster at Philadelphia? That seems very unlikely. The 3:22:30 is a PR for her. She never ran faster than 4:10:00 previously.
Note: The Boston Marathon entry was not earned through a qualifying time. There is no qualifying marathon.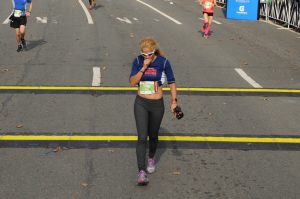 No photos are seen of her on the first half of the course.
Once Again…Social Media Provides Evidence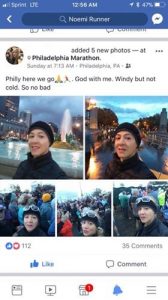 This post was made at 7:13 AM. She started at 7:04:34 AM. An argument *could* be made that there was a lag with Facebook uploading photos. After some started questioning her race, she deleted this post. Also, it appears to me that these photos were not taken from the start corral but among spectators.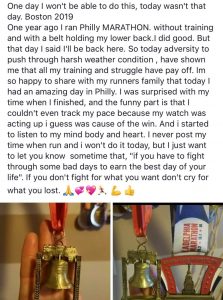 The post above shows her intention to run Boston 2019. She also tagged a friend that ran The Philadelphia Marathon as well. In fact, according to the splits, they ran the first half together. All splits were identical or within 1 second of each other.  However, they appear in no photos together. Also, she appears in no photos during the first half of the race.
It is my opinion that her friend muled her bib for the first half (or more) of the race before handing it off to her. I believe the evidence here is conclusive.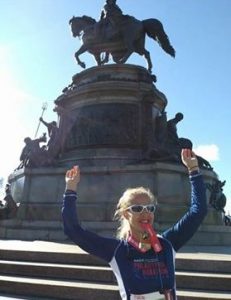 To summarize the evidence:
Personal Record during 4th marathon within 2 months
Facebook post shown within crowd posted AFTER she should have started – post has been removed
Running Partner has identical splits through 13.1 miles – they appear in no photos together
She appears in no photos during the first half of the race
Unfortunately it doesn't appear that The Philadelphia Marathon feels that this evidence is enough to issue a disqualification. I contacted them a week ago, and she remains in the results. The response I received indicated that there was not enough evidence. They also have yet to remove the first runner profiled – the one whose results show a 30 minute half marathon. Hopefully they will eventually get around to cleaning up the results. In this case in particular, the runner plans to use this result for Boston.
Thank you to all those that support the site. Contributions help cover costs associated with running MarathonInvestigation.com.  If you support what we are doing, please consider a small contribution.