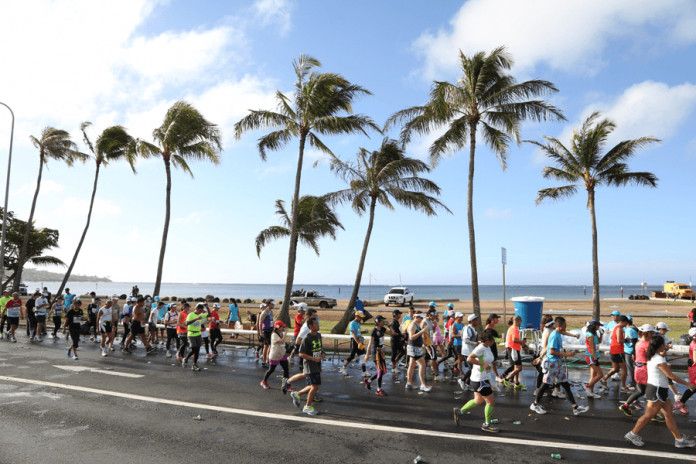 Following last year's Honolulu Marathon, I wrote an article like many I have written before, and like many I have written since.
Honolulu is one of the largest marathons in the world. Every race has instances of cheating, and Honolulu was no exception.
In the article, I pointed out some of the most obvious examples. I was not critical of the marathon, but I was critical of the runners who disrespect the sport and the honest runners by cutting the course and claiming their medals.
The response from the race director took me by surprise.
"Any decision we make or don't make has absolutely nothing to do with that website. We have no relationship with that website. We have no connection with that website and no communication with that website. We don't support or condone that website, or use of photos or anything he does in any way."
"It's not an official website from some sports governing body," Barahal said. "It seems to be one guy out there who decided this is what he's going to do, to monitor seemingly all marathons. But it's by no means an official website. It has no official standings, it's not part of the sport or governing body of the sport.
I am used to some criticism, but what was more alarming is Barahal's admission that cheaters are welcomed back at his race. Most race director's take personal offense when runners attempt to cheat at their races. Most race director's issue bans to those that attempt to cheat at their races. Honolulu welcomes them back with open arms.
While I can appreciate that no race director likes to see their race associated with cheating, nearly every other race director I've heard from appreciates the effort to deter cheaters.
Most races welcome information that helps them to clean up their results. Most races make an honest effort to remove cheaters from the results. Most don't welcome back cheaters with open arms. Honolulu is not like most races.
On The Side of Cheaters
Instead of making an effort to remove the most obvious of course cutters and show the honest runners that Honolulu supports them and respects the sport, Honolulu made a decision which ultimately would protect dishonest runners.
Last year, it took me about one hour to detect the most obvious cheaters.
Instead of taking the time to clean up the results, Honolulu is hiding the results.  Results for the 2017 race are only searchable  on an individual basis.

If you know the runner, and their bib number, you can look up the results. There is no obvious way to verify that the age group winners were legitimate (or even who they are).
This decision eliminates the ability of the public to look at the results. Most races welcome the public scrutiny. The ultimate goal should be to protect the integrity of the results. The ultimate goal with Honolulu seems to be to protect against scrutiny.
Honolulu is positioning itself as no more than a "Fun Run".  They are now marketing themselves to the cheaters. If you don't want your results to be scrutinized, come to Honolulu!
I will be reaching out to the BAA. I do not want legitimate runners to be punished because of the ego of  the race director. But I do believe that it would be fair to ask that Honolulu be required to provide additional evidence that all of their Boston '19 submissions completed the course legitimately.
To those that say people don't run Honolulu to qualify for Boston, that's not true. Despite my efforts last year, at least two runners were registered for Boston that cut the course in Honolulu. They were only disqualified after the BAA was informed.
Boston has taken additional steps and has notified all BQ eligible races that they may request additional confirmation to validate times. This is a case where such scrutiny is necessary.
Despite their efforts, I was able to obtain a full list of results, including split data. I will post a full, detailed analysis of the results next week. The results that were pulled are marked as official.
Thank you to all those that support the site. Contributions help cover costs associated with running MarathonInvestigation.com.  If you support what we are doing, please consider a small contribution.