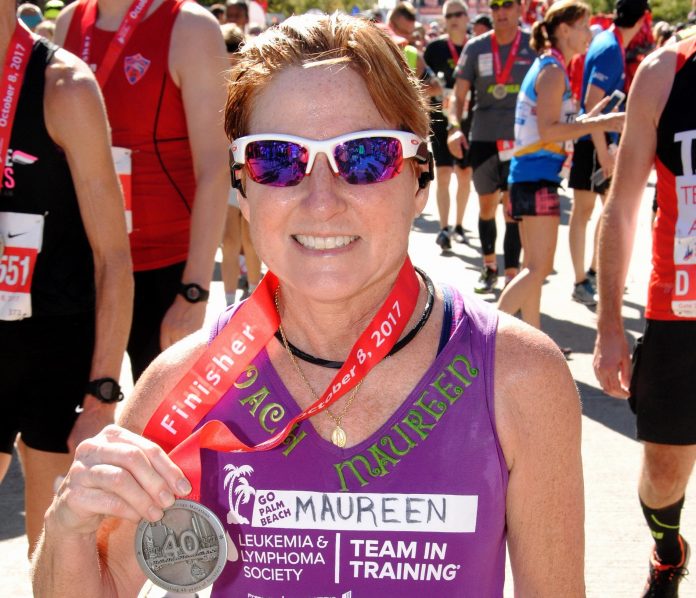 Maureen Spinler has competed in every Boston Marathon since 2005. She is registered to run Boston again in 2018.
I first stumbled across Maureen's results after the 2017 Disney World Marathon. It was at that race that she earned the time that qualified her for Boston 2018.
She had used Disney to qualify for all of her recent Boston Marathons. As reported here previously, she missed the 20 mile split in 2013,2015 and 2016. She missed no splits in 2017, but I will make the case that the accuracy of her qualifying time in 2017 is unlikely. Split data is unavailable from Disney before 2013.
Maureen denies ever cutting the course at Disney or any other course:
…I Did not cut any course, ever
Walt Disney World Marathon
The most common place to cut the course at Disney in at Wide World of Sports. Cutting this portion results in missing the 20 mile timing checkpoint. Over 200 runners missed the 20 mile checkpoint in 2017.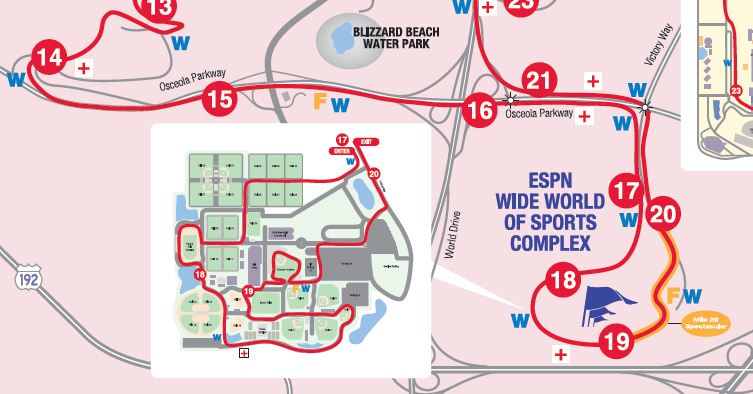 There is the opportunity to turn around between miles 16 and 17, cutting between 3 and 4 miles off the course. Maureen missed this split at least 3 times.
Maureen's explanation for 2016 is that during the latter part of the race she took off her shirt (and bib) and ran in her sports bra, likely resulting in the missed split. It would have been in the high 60's to low 70's at that point in the  race. Temperatures were slightly warmer in 2015 when she also missed the split. In 2013, it was about 55 degrees when she should have been crossing the 20 mile checkpoint. It seems less than likely that she would have removed her shirt that morning.
She says she contacted Run Disney after noticing the 2016 missed split:
Noticed over the summertime that there was no 20 mile split.   Contacted rundisney and explained that because of the heat and direct sunshine, I took my shirt off and ran in sports bra.   I was so used to having chip on shoe, it never crossed my mind since so many races still use this.  Chip/bib was on my shirt in my hand.  I tend to take my shirt off between Animal Kingdom and Hollywood, do to the direct sun, heat and use it as a sweat rag or at any race where it is very hot and humid.
For those years, it really comes down to whether you believe her story. Notably, for 2015 and 2016, she stopped for character photos. She also stopped for photos with characters in 2014 and did not miss any splits.
2013 Splits:
| | | | |
| --- | --- | --- | --- |
| mile | time | total pace | split pace |
| 5 | 0:43:28 | 0:08:42 | 0:08:42 |
| 10 | 1:28:12 | 0:08:49 | 0:08:57 |
| 13.1 | 1:56:13 | 0:08:52 | 0:09:02 |
| 20 | missed | | |
| 26.2 | 3:44:58 | 0:08:35 | 0:08:18 |
Up until the missed split she was steadily slowing down. Her official time shows a negative split. It also shows a faster time for the 2nd half of the race than for any of the 1st 3 splits.
2015 Splits
| | | | |
| --- | --- | --- | --- |
| mile | time | total pace | split pace |
| 5 | 0:44:10 | 0:08:50 | 0:08:50 |
| 10 | 1:26:24 | 0:08:38 | 0:08:27 |
| 13.1 | 1:55:31 | 0:08:49 | 0:09:24 |
| 20 | missed | | |
| 26.2 | 3:50:03 | 0:08:47 | 0:08:45 |
She slowed significantly from mile 10 to 13.1, missed the 20 mile split and again finished with an overall negative split from 13.1 until the finish.
2016 Splits
| | | | |
| --- | --- | --- | --- |
| mile | time | total pace | split pace |
| 5 | 0:42:29 | 0:08:30 | 0:08:30 |
| 10 | 1:26:56 | 0:08:42 | 0:08:53 |
| 13.1 | 1:52:57 | 0:08:37 | 0:08:24 |
| 20 | missed | | |
| 26.2 | 3:50:51 | 0:08:49 | 0:09:00 |
This time, her splits are more 'normal'.  The negative splits of the prior years are more questionable. Had the 2016 result been the only instance of missed splits, I would give Maureen the benefit of the doubt. The entire reason these prior results came under scrutiny were because of her 2017 marathon result. She is using the 2017 entry as her 2018 Boston qualifier.
| | | | |
| --- | --- | --- | --- |
| mile | time | total pace | split pace |
| 5 | 0:43:41 | 0:08:44 | 0:08:44 |
| 10 | 1:27:38 | 0:08:46 | 0:08:47 |
| 13.1 | 1:46:05 | 0:08:06 | 0:05:57 |
| 20 | 2:49:52 | 0:08:30 | 0:09:15 |
| 26.2 | 3:47:24 | 0:08:41 | 0:09:16 |
This was her fastest time since 2013. Her split from 10 to 13.1 was unusually fast. She ran that 5k in 18:27.
On athlinks, she has dozens of 5k results. I went back to 2009. The fastest 5k I found was 22:05.  According to the Disney results, she ran miles 10 through 13.1 over 2-1/2 minutes faster than her fastest 5k race.
Maureen offered an explanation: She said she had stomach issues:
Basically did a brisker 5K type pace from porta potty to watching for and using the the next porta potty to watching for and using the next porta potty.
She again denied cutting the course:
 I looked up the course and I don't know how you could shorten anything without ending in a swamp or the woods.  The section you are referring to was one of the most boring out and backs to near an overpass. The section you are referring to was one of the most boring out and backs to near an overpass  It's also very dark out there in the morning and you just follow the people in front of you and watch the for the road exposed road reflectors, except this time keeping eyes peeled for the porta potties and bathrooms in the parks.
She explains this implausible (impossible) split with stomach issues. If you believe this explanation, she ran faster because she was in a hurry to get to the next porta-potties. Presumably, she actually stopped at those porta potties. So, even with stopping multiple times, she managed a 5:57 pace for those 3.1 miles.
Other Races
Since The 2017 WDW Marathon, Maureen has been disqualified from two races.
Michigan 13.Wine Half Marathon August 20, 2017
I've written about Maureen's disqualification at Michigan Wine.13 Half Marathon. To summarize: the owner Brad Krugler, emailed me after Maureen was disqualified from winning the 1/2 Marathon. She was witnessed standing on the side of the road around mile 12. Based on statements of officers and the other runners, she was disqualified.
Maureen provided me with a detailed explanation of those events.
She said that she was ill and was instructed to only run 10 miles by her physician. She claims she told the race at packet pickup and that they instructed her to make sure she started and finished the race so that they would know that she was O.K.
I asked what was required and they went to ask someone and came back and told me to start and finish so they knew I was not still out there on the side of road and then tell the timing people that I did not complete the whole race and to remove my name.   That is what I did.    I ran out 5 miles, turned around.   MANY, many people saw me and asked if I was ok.   Explained what was going on and people offered me water, gatorade, energy gels and encouragement.  One female runner even offered to stay with me.   I told every police man or ems that was guarding the corners or people at water stops the above info and that I was not cutting the course.   When I finished, yes I did talk to the timing people.  
I do question how a doctor would determine that it was OK to run 10 miles but not 13.1. It is also worth noting, that according to Maureen, she ran 10 miles.
Her initial finish time was 1:41. That is a 10:06 minute per mile pace over 10 miles. Not a blistering pace, but she was witnessed stopped on the side of the course prior to crossing the finish line. Also her description of people offering to stay with her and to help leads me to believe that she was struggling.
I shared Maureen's account with Brad: He disputes her story:
The only plausible part of that is picking up the packet on race morning. Anything out of the ordinary (like someone asking to run part of the course) is filtered directly through me. My wife runs packet pick up and she would have had the conversation with the timing group and myself. I had our main command officers ask each officer stationed at each corner if they saw anything unusual, people taking wrong turns, etc… and only the one officer mentioned seeing someone coming down the street from a different direction. That was the officer who said he wasn't paying attention and didn't have a description. I sent notes to each jurisdiction covering every corner to inquire about anything out of the ordinary and nobody mentioned speaking to a runner. If she did take the route she claims, it would have been out and back. As you are aware from previous emails, I spoke to all aid station captains. It seems odd that nobody mentioned having conversations with a person saying they are not cutting the course. I spent considerable time with the timing group and they never mentioned anyone asking to be removed from the results. In fact the timing people were reluctant to remove her but I insisted. 
Chicago Marathon October 8, 2017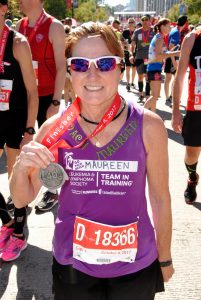 Maureen ran a time of 4:03:22 which would have qualified her for the 2019 Boston Marathon.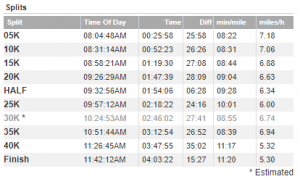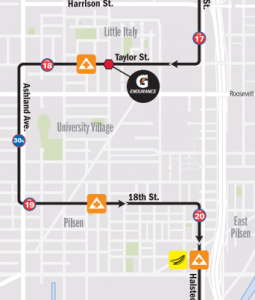 Her pace between 25k and 35k  was 8:48 per mile.  Her previous split was 10 minutes per mile. After the missed split, she averaged over 11 minutes per mile. Prior to missing the 30k split, her pace was steadily slowing.
After reviewing her time, Chicago disqualified Maureen.
Maureen also responded to my questions regarding Chicago:
And to Chicago marathon.   Somewhere after the energy gel stop in Little Italy, suffered a major left hamstring cramp.  Had to stop and massage the golf ball size lump in muscle belly and apply biofreeze which surprisingly resolved in a few seconds.  Started running again and came to a screeching halt nearly tripping 3 people.  Stepped aside, gave it a couple of seconds, and it went down again and proceeded to painfully walk/run a few steps at a time and almost tripped more people.  I tried to stay to the right so I wasn't in anyone's way and there a police officer told me to get to the sidewalk and walk it off, do not walk next to the traffic and stay out of the way. I looked at him, and he said "sidewalk" and pointed.    I obeyed him.  Did a walk/run on sidewalk as ordered until I could no longer see him and promptly got back on to the street near the end of the block.   FYI – hamstring is still tight 2 weeks later,  but loosening.  Never ever realized I missed a tracker somewhere. 
Little Italy is where she missed the split. Maureen wrote of painful cramps/starting/stopping. But, like with Disney, ran her fastest times while ill/injured. In my opinion, her explanation is completely illogical. I think it is very likely that she continued south on Halstead, cutting  approximately 2 miles from the course.
Conclusion
Maureen offered very detailed explanations regarding her history of missed splits. But those explanations simply do not hold up to scrutiny. I was able to originally make contact with Maureen through Team In Training (TNT). Maureen was initially harsh in her response. "I have not cut a course, EVER!..I want this matter cleared up, retracted and stopped immediately".
After laying out the evidence, Maureen replied with the responses that I inserted throughout the article.
My last communication from Maureen was October 21st. I responded to her in December stating my conclusions and offering her a chance to respond further. She never replied. I also email her on February 27th informing her of the pending article and giving her a final opportunity to respond to my conclusions.
One last point – she once again ran The Walt Disney World Marathon. For the first time in years, she did not run a Boston Qualifying time. She finished in 4:39:45. Running this as the last leg of The Dopey Challenge.
Please consider supporting Marathon Investigation. Every contribution is appreciated.