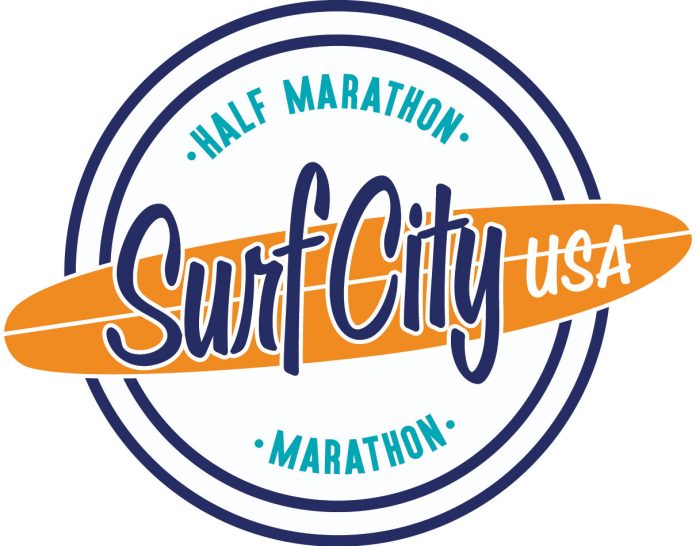 The Surf City USA Marathon was held just about a month ago in Huntington Beach, California.
The reviews were a bit mixed. On Facebook runners commented that it was very congested–at one point narrowing to a single lane on an out and back section, leading runners to pass on the opposite side of the road–which was not closed off.
You can read the reviews on their Facebook page. 
Not all reviews were negative–there are many 4 and 5 star reviews as well..but nearly all mentioned the congestion as an issue. Both dealing with the narrow road and due to the 5k and half marathons being run over the same timeframe.
This review, however stands out for different reasons: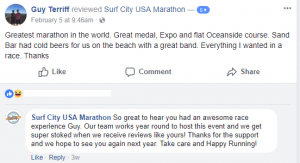 Greatest marathon in the world. Great medal, Expo and flat Oceanside course. Sand Bar had cold beers for us on the beach with a great band. Everything I wanted in a race. Thanks – Guy Terriff
Guy Terriff is the race director for The Surf City USA Marathon. He reviewed his own race. The race actually responded.
So great to hear you had an awesome race experience Guy. Our team works year round to host this event and we get super stoked when we receive reviews like yours! Thanks for the support and we hope to see you again next year. Take care and Happy Running!
I can only hope that it wasn't Guy that actually responded to the review.
While I can laugh at the review and the response, I really have to shake my head.
In the midst of reviews that included valid criticisms, instead of addressing those concerns, the response from the race director was to write his own 5 star review. I have not seen where they acknowledged any of the criticisms.
Please consider supporting Marathon Investigation. Every contribution is appreciated.