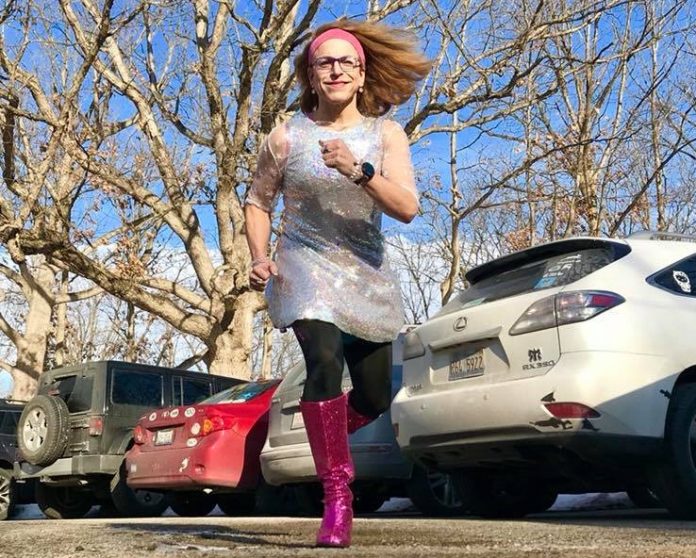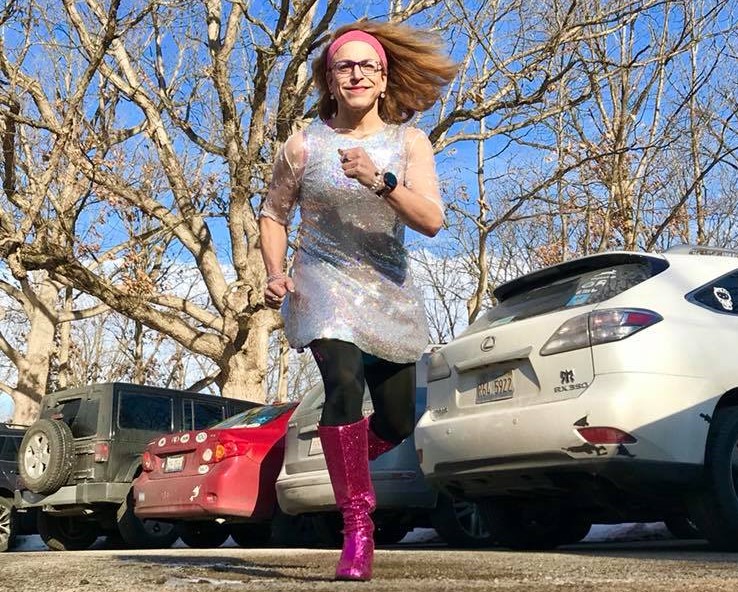 Clarification: There certainly have been Transgender women run Boston in the past. The group of trans women mentioned in this article are the first known to have openly qualified as females and accepted into Boston under the female qualification standards. Past policy required gender reassignment surgery in order for a trans woman to qualify and run Boston as a female.
Boston Bound
In April of 2017, Stevie Romer ran a Boston Qualifying time at The Spring Chance BQ.2 Marathon. Her time of 3:57:11 was just under the Boston qualifying standard of 4:00:00 for a 52 year old female. Due to the high demand of Boston, not everyone that meets the qualifying standard for Boston is guaranteed an entry. Her time would be right on the edge of acceptance. Stevie decided to try to qualify again in September at the 2017 Marquette Marathon. She ran 3:41:19. Her time was good enough to guarantee her entry into The 2018 Boston Marathon.
Stevie is one of three known trans women to qualify and enter The 2018 Boston Marathon. Former Women's Running cover contest winner Amelia Gapin and Erin Taylor are the others. It is believed that they are the first trans women openly allowed to qualify and run Boston under a female designation.
I will write about the possible objections that some may have regarding a transgender runner qualifying for Boston using the female standard. For me, this is not a black and white issue. When someone first approached me with the hypothetical question "Should a male runner that identifies as a female be able to qualify for Boston as a female?" My initial thought was "No, they need to qualify as a male. They are taking away a spot from someone more deserving." But, really it isn't that simple. In dealing with fair and unfair, and right or wrong, there isn't always an easy answer.
Run In a Dress
In 2014, Steven Romer drove 6 hours for a 5k to benefit MS. As she recalls, she finished "second or third". Those aren't the details that Stevie now remembers. She ran 'Run In a Dress for MS". She remembers being able to publicly wear a dress without fear of not being accepted. She remembers the details of the dress and how it felt to wear it and run in it.
Steven returned to the same race in 2015 and was the overall winner. Stevie now describes that trophy as "my favorite running trophy of all time".
They put a blue sparkly barbie dress on the gold male runner on the trophy, and it matched the blue dress I actually wore in the race! To hear people cheering for me crossing the finish line wearing the frilly, puff-sleeve princess / Alice in Wonderland dress I had only dreamed of wearing my whole life was absolutely unreal. I sort of count that as my first "coming out" because of the cheering and feeling of it.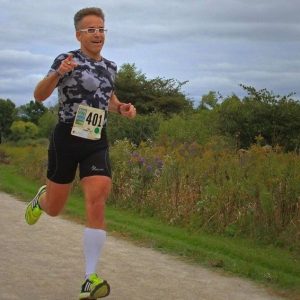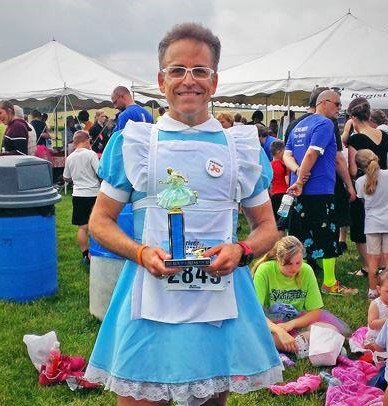 The 2nd Run With a Dress race was in May of 2015. Other than these races, the first time Stevie went out in public as a female was about a year and a half ago. She came out at work about a year ago. Stevie refers to 'Run With a Dress' as systematic desensitization. It was a way to conquer his fear of going out in public as a woman.
Backlash
Everyone has not been accepting. Stevie ran a local 5k run for Breast Cancer. Initially she was not going to run. When she posted on Facebook that she was not going to run in order to avoid controversy. The race director insisted she sign up. She wanted this to be her local "coming out". When Stevie arrived, her friends avoided her, would not talk to her or make eye contact.
…my friends did not talk to me, people were trying not to look at me and it was really bad…I never expected to get first overall, and never thought about it because I was supposed to run with my friends. Anyway, one of my past running friends DID come up – to yell at me, not talk, because she was in second place. She did not even say HI – just waved at my genital region and asked if I was a "complete woman"
According to Stevie, she offered to give up the award, but the 2nd place woman wouldn't hear it.
Stevie shared much more of her background. I cannot reasonably post everything she shared within this article, but I felt it was important that I allow her to tell her story unedited. If you would like to read more about her background, I have posted her unedited response below.
Qualifying for Boston as a Transgender Runner
While researching this story, I came across an article in Women's running regarding transgender runners. The article included a profile of Amelia Gapin. In the story, Amelia revealed that she chose to undergo gender reassignment surgery.
my big goal is to qualify for the Boston Marathon, and I can't qualify for it as a woman without having surgery," she says. I knew the recovery process would be tough, and knowing that I wouldn't be able to run for some months was holding me back—but it was also starting to increasingly feel as though not having surgery was holding me back from running, so I finally decided to do it.
According to The Women's Running article the USATF required transgender athletes to be on hormone replacement therapy for 2 years and to have had gender reassignment surgery in order to compete as their identified gender.
Today, the policy seems to have evolved..at least where prize money or age group awards are not at stake.
Excerpts from The USATF policy:
In the spirit of popular engagement, USATF encourages race directors and competitors to accept the entries at face value in instances where awards and/or prize money are not at stake.
The policy outlines the process that should be followed if someone feels that a competitor's entry information was inaccurate and resulted in an award.
I asked Amelia about her thoughts regarding the rule change. And she was clear and to the point:
I think requiring someone to have a very major and invasive surgery for any sort of access to a gender segregated space/group/category is antiquated, cruel, and unnecessarily exclusionary. I had it easier than those before me and I hope those after have it easier than I did.
There is no official policy by the BAA (or at least it's not published). But they are aware of Stevie's entry and are "allowing her to run.
A Potential For Controversy
I asked Stevie about her thoughts on registering for Boston as a female, and potentially bumping someone out of Boston.
"Running my Boston qualifier as female – yes of course I did, because I am female…I honestly thought people would not care if I qualified as female because I live full time as female and they know how much it means to transgender people. I am so used to the good feelings of running for charity and helping unfortunate others while running that maybe I am out of touch a bit? But that's really what I think. As for "bumping" someone, I don't really think that's an issue, and it never crossed my mind at all until you brought it up."
I found this response very honest, and revealing. In Stevie's thought process, she is a female, so why would anything else matter?
Some will argue that Stevie has an advantage over other female runners simply due to genetics.
On a recent episode of 'Ten Junk Miles' podcast, transgender ultra runner Bobbi Nicole-Cote gave her thoughts. She chose not to register for a race as female until she had "0 percent testosterone". For her that was a year after beginning hormone replacement. During the podcast she acknowledged the physiological advantage a male athlete has over their female counterparts.
My Thoughts
I feel my opinion means very little in this matter. But I have been asked on more than one occasion what have been mostly hypothetical questions regarding this.
I believe that the BAA is making the correct decision in allowing Stevie, Amelia and Erin to run, having qualified under the female standard.  Is it fair to the runners that may have been bumped? No. But it is really the only decision that could be made. There is no 'fair' solution to everyone. While maybe not fair to those that were bumped, I do think the decision is 'right'.  I do believe they should check IDs to verify age and identity. But anything beyond that would be invasive and potentially discriminatory. Checking IDs should be done for all participants when they pick up their bibs and basic checks should be part of that. This should catch anyone trying to cheat the system by registering as a female for the sole reason of gaming the system by qualifying under the slower standard. I don't know for certain that this has happened, but I have seen results where runners were registered with incorrect age and gender information resulting in Boston Qualifying times. I do not know if in those specific instances if those registration inaccuracies were intentional or honest mistakes.
Why Write This Article?
After the 2016 Boston Marathon, I received a half dozen tips regarding a runner that in the minds of many did not fit the appearance of a Boston Qualifying runner. The runner gained some weight since he ran his qualifier and all of these tipsters felt that there was no way that he could have earned the low bib # that he was wearing.
After learning about Stevie a few months ago, I couldn't get that past situation out of my head. How many people would witness Stevie on the course, and think she does not belong? I wanted to do my part to make it known that these runners are a welcome part of The Boston Marathon. No matter anyone's opinion on the subject, I hope everyone can respect that.
They are also breaking new ground as the first known Trans women to run in The Boston Marathon and I think these three athletes should be recognized.
Stevie left me with this paragraph.
Watching Shalane Flanagan on TV was my other big inspiration. Today, the only picture I have on my wall of a runner is Shalane Flanagan in the air leading a world-class field at the Boston Marathon. I am so excited to see her there it is unreal! I want to go to Boston to see her more than anything else – to run with her in the same race! Other than that picture of Shalane, I have a medal-rack with a quote from Steve Pre: "To give anything less than your best is to sacrifice the gift"!  And that is how I feel about life now, and I cannot give my best in life if I am not being me.
To support Marathon Investigation, please consider making a small contribution: