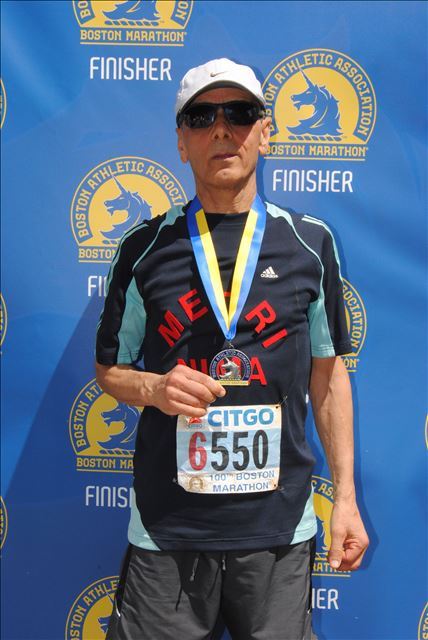 Every year I see bib copying, bib forging, and I've seen runners using their previous year's bib to get onto the course. This is partially possible due to the unchanged design of the Boston Marathon bib over the past few years.
In the age of photoshop and all the technology, one apparent bandit went decidedly retro: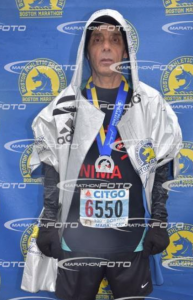 It's one thing to be able to slip onto the course without a bib or with a well done forgery. But this guy was wearing a bib from 1996! It turns out that the BAA did change the bib design over the past 22 years.

Not only did he run the race, but was given a medal and took the finisher photo to commemorate the occasion.
And, yes he did have plenty of photos on the course.
After I became aware of the runner, I decided to check prior years' photos.
Here he is after the 2017 Marathon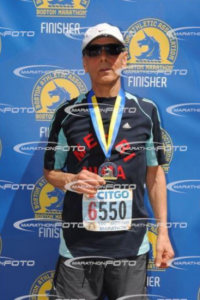 And after 2016, taking advantage of the post race water bottle and mylar blanket. I would guess that he also accepted aid on the course.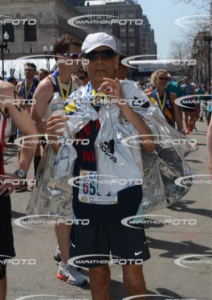 I have reached out to The BAA – results are unavailable for the 1996 race.
Up Next
Within the next few days I will begin writing about bib copying, course cutting, and more. Keep sending in your tips. If you witnessed anything suspicious send an email to: derek@marathoninvestigation.com.
Please consider making a small contribution to help support MarathonInvestigation.com. Reader contributions are the main source of the funds that are needed to pay for servers, photos, data, etc.