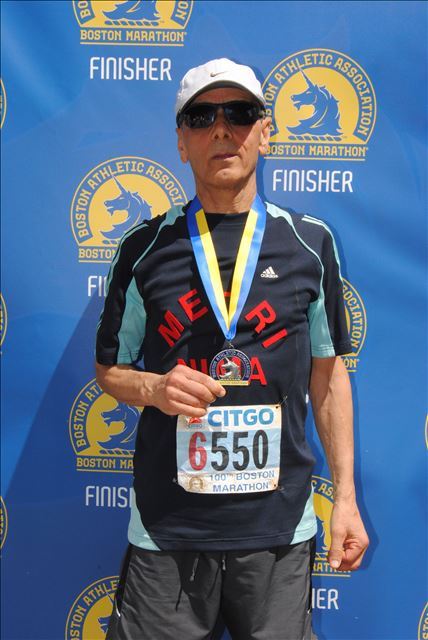 The 'Retro Bandit" appeared in photos from The Boston Marathon from 2016 through 2018. After I wrote about him, some held out hope that there was another explanation – that he wasn't truly a bandit. Maybe he had a real bib, but for some reason also carried the 1996 bib as a tribute of sorts.
Analyzing The 2016 Finish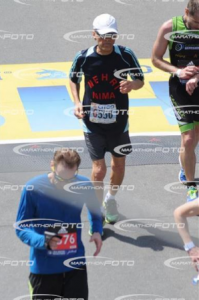 In the above photo, I was able to identify the runner in the foreground. I pulled the 2016 results which includes data showing finish time of day.
The runner that finished a few steps ahead of the retro bandit finished at 1:15:41 PM. I proceeded to pull photos for every runner that finished up to 6 seconds later and all were accounted for. Each runner had photos along the course. What this meant is that the retro runner did not have a chip. He was truly a bandit.
The Smoking Gun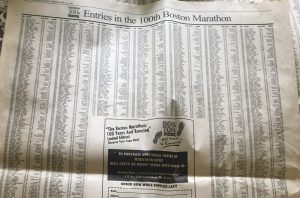 A reader – a runner that had run the 1996 Boston Marathon, kept the newspaper showing all the finishers listed by bib number. Now  I had the name of the runner. The runner finished the 1996 marathon in 3:05:xx.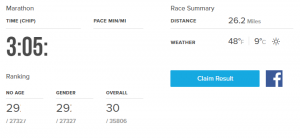 I also confirmed that the runner carrying bib #6550 from 2016 through 2018 was the same man that ran the 1996 Boston Marathon. I confirmed this after finding a current photo on social media. He lives in The Boston area and is a graduate of M.I.T.
Additional Information
I reached out to some runners that have completed The Boston Marathon and they have confirmed that all the photos of this runner were taken within the last mile or 2 of the course. It appears that the Retro Bandit hops in near the end of the marathon to get into some photos and collect his medal.
I also have received information that the runner is on the BAA's banned runner list. This is as of yet unconfirmed. My working assumption is that he was reported during one of the previous instances of banditing. I will provide an update if there is any additional information. If my assumption is correct, it shows how ineffective it is issuing a ban to a bandit.
Don't forget to follow The M.I. Facebook Group to receive all updates.
Please consider making a small contribution to help support MarathonInvestigation.com. Reader contributions are the main source of the funds that are needed to pay for servers, photos, data, etc.