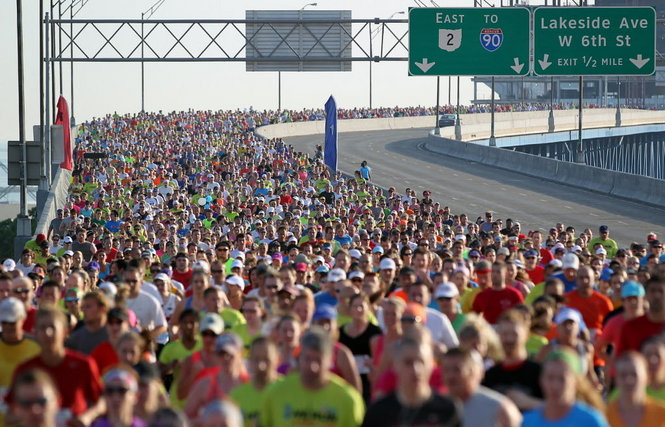 Daniel Mesfun was the first Marathoner to cross the finish line of Sunday's Rite Aid Cleveland Marathon. He finished in 2:16:32.01. The 2nd place finisher was Philemon Terer, who finished in a time of 2:16:54.71. No one is doubting that Mesfun ran the full marathon faster than all other competitors. However, the result is in doubt. Mesfun  ran with an additional shirt covering his bib, and took off the shirt with 200 yards remaining in the race.  It was reported on Cleveland.com that race officials "will consult on a rules interpretation from USA Track and Field (USATF).
USATF Rules 143 and 145
http://www.usatf.org/About/Competition-Rules.aspx

A Technicality?
One report referred to the rule as a 'technicality', a minor rule. What is not clear, and what we will likely never know is if the intent of Mesfun was to deceive. Linked is analysis from CBS 19 Cleveland.
We can argue whether Terer should have known that Mesfun was a competitor. Some on social media are arguing that he should have known that Mesfun was not a half marathoner because of the speed at which he was running was at a much faster pace than a 2:16:00 half marathoner would be running. The other side of this is that he could have been a bandit, hopping in for a few miles. Without the bib, Terer could have reasonably been left with some doubt.
The rule is presumably in place so that runners are clear about who they are competing with. Mesfun did not run with a visible bib for over 26 miles. Therefore, according to the rule he could be disqualified. Among elite competitors, or anyone vying for an award, this rule is not 'minor' and a violation isn't a 'technicality'. 
Race officials may have some culpability here. There would have been ample opportunity , at the elite start or on the course to communicate with Mesfun regarding his bib. If they did notify him that his bib needed to be visible and he refused to remove the outer shirt, then the decision to disqualify would have been a simple one. If he complied with the order, there would be no issue.
Mesfun says he had worn the outer shirt to warm up in the early morning rain after experiencing cramps in his midsection. If the shirt was effective, then he did gain a benefit not afforded to the other runners. At the very least, he would potentially lost some time while transferring the bib to his shorts or outer shirt.
Mesfun says he had wore the outer shirt to warm up in the early morning rain after experiencing cramps in his midsection. Who is to say whether that led to him gaining an extra thirty seconds or so?
It is clear that Mesfun violated the rule as written. It would be difficult to believe that he wasn't aware of the rule. It does not matter if his intent was to deceive. By not having his bib visible, it led to the possibility of confusion among the other competitors. Following the rules would have prevented any possibility of confusion. For this reason,  I am of the opinion that Mesfun should be disqualified. In this case, I think the benefit of the doubt should go to the competitors that followed the rules.
Please consider making a small contribution to help support MarathonInvestigation.com. Reader contributions are the main source of the funds that are needed to pay for servers, photos, data, etc.