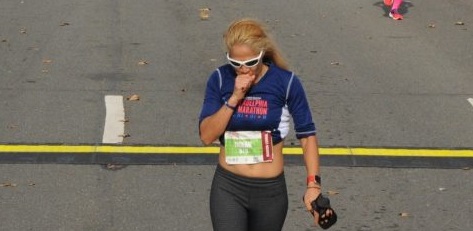 Continuing my profiles of questionable Philadelphia Marathon Results, I am shining the highlighting a runner that was previously mentioned as part of my initial article regarding Philadelphia back in December. She remains in the results. When I contacted the timer, he did not feel this evidence was conclusive. I disagree. I will be forwarding this information to the race director directly as this case is a bit more complicated than the obvious course cutters.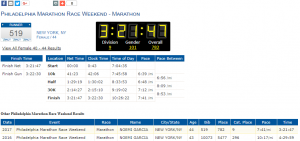 The splits alone are not enough to justify a disqualification. There was a fairly significant decrease in pace between the 10k and half, and then from the half to the finish. This is more pronounced than is typical for someone that runs a Boston Qualifying time, but not out of the realm of possibility.
Historical Results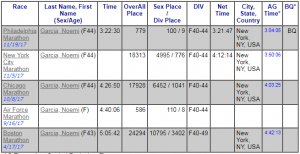 Her previous PR was 4:10:41 in April of 2016. Her Philadelphia time is 3:21:47
She also has a recent 1 mile race that ws run in 6:56:00, slower than her Philadelphia Half Marathon pace.
To summarize what we have so far, she claims to have run a 50 minute PR as her 4th marathon in 2 months. The first half of that marathon was at a faster pace than she has run any other known race at any distance.
Note: The Boston Marathon entry was not earned through a qualifying time. There is no qualifying marathon.
Additional Philadelphia Evidence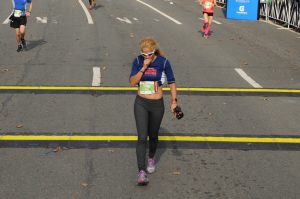 The only photos of Noemi are near the finish line. She was not pictured on any other section of the course.
Once Again…Social Media Provides Evidence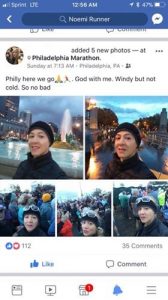 This post was made at 7:13 AM. Her results show that she crossed the start line started at 7:04:34 AM. An argument *could* be made that there was a lag with Facebook uploading photos. After some started questioning her race, she deleted this post. Also, it appears to me that these photos were not taken from the start corral but among spectators.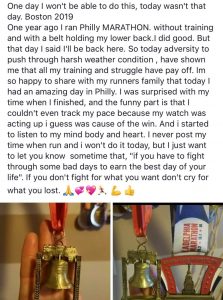 The post above shows her intention to run Boston 2019. She also tagged a friend that ran The Philadelphia Marathon as well. In fact, according to the splits, they ran the first half together. All splits were identical or within 1 second of each other.  However, they appear in no photos together. Also, she appears in no photos during the first half of the race.
There are photos of her racing partner on the course. She does not appear in any of those photos with him. Island Photos confirmed that they were unable to find any photos of the two runners together on the course. They have no photos of her on the first half of the course.
It is my opinion that her friend muled her bib for the first half (or more) of the race before handing it off to her. I believe the evidence here is conclusive.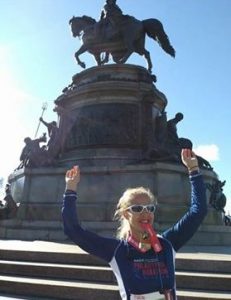 To summarize the evidence:
Personal Record during 4th marathon within 2 months. 1st Half split faster pace than any recorded splits at any distance
Facebook post shown within crowd posted AFTER she should have started – post has been removed
Running Partner has identical splits through 13.1 miles – they appear in no photos together
She appears in no photos during the first half of the race
Thank you to all those that support the site. Contributions help cover costs associated with running MarathonInvestigation.com.  If you support what we are doing, please consider a small contribution.