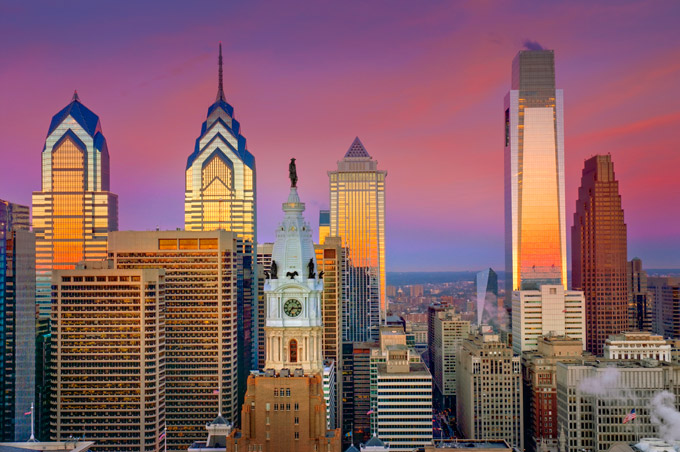 The Philadelphia Marathon has historically had a reputation of looking the other way in the case of cheating. At large marathons there will always be runners that attempt to cheat. Philadelphia is no exception. The course offers some clear opportunities to take shortcuts. The Philadelphia Marathon has a sufficient amount of timing mats – they even have an unpublished mat at a key turnaround point. But, still they refuse to disqualify some of the most obvious examples of course cutting. Many of these runners have Boston qualifying times.
I've identified and reported over a dozen clear cases of course cutting that resulted in Boston Qualifying times. There are about 10 more cases where cutting was extremely likely where the unpublished mat data could provide the final piece of evidence needed to make a determination.
With registration opening soon for Boston 2019, I feel I need to do everything I can to bring these cases to light. Over the next week or so, I will highlight some of the cases in hopes that race officials will take another look, and also in hopes that runners with bogus qualifying times at Philly will not try to enter Boston if they know that it is likely that I have them flagged.
This guy…Again
3rd time is a charm? He was disqualified once – in 2016 after missing every single split, and then running into the outstretched arms of the Philadelphia mayor. I know this because of the 5 Facebook posts where he referenced it. I wrote about him briefly in my summary of the 2016 Philadelphia marathon.
His suspicious Philly results begin in 2013.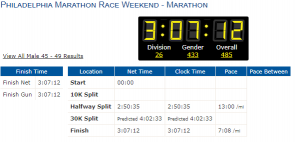 He missed the 10k and the 30k splits. In fact, he finished the 2nd half of the marathon in 17 minutes. He was not disqualified.
Fast forward to 2017, and like 2016, he did not hit any timing mats.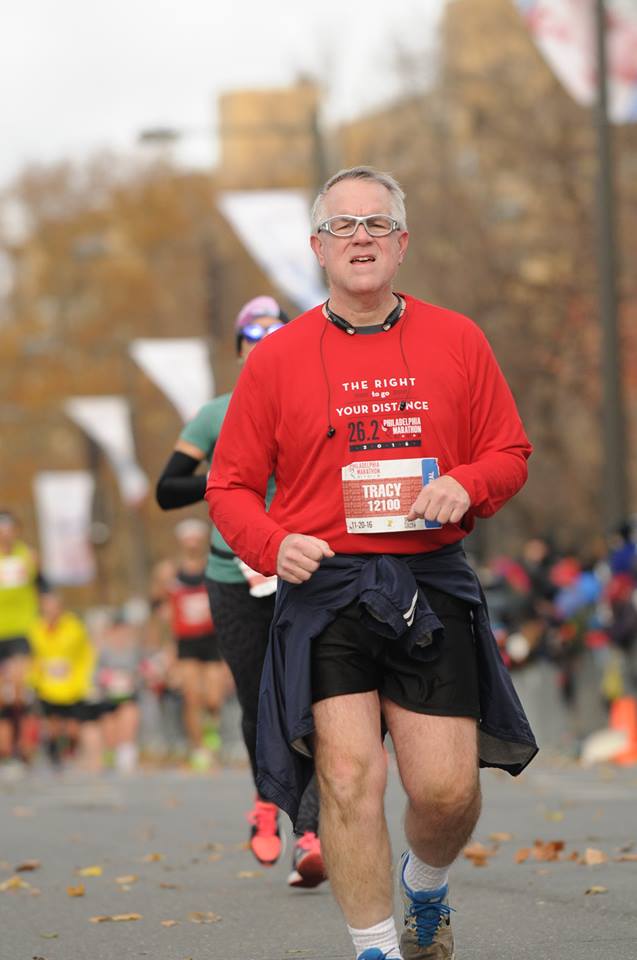 In his post on social media, he claims that The 2017 Philadelphia Marathon is his 15th marathon. I found some more results from Philadelphia – all were much slower than the 3 examples above.
So far, he has not attempted to enter Boston using his Philadelphia results. The same cannot be said for the next runner.
2nd Consecutive Suspicious Result – Used 2016 race to enter Boston Marathon

Dave is a good runner, he has legitimately run marathons in a little over 3:30:00. His 2010 through 2015 Philadelphia Marathon results seem legitimate. Take a look at his 2016 splits:

Like many runners over different years, the suspicious split is between 30k and the finish. There is a long out and back stretch, with the last official checkpoint at 30k (18.6 miles). If someone were to cut the course after hitting the 30k mat they could short the course by as much as 2.8 miles. For some this would be enough to make a difference between Boston Qualifying or missing out. Philadelphia does have an unpublished mat at the turnaround point, but it does not seem that they are using that data.
Dave's official time shows he ran the stretch between the 30k and the finish at a pace of 7:07 per mile. That would be by far his fastest split. This is also a faster pace than I could find for any split in any prior race for Dave. In 2016, he ran The Broad Street Run (10 miles). His fastest split was 7:45/mile for the 1st 3 miles of the race.
Dave used his time at the 2016 Philadelphia Marathon to run Boston in 2018. He needed a time of 3:22:51 or faster to be accepted, his net time got him in with about a minute to spare.
Below are his splits for 2017.

You see the same general pattern, but a little more pronounced. He ran the 1st portion at a slower pace, and the split in question was a bit faster. He needs a 3:30:00 this year to qualify for Boston. He has a 4-1/2 minute cushion, which would likely be sufficient to get him in. 
In Conclusion
Both of these runners were reported the week after the marathon, but they remain in the results. Tracy's case is obvious. He missed every single split for the 2nd straight year. He was disqualified from the 2016 race, but inexplicably remains in the results for 2017.
Dave's case should be simple as well. I could see how the 2016 result may not have been caught. The 2017 time is more obvious and it seems likely that the intent in Dave's case is to run Boston.
The case made for being hesitant to disqualify was that the city would have liability. I understand the need to have clear evidence in order to disqualify. In these examples, the evidence is clear. Also, I have yet to learn of a lawsuit being filed over a disqualification from a race. People threaten legal action all the time but those are always just empty threats. If anyone has any examples of a runner suing a race over a DQ, please send an example to derek@marathoninvestigation.com.
Thank you for visiting the site, please consider making a small contribution:
Please consider making a small contribution to help support MarathonInvestigation.com. Reader contributions are the main source of the funds that are needed to pay for servers, photos, data, etc.