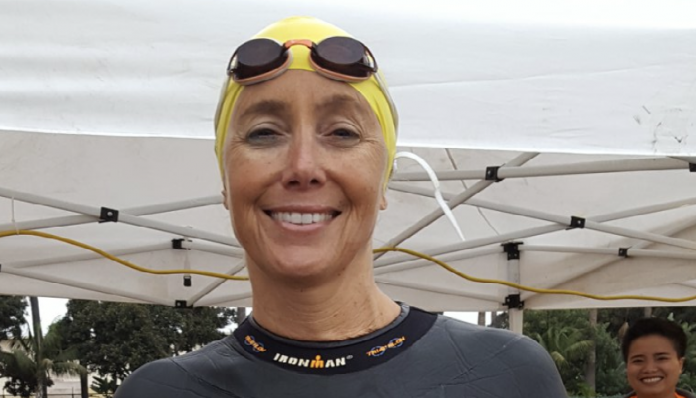 Anita Carcone boasted of her finish at The San Diego International Triathlon on Facebook: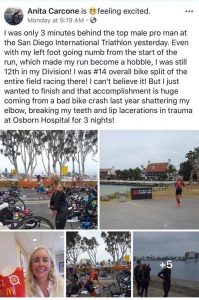 This post apparently caught the attention of someone who decided to dig into her result. She posted the details on Strava. It appeared that she cut the bike portion short. The result was reported to the Race Director and she was disqualified.
The Evidence
The evidence couldn't be more clear. Her GPS should have read about 17.6 miles for the bike. Her initial Strava post showed 12.2 miles.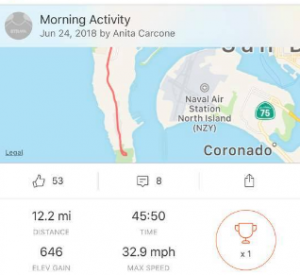 The Flyby feature on Strava puts this into clear focus. The path shows that Anita did not make the 2nd loop that the other participants did. She did not complete the full course on her bike. Click here to view The Flyby.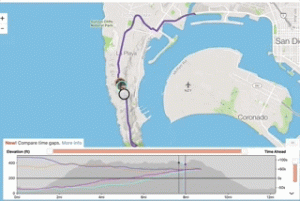 Had Anita admitted that she did not bike the entire course at this point, or even just kept quiet, that likely would have been the end of it. But she did the opposite:
"…I hope that place blows up in flames! F*** YOU CALIFORNIA!!!!!!!!"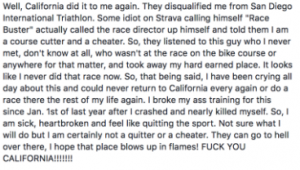 "…I understand all shooters of all the mass shooters of all the mass shootings now."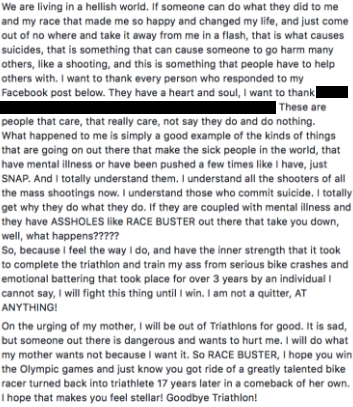 It is worth noting that Anita is a teacher. I do not know if or where she is currently employed. But according to the latest information I could find she was employed as a substitute teacher as of last Spring. This type of reaction is disturbing enough on it's own. Coming from an elementary school teacher makes it that much worse, in my opinion.
The above is just a sampling of what's on her Facebook account. She blames Strava for the disqualification. She claims that the Race Director blindly disqualified her based on an anonymous tip. To be clear the evidence that she herself posted publicly is what led to her disqualification.
She then tried to cover up the cheating with a post on Strava on June 29th.
I clicked on the link, and it is very obvious that she modified the data.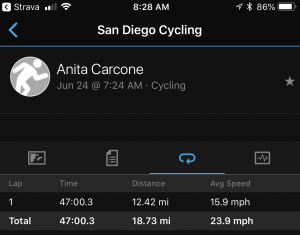 The screenshot above shows 12.42 miles – in line with her Strava bike flyby, but the total shows 18.73 miles with the same total time of 47 minutes. It is obvious she edited the distance of her bike ride.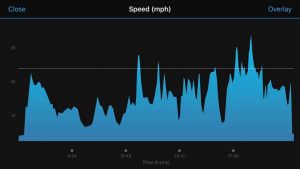 The speed data also provides a good visualization of her ride. YOu can tell at a glance that she did not average 22 mph for this ride.
Finally, I reached out on Facebook after she continued to blame the DQ on Strava and the RD.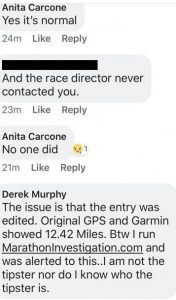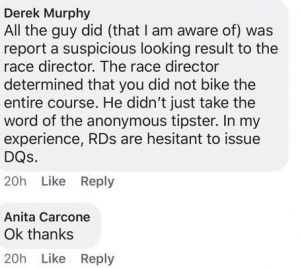 All of these posts were from Tuesday July 10th. I held off on this article because she claimed that she would provide a photo of her watch face showing 18.73 miles. I was interested in what she would produce. She never provided the photo.
An Admission of Guilt? Not Quite
As I was wrapping up the article, I saw the following activity on Sunday morning (7/15).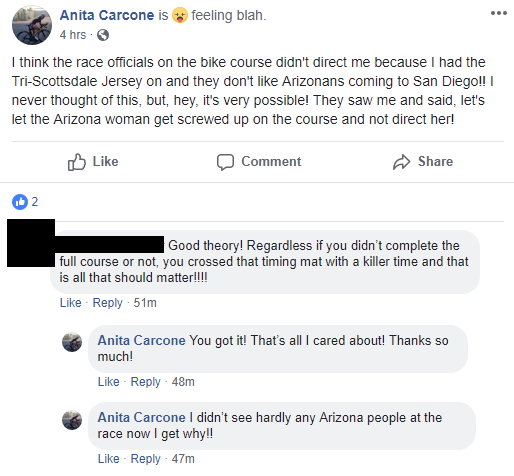 "…they don't like Arizonans coming to San Diego!!!"
After this bizarre theory, I once more asked her if this was an admission that she did not complete the course.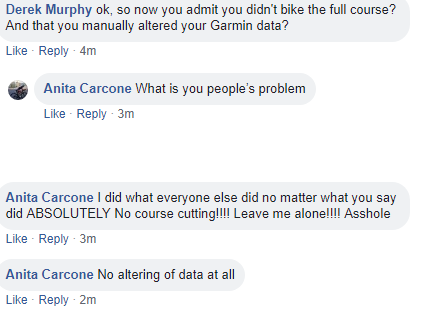 So, in one post she claimed she was misdirected. If that were so, she can't claim the data was unedited.
She went on…in response to another poster that linked to a blog post regarding her claims.
I believe that the other blog is likely written by "Race Buster". They reach the same obvious conclusions as I have. I want to give them credit and thank them for reporting the result to the R.D. Below is a link to the blog post:
https://honestathlete211358887.wordpress.com/
This situation is now coming out publicly only because of Anita's reactions and threats. After this last post, I responded that everything she posted was public. She then blocked me or made her profile private.
One last post that that shows Anita's character: The screenshot of these messages were on Anita's Facebook wall.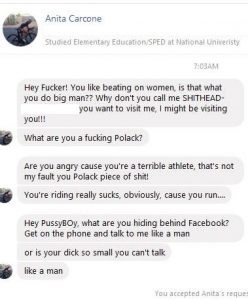 I gave every opportunity to Anita to come clean before publishing this. The initial posts have been up for 3 weeks now. She played the victim when it was obvious that she did not bike the entire course. She blames everyone for this situation except for herself.  She blames the tipster, Strava, the race director, and the State of California. Anita, you did not bike the entire course and you were caught. The evidence is clear and leaves no doubt.  It's time to admit that. I hope you can do so and apologize to those that defended you, and those that you blame and those you lashed out against.
Thank you for visiting the site, please consider making a small contribution:
Please consider making a small contribution to help support MarathonInvestigation.com. Reader contributions are the main source of the funds that are needed to pay for servers, photos, data, etc.