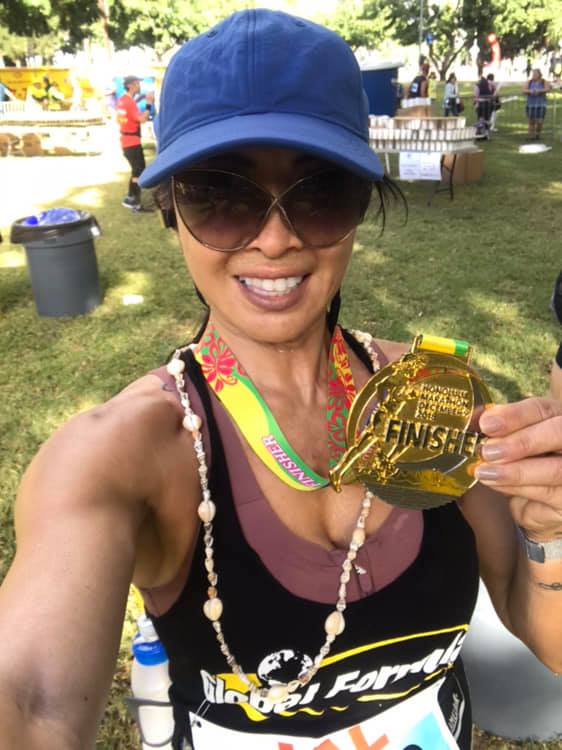 Geri Berger was one of the over three hundred runners that I flagged for potential course cutting at the 2018 Honolulu Marathon.
She did not qualify for Boston. But I feel that her story is worth highlighting. She makes her living in the fitness industry as a coach. She claims to have set a P.R. at The Honolulu Marathon despite vomiting multiple times starting 8 miles into the race.
She has multiple sponsors, and has a large social media following. She is an IFBB (International Federation of  Body Building and Fitness) Pro.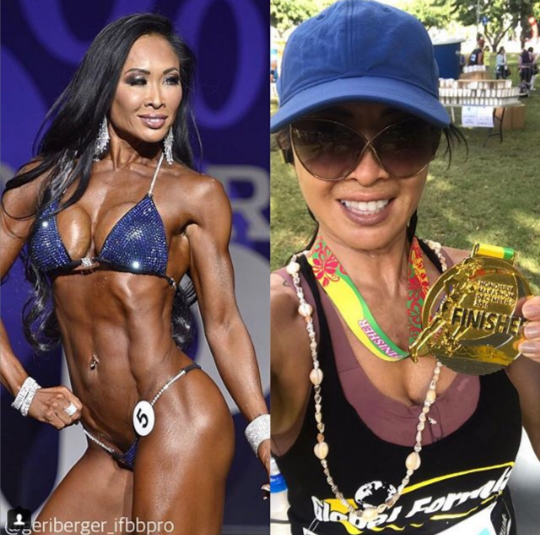 2018 Honolulu Marathon
In the above video, she is shown with her medal, bragging of her PR. She is credited with an official finish time of 4:07:10.
Below are her splits:
| | | | | |
| --- | --- | --- | --- | --- |
| km | miles | time | overall pace | split pace |
| 5 | 3.11 | 0:29:00 | 0:09:20 | 0:09:20 |
| 10 | 6.21 | 1:05:58 | 0:10:37 | 0:11:54 |
| 15 | 9.32 | missed | missed | missed |
| 21 | 13.05 | 2:03:21 | 0:09:27 | 0:08:24 |
| 25 | 15.53 | missed | missed | missed |
| 30 | 18.64 | 2:39:17 | 0:08:33 | 0:06:26 |
| 35 | 21.75 | 3:11:50 | 0:08:49 | 0:10:29 |
| 40 | 24.85 | missed | missed | missed |
| 42.20 | 26.22 | 4:07:10 | 0:09:26 | 0:12:23 |
She missed 3 checkpoints: 15k, 25k and 40k. Those points are highlighted on the maps below.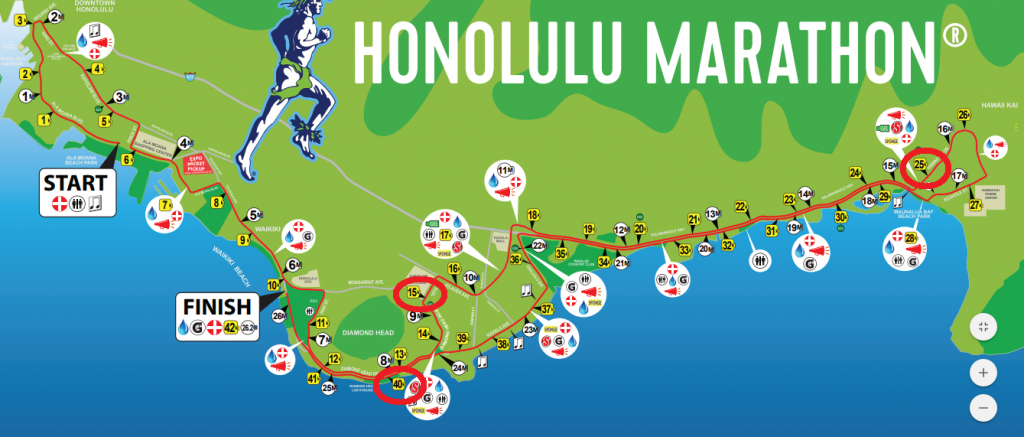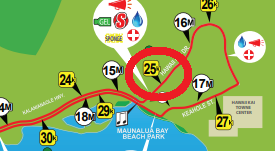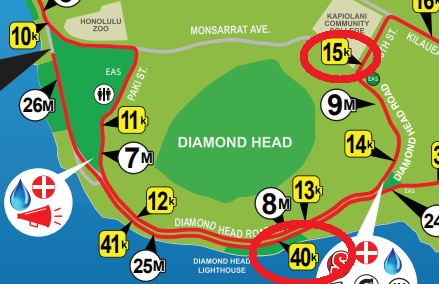 Missed Checkpoints
15 Kilometer Mat
Geri first missed the 15k checkpoint. She was one of 228 runners to miss this timing point. I had flagged 156 of those runners as being suspicious.
From her Instagram post:
About 8 miles in, I started throwing up and I knew this was not good. I had to stay hydrated so I kept drinking to replace the water…each time I did, out it went again.
She had no 15k split (9.3 miles) but looking at her splits from 10k to 21k (6.2 miles to 13 miles), we see that she clocked the segment in an 8:24 minute per mile pace – during the time frame where she says she was throwing up. Her initial 5k was a 9:20 minute per mile pace, and her second 5k was run at 11:54 minutes per mile. Her increase in pace coincides with her missed 15k split (and her saying she was throwing up).
Geri finished the 10k in 4935th place. She finished the 20k in 2110th place. She passed 2825 runners over the stretch of the course where she claims to have been sick.
It would appear that instead of running along Diamond Head Road, that she took Monsarrat Avenue North of Diamond Head and rejoined the course north of the 15km point.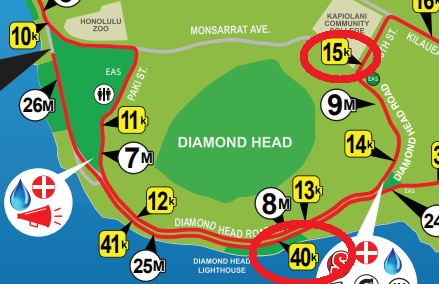 It also should be noted that this stretch of course (on both the out and back) represents the hilliest portions of the course.

25 Kilometer Mat
The live Honolulu results did not show the 30k split times. Fortunately the current results page did provide the information.  The out and back section of the course is the most obvious place to cut the course.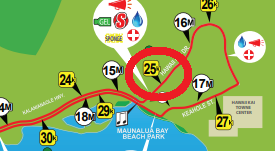 Geri missed the 25k mat. She covered the distance from 21k to 30k in approximately 36 minutes. Her pace for this stretch calculates to 6:26 minutes per mile. Apparently she recovered nicely from her stomach issues.
40 Kilometer Mat
Once again, it would appear that Geri took a route north of Diamond Head, avoiding the elevation changes that she would have to deal with by following the actual marathon route. Her pace was not particularly fast over this stretch (12:23 minutes per mile), but it is suspicious considering the previously missed mats and the fact that it appears clear that she took the route north of Diamond Head on the way out.
She has no race photos at Diamond Head.
Summary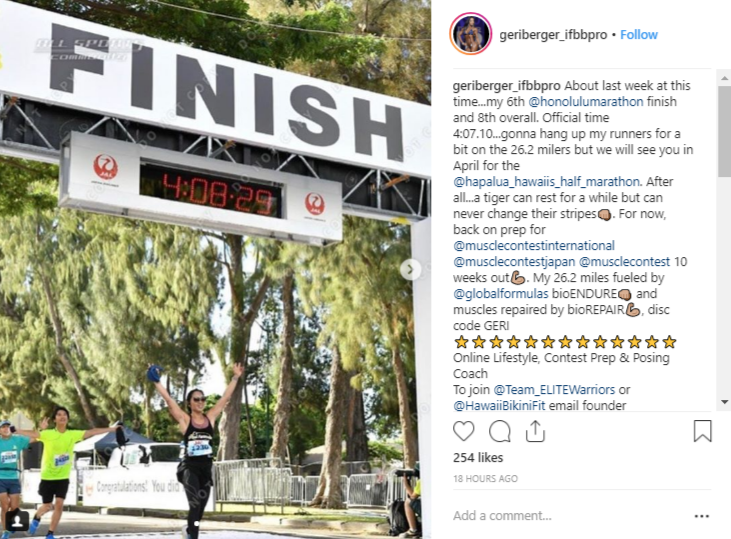 Geri is using this result to her benefit. She claims that she fought through stomach issues and was throwing up beginning at mile 8 and pushed through to not only finish the marathon but to run a personal record. This is dangerous advise from a 'Fitness Professional'.
I am not a fitness professional, but I know that if you are throwing up and can't keep liquids down that you should not continue to run. By falsely propping herself up, she is setting a very dangerous example for her followers. Her fans deserve to know the truth.
Honolulu Results File
I am in the process of pulling the most up to date Marathon results. I will publish a link to the file by Tuesday December 18th. I feel that all runners should be able to have access to their competitor's results.
Please Support Marathon Investigation
Every contribution helps. I am currently working full-time on Marathon Investigation. The only way to sustain this level of effort long-term and maximize my efforts to catch and act on all known cases of cheating is through your support. Please consider a small contribution. If you represent a race, feel free to reach out for partnership opportunities.
Don't want to use PayPal? Click below to contribute without going through PayPal.