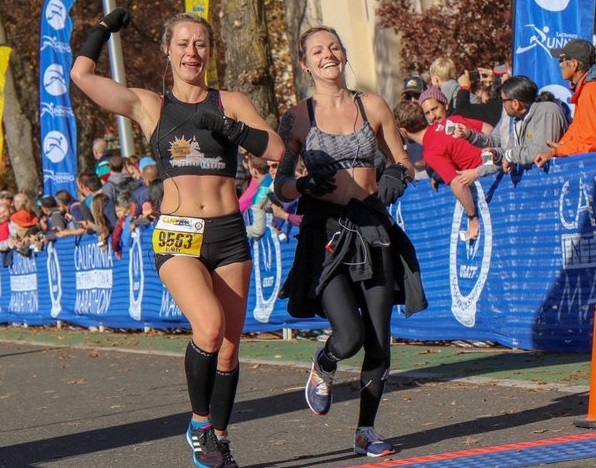 Ashley Rollins ran her dream race at The 2018 California International Marathon. Ashley ran a time of 3:28:06. Her time was one minute and fifty four seconds under the new qualifying standards for The Boston Marathon.
Ashley did not cut the course, or use a bib mule to run in her place. Still, I received an email regarding Ashley's participation. Ashley ran the race with an unregistered pacer.
I received an email shortly after the race, before the results were stamped official.
The emailer wrote that they were aware that an unregistered runner had run at least half of the race with Ashley.
"I know that CIM is very strict on their policies, so I was wondering if this was a violation?…I was just a little surprised to hear them talking about it so wanted to check with you"

I work directly with CIM on their results verification committee. As such, I was obligated to follow up on the email and make the other committee members aware of the situation.
USATF Rule 144
The California International Marathon (CIM) is a USATF sanctioned event. The race was also served as The USATF National Championship. As a USATF sanctioned event, CIM is obligated to enforce the USATF rules and procedures.
It was determined that Ashley violated rule 144.
Rule 144 ASSISTANCE TO ATHLETES
3. The following shall be considered examples of assistance:
(a) Pacing in running or walking events by persons not participating in the event, by competitors lapped or about to be lapped, or any kind of technical device other than those permitted under Rule 144.4 (d).
USATF Rule 144 (3) prohibits runners from using pacers that are not participating in the event.
Ashley posted on her blog that her friend had paced her, photos and on course videos confirmed the identity of the pacer. She was unregistered.
At mile 13, I saw Becky. Lauren was having some issues and told us we were about 10 seconds off our pace time. I knew that Becky had it handled and I just dialed in. Zoned in. Forgot everything else.
Ashley used a pacer. Ashley was Disqualified. Ashley lost her Boston Qualifying time.
Rogue Running
Ashley is a coach for Rogue Running. Ashley and I appeared the Running Rogue podcast. She detailed her preparation and how her friend jumped in at the half way point at the relay exchange, and in her words, as sort of a comfort blanket. Her friend ran with her the rest of the way.
I don't typically search out runners using pacers. It is not something I have written much about. But, I did talk to CIM Race Director Eli Ash about this on The Marathon Investigation Podcast. We talk about this situation beginning at the 20 minute point in the interview.
Eli looked at this situation as a failure to educate. He (nor I) did not feel that Ashley was malicious in her attempt or that she should be labeled a cheater.
The reason for the rule, in Eli's belief, is that if you allow everyone to bring their own personal pacer that "it turns it into everyone's own personal Breaking 2:00 attempt."
"You can't turn a race that has their own existing rules of competiton into your own personal Breaking Two Attempt"
Besides the competition aspect, Eli goes on to make the point that races do not have the resources to allow runners to bring pacers.
"In order to have rules, you have to enforce them."
We also discussed different situations. Even if a runner is registered for the event, they cannot jump in after the start to pace another runner. You can only run with other runners that are competing for the entirety of the race. If you have any questions regarding a specific circumstance, you should contact race officials prior to the event.
Aftermath
After we appeared on The Running Rogue podcast, Ashley wrote a follow up blog post – "An Open Letter To The Person That Protested My Boston Qualifier"
I'd like to think that all people are inherently good. While this specific act, at its core, was mean-spirited and deplorable, it doesn't change the true outcome of the marathon for me.
I receive tips all the time. This did not appear to be a case where the tipster was mean-spirited at all. This was the case where a runner that was aware of a situation that they thought may have been a violation of the rules. I hope that Ashley can accept full personal responsibility for what happened.
The tipster is not to blame for her disqualification. While this situation may not have come to light without receiving the tip. Ashley is the one that is responsible. I do not agree with the vilification of the tipster.
There have been cases where it becomes evident that a tipster holds a personal grudge, and is attempting to enact some sort of revenge, but that was not the case in this situation.
It is possible that Ashley would have run a Boston Qualifying time without the help. But, it is also possible that the extra support bought her those two minutes that she needed.
As Ashley said in her blog post, it is possible that her CIM time would not have been enough to gain her entry. Maybe this will push her to run a faster time within the 2020 Boston Qualifying window.
Summary
Ashley publicly acknowledged the disqualification. I would not have revealed her identity, had she not already posted and spoke about her situation through her blog and on The Running Rogue Podcast.
What I want to accomplish with this article is to inform runners of The USATF rule against pacing. Runners are responsible for knowing the rules of any race that they enter. There may be races that have different rules, but generally:
You cannot be paced by a runner that is not participating in the event. You can also be disqualified if a registered runner jumps in after the start of the race to pace you for a portion of the event.
Non registered runners are not allowed on the course
If you receive unauthorized assistance, you risk disqualification
Support Marathon Investigation
Thank you to all that have contributed to Marathon Investigation. Your contributions are what enables me to continue the work of Marathon Investigation. To support the site, please consider making a small contribution.
Don't want to use PayPal? Click below to contribute without going through PayPal.