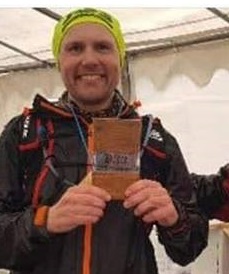 The D33 Ultra took place this past weekend in Scotland. Paddy finished in 3rd place in his division. But, not without controversy.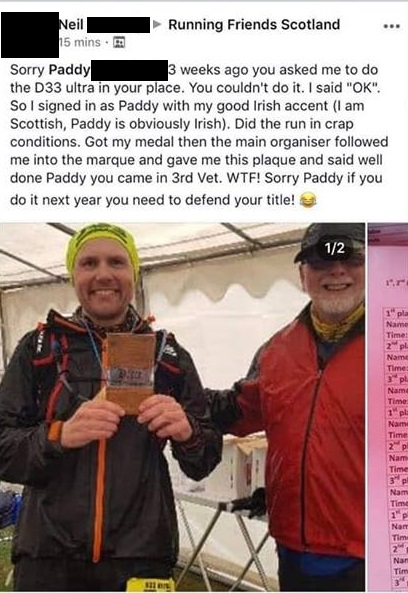 The above post was made on a Scottish running group page.
So, I signed in as Paddy with my good Irish Accent…Got my medal then the main organizer followed me into the marque and gave me this plaque and said well done Paddy, you came in 3rd Vet.



There are different levels of dishonesty related to bib swapping. Bib swapping without the organizer's approval is never acceptable.
But, sometimes the entrants do not think of the possible implications regarding runner safety and race liability. I've written dozens of articles on bib swapping and banditing to try to bring attention to the possible consequences.
In this case, the unauthorized swapping led to an age group placement. Neil bumped a deserving runner off of the podium.
In this case, when given the opportunity to come clean, Neil accepted the ill-gotten plaque and smiled for the photo. He then thought it would be appropriate to post and brag about his behavior on a local Facebook Group with 10,000 members.
Once The Race Director was made aware, he responded:
I will see to it that you are both banned from any future Scottish Athletics events. You have stolen a place from the rightful winner and put runners safety at risk. You both are no longer welcome within the Scottish Ultra Scene. I will make sure the rightful winner receives his prize. You will be removed from the D33 results. #cheaters
As is unfortunately typical, some people are asking, "What's The big deal"? This should be a textbook case, of inappropriate behavior.
I really don't think Its a big deal at all. His buddy couldn't make the race so he filled in for him. I don't understand why anyone would be upset.

via: Facebook
I've probably written a dozen articles where runners unknowingly cheated others out of age group awards due to bib swapping. In this case, the runner knew the consequences of the bib swapping, and happily accepted the award.
There is also the issue of runner safety. Race organizers did not have Neil's contact information in the event of an emergency. There have been plenty of instances of runners collapsing, or worse during races. It is only a matter of time before one of those runners is unregistered, and medical staff or race officials are unable to contact the family or unable to collect necessary medical information.
Support Marathon Investigation
Thank you to all that have contributed to Marathon Investigation. Your contributions are what enables me to continue the work of Marathon Investigation. To support the site, please consider making a small contribution.
Don't want to use PayPal? Click below to contribute without going through PayPal.